The Best of HARD Summer 2018
Upcoming Event
The memories from this past weekend at HARD Summer are still so fresh in our heads, they keep spilling out of our mouths during any convo we have. With its new and improved self—courtesy of Insomniac acting as a spotter, in terms of logistical guidance and top-to-bottom upgrades—the outcome was a step in the right direction for the two-day, music-first festival. Proof of this existed directly on the twinkling faces of every person who showed up for full sends on Saturday and Sunday.
Since your social feeds are already splattered silly with updates from all your friends who made the right choice to come through over the weekend, we figured it would be a smart idea to recap the party play-by-play. And as we tend to do, we're rolling through the highlight reel in our typical Best of style. Scroll down to find out what made the latest edition of HARD Summer better than it has ever been.
Cooling Down at Shady Lane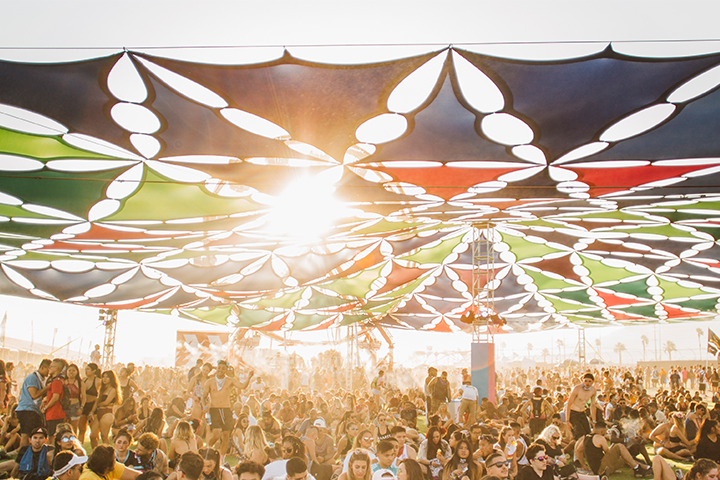 The sun was no joke, as temps hovered just below the 100-degree mark, prompting everyone at the Speedway to apply a few extra layers of sunblock. At the end of the day, the real hero was the massive Shady Lane structure, which stretched almost the full length of the split between opposite ends of the venue. This behemoth supplier of shade was lined with some serious misting action, and it helped keep the UV rays at bay. People used it as shelter from the sun on their path between sets, but it wasn't out of the question to see them huddling up for no better reason than wanting to keep cool.
Making a Splash in VIP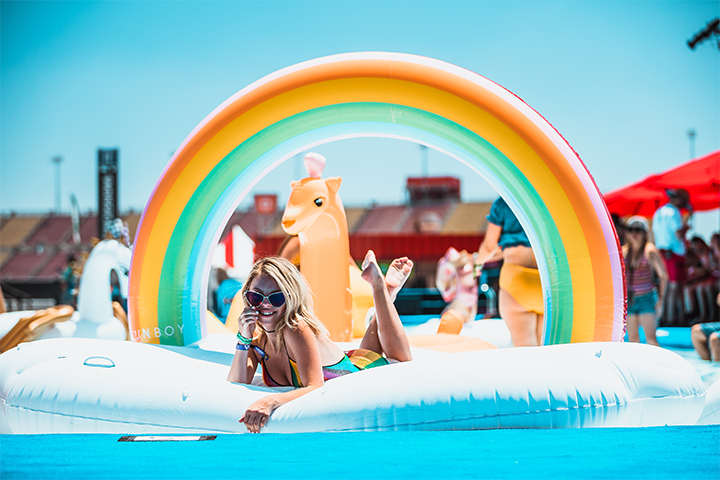 When people reach into their wallets to make the jump to VIP, they expect to cross off an entire checklist of Insta-worthy amenities. Food porn friends' first concern is chasing food trucks, which were situated at various stops inside the HARD Stage section (washing down the tacos with a ROCKin Ice slushy was the right move every time). Cocktail enthusiasts want to post shots of their drool-inducing drinks—and the less crowded lines for the fully stocked bars made that easy. But the best way people locked down those double taps was taking a splash in the pool that was conveniently placed by the SkyDeck. Kicking back in the floatie of your choice was the perfect way to lounge in style while never venturing too far from the speakers. 
Catch of the Day: Fisher's Set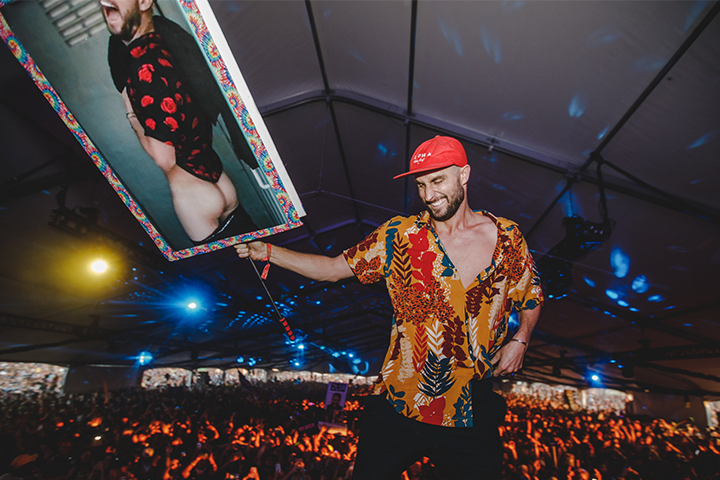 The hype Fisher is holding onto right now is so outrageous that it is practically impossible to fit on a graph. The Aussie party animal drew the largest crowd at the Pink Stage, as people crammed as closely together as humanly possible to flop around to his blend of bouncy and busy tech house. Using his signature hand-wafting dance at the turn of every huge drop (obviously, people lost their shit when he cued up his Dirtybird hits "Ya Kidding" and "Losing It"), he had the dancefloor continuously trying to keep pace with his infectious energy. What really put things over the edge was when an endearing fan fought his way to the front row, wielding a totem of Fisher baring his backside. No one expected Fish to hop on the decks, grab the totem, and mirror the image with one cheek fully exposed. Add that to the countless other posts that make @FollowtheFish a gut-busting handle to keep a close eye on.
Squeezing in Some Amusement Between Stages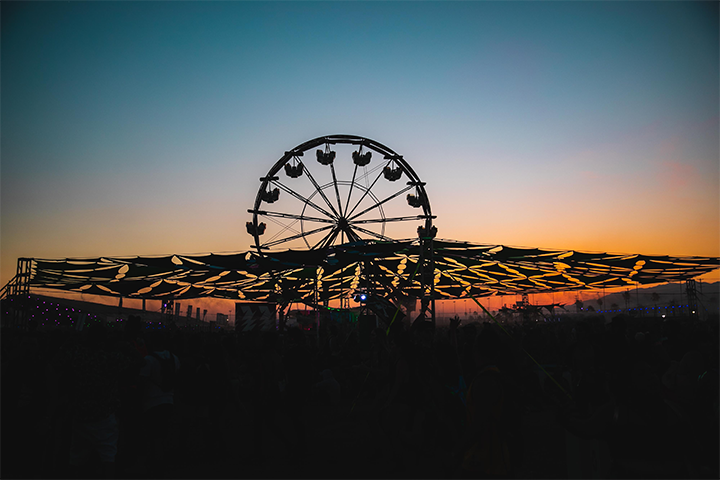 Music has always been the only priority at every HARD festival since its humble beginnings a decade ago. The team has not budged an inch on that bragging right, but that doesn't mean there isn't any room for a quick thrill or two. Those looking for a boost made their way over to the center of the Speedway, where two amusement rides were begging to be ridden. Bumper cars are never a bad choice, offering an effective way to show your festival fam some good, spirited tough love. If collisions aren't really your speed, the Ferris just over yonder was a hot ticket around the time the sun was heading into the horizon, giving riders the perfect vantage point to see the full footprint of their favorite summertime shindig.
Jaden Smith Commands the Crowd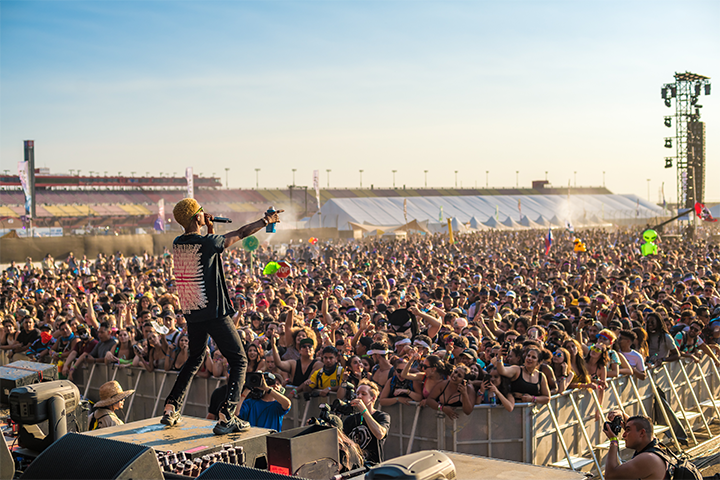 As the sun slowly started to trade places with the moon, the HARDER Stage was doing quite the opposite of cooling off. Jaden Smith was in command on Saturday evening; the young MC has the tendency to keep the crowd pumped with tremendous ease. His flows fall neatly into place, even as the wise-beyond-his-years rapper danced feverishly between the carefully calculated syllables he was spitting. Showcasing cuts from his debut artist album, Syre, his cadence was incredibly on-point. He glided across the golden hour effortlessly, inciting mosh pit sessions to highpoints from his LP, like "George Jeff" and "Icon." His stage presence is magnetic, and you can't help but think that Smith is only a few short years away from locking down a headlining slot.
HARD Records Hits Up Corona Electric Beach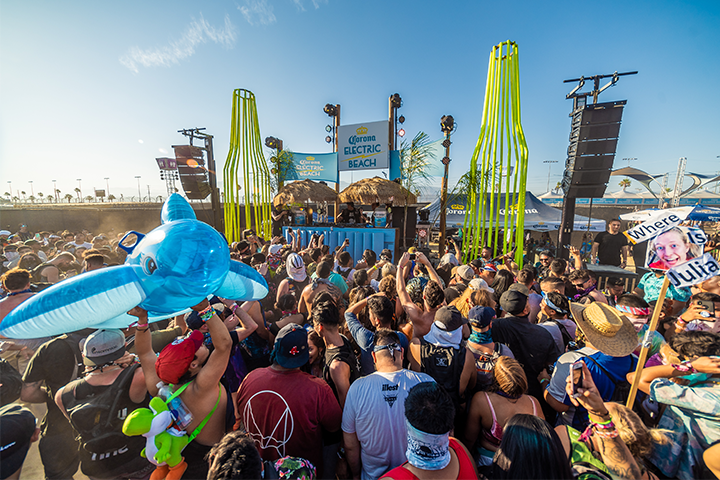 A little over a week ago, the HARD team dropped a major bomb with the announcement of their very own label, which promises to be a central source for the freshest record deals between dance music and hip-hop (the streak they've had booking legit festival lineups should speak for itself). They made good on their word right out of the gate via a sweat-drenched compilation that called out key players from the HARD Summer roster. On both days, the newly minted imprint materialized the appeal of the album by taking over the Corona Electric Beach stage with a crazy cast of selectors. Pulling names from all parts of the officially programmed stages, this sandy pop-up party provided a more intimate playground for artists such as Snails, Ekali, Sacha Robotti, Born Dirty, Ducky, LOUDPVCK, and more. Being able to make up for schedule conflicts in a close-quarters situation was a blessing made infinitely better with an ice-cold beer to sip on while your favorite artists brought their beats to the beach.
Diplo and Dillon Francis Take the Wheel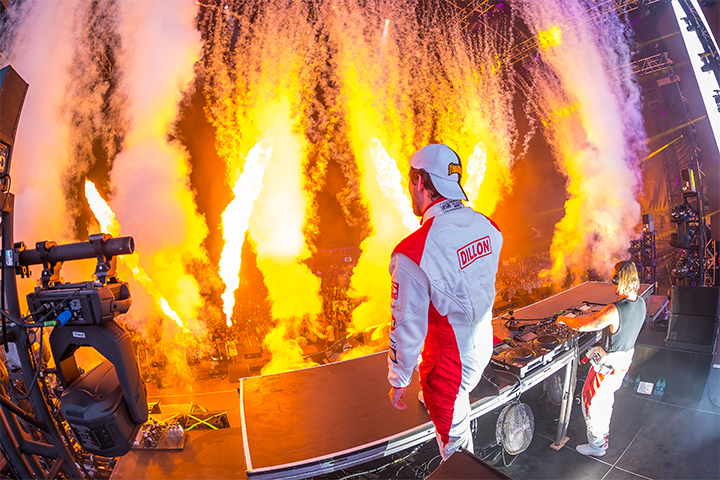 It's anyone's guess as to why Dillon Francis and Diplo have taken this long to go in on a set together. But the important thing to focus on is the fact that these two tastemakers—and viral content creators—laid the guessing to rest when they showed up for their first-ever back-to-back throwdown Sunday night.
In their usual spunk-tastic fashion, Dipllon (one of the many nicknames that flashed on-screen in the form of jabs at mega corporate logos) took the HARD Stage right after dusk, both donning racing suits slapped with patches of all that hilarious iconography that blasted on the massive screens behind them. Kicking things into even higher gear, they wheeled out the shell of a kitted-out track car, an aptly used prop that signaled the onslaught of genre-blurring bangers including Drake's "I'm Upset," 4B's edit of "Sandstorm," Diplo's "Where's the Party," and Dillon's rebirth of "Say Less." They swerved all over the map, maneuvering between tech house, psy, moombah, hip-hop, and realistically any other flavor they felt like fucking with. No genre felt out of reach, and with a crowd stretching back as far as the eye could see, everyone seemed incredibly down for the ride.
CUPCAKKE Promoting a Sex-Positive Narrative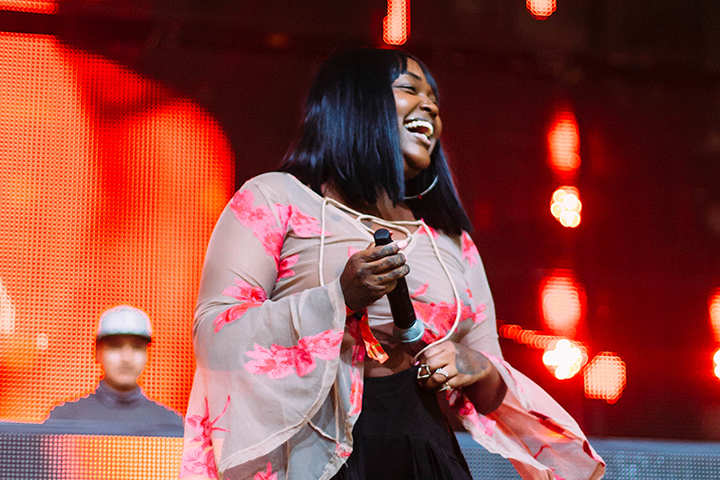 I admittedly did not know much about the young artist CUPCAKKE, who has been causing an uproar in the rap community. Her music comes with a NSFW warning—the only reason I needed to sprint over to the Purple Stage and find out what all the hype was about. Within the first few seconds, it become abundantly clear that she lived up to her reputation. Lines about eating ass and all types of sexual exploration were shouted out by fans who felt no shame in their game. At the end of her set, she proclaimed, "If you were a virgin before, you ain't a virgin now." The way I see it is, if she continues to normalize natural desires and destigmatize sex in society, then I'm totally down with putting CUPCAKKE on a pedestal.
She Said YES at SAYMYNAME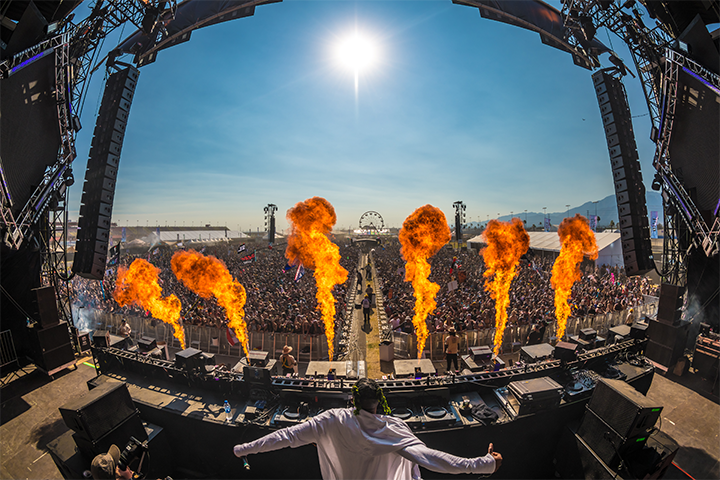 Knowing when to pop the big question is just as challenging as figuring out where. Apparently, one hard-trap-loving dude felt like SAYMYNAME's set at the HARDER Stage on Saturday was the right call. The crowd watched in awe as the music stopped for a brief second and sweat beaded down the fan's forehead, until his partner belted out a gleeful "Yes." It was a cute-ass moment the couple will not soon forget. The only question on my mind was whether their first dance will be to "I Can't Escape"; I'm betting it will.
HARD Signage Says It All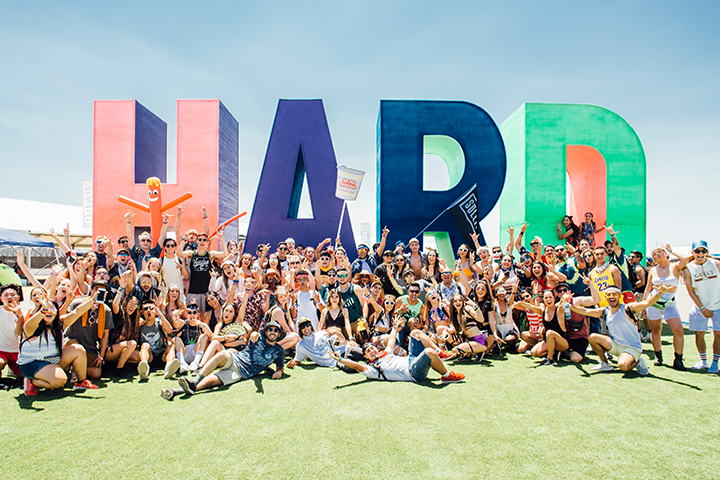 Perhaps the most non-music stop scheduled in throughout the entire weekend was at the giant, multicolored HARD letters that served as the perfect photo op. A massive line snaked back a couple hundred feet, filled with patient people itching to grab a selfie with the squad and let the rest of the world know what they were missing out on. Aside from being the go-to spot for content for the 'Gram, this location was an easy (despite the enormous crowd surrounding it) meet-up point for heads bouncing to and from all five stages. If you were scanning through your friends' Stories, this was most likely the view you caught that quite literally spelled out exactly what the weekend was like.
Follow HARD Summer on Facebook | Twitter | Instagram | SoundCloud
---
Share
---
You might also like