The Best of EDC Mexico 2017
This year's EDC Mexico proved a milestone event, as the festival's fourth incarnation broke record numbers. Tucked away in the heart of Mexico City, the fiesta quickly underscored the idea that dance music culture is a borderless community built on universal acceptance and a healthy love of bass, beats and bright lights.
EDC Mexico is a special type of celebration, unique in every flavor imaginable. From our one-of-a-kind Headliners to the larger-than-life stages, beautiful art installations, crazy-fun rides, and the phenomenal local food that fills our bellies, EDC Mexico 2017 was a marvelous mashup of Insomniac vibes and Mexican culture.
Here are a few of our favorite things and moments that filled our souls this weekend.
Two Days of Hardcore-Till-We-Die Energy, Courtesy of Basscon & Bassrush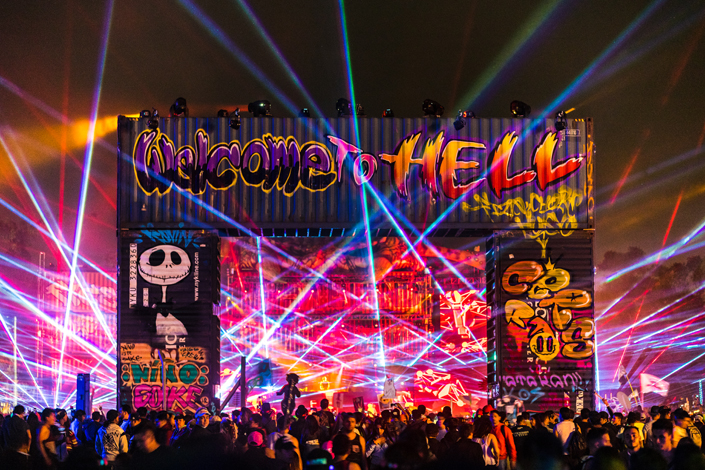 With our homebase situated right behind Wasteland (read: the walls were shaking and our organs rattling), it was impossible not to let the sonic mayhem of wasteLAND consume you. From the moment Calixto took the stage on Friday afternoon for Basscon's takeover, to Zomboy absolutely destroying the last dance on Sunday night for the Bassrush massive, the velocity of wasteLAND's dank, brutal bass never dipped below 1,000 throughout the weekend. These two camps know exactly who they are and what they're all about. If you were in search of a neurological lesson in hardcore euphoria, this was the spot to get it. There was nothing delicate, restrained or laid-back about the shenanigans happening here. Shout-out to DJ Fury for starting a mosh pit.
EDC Town Hits the Road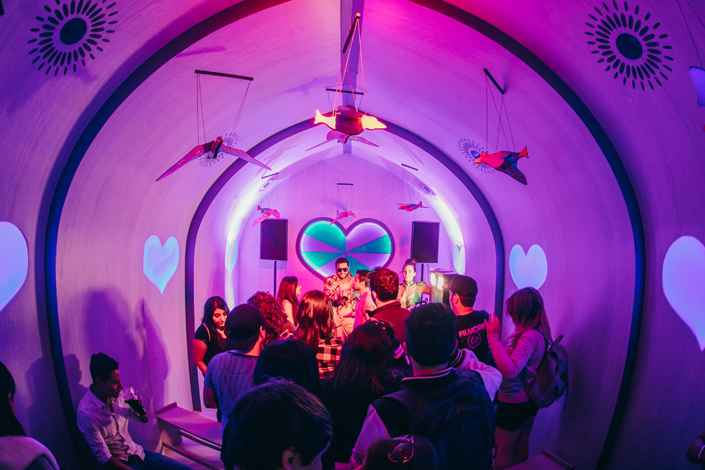 Headliner nuptials aren't new to EDC (we've been doing them since 2013), but for the first time ever outside of Las Vegas, Headliners looking to add a little romantic flare to their carnival weekend were able to tie the knot. Well, not legally, but EDC Town's wedding chapel (and post office) did make its virgin voyage outside of Las Vegas Motor Speedway and touched down in Mexico—and the notion wasn't lost on our south-of-the-border friends. Love was, indeed, in the air at EDC Mexico this weekend; the line at the chapel proved it.
The Underground Sounds of neonGARDEN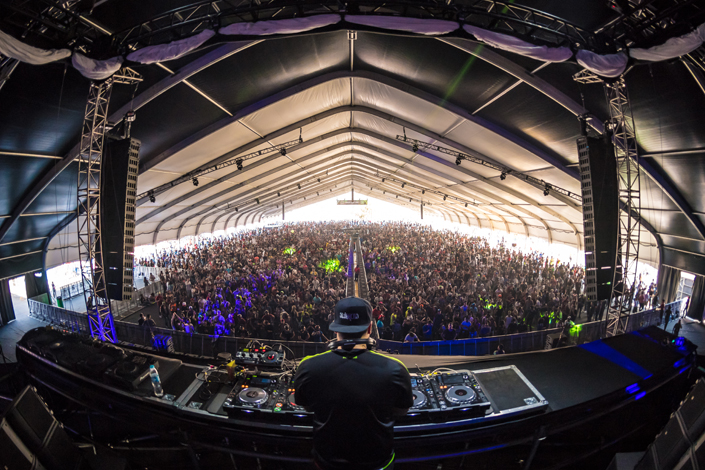 Yes, the EDM sounds of kineticFIELD are as blissfully banging as they are popular, but don't think for a minute that the underground sounds of house and techno aren't a reigning force to be reckoned with in Mexico City. Adding some depth to the fabric of EDC, this year's lineup featured a sharp selection of technicians (like Jamie Jones, MK, Paul Woolford and Guy Gerber, to name a few) who kept neonGARDEN percolating with energy throughout the weekend. Simply put, we love basic, functional house music—because every underground head knows that basic, functional house music is the bread of life. And we broke bread with a lot of heads this weekend.
Living La Vida VIP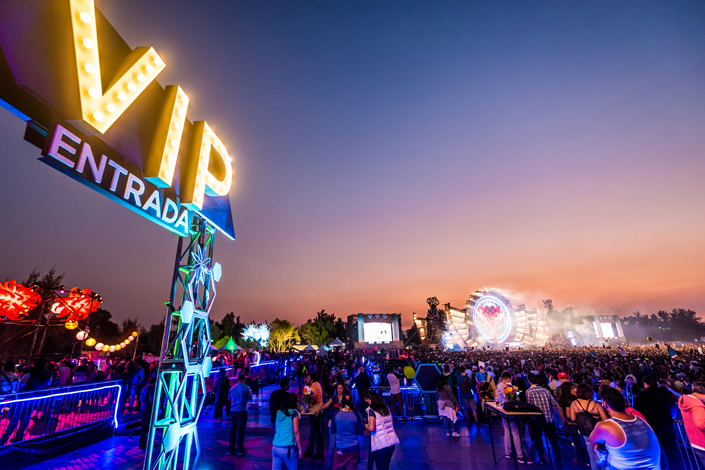 An amazing view of kineticFIELD wasn't the only thing the VIP section provided. From the memory chalk wall to complimentary face paint, body art and beauty bar, not to mention the awesome food truck selection—including pizza, kebabs, smoothies, and gourmet coffee—Headliners were treated to a gaggle of delights inside this year's VIP section. There were even complimentary, custom-designed EDC Mexico show lanyards and laminates.
Daisies, We Brought Daisies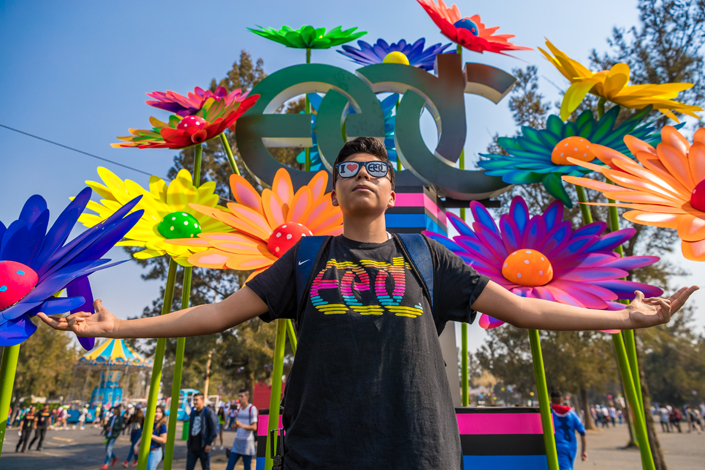 Is it possible to have EDC without daisies? We think not. You probably agree, since our blacklight daisy art installation in EDC Town turned into one of the most popular meetup spots for Headliners to snap some photos in front of. It was a small touch, but it's little things like this that make it possible to fully immerse yourself in the EDC experience.
The Return of Sasha & Digweed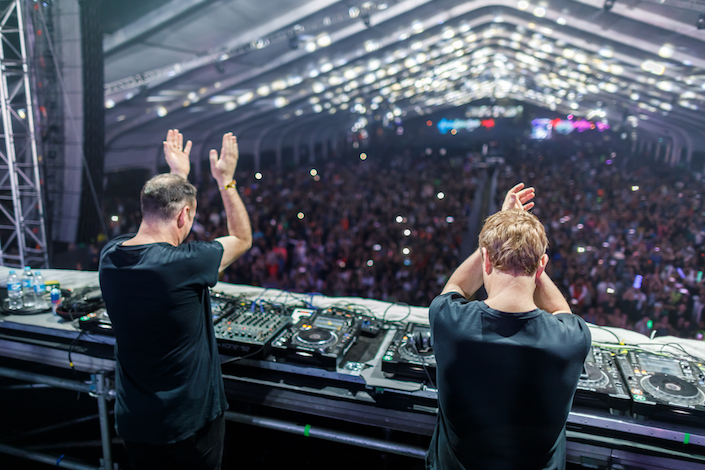 If you were lucky enough to catch living progressive legends Sasha & Digweed at neonGARDEN, then you can now scratch that off your bucket list. The entire electronic music community lost their collective shit when news of their return surfaced last year, and rumors of upcoming performances immediately took off. Speculation became reality when the two iconic producers revived their beloved outfit for a very rare performance on the final night of EDC Mexico, which hosted the duo's second performance as a revived DJ collab (their initial return to the stage went down last year in England). The air at neonGARDEN was thick with music history and proper tunes, as Sasha & Digweed dug mad deep in the crates throughout their extensive four-hour set. Headliners were in emotional unison, as a palpable energy continuously feed our dancing shoes into the late night. There's no doubt we were all witnessing something special, a rare musical memory that we'll keep talking about all year long. And of course, Sasha & Digweed closed out the festival in true class with a final spin of seminal techno classic "Strings of Life." We still have goosebumps.
Feeling the Love at Metaheart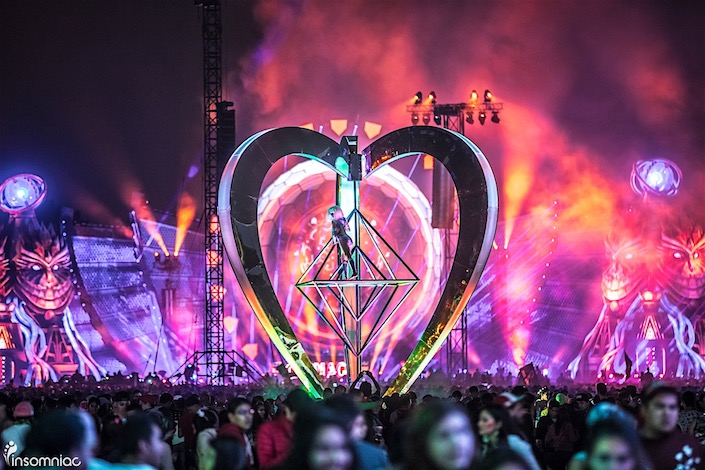 Standing 23 feet tall and beautifully bold in the middle of the madness surrounding kineticFIELD, Metaheart served as the symbol of universal love we experience on every dancefloor. This interactive art installation quickly became a hot spot for Headliners looking to capture an epic selfie or group photo. A quick step back allowed fans a breathtaking view of Metaheart as the sun glistened over its metal skin; nightfall later gave it a second life as it glowed with deep hues of purple and pink from the nighttime lights. When our Funkdafied Freaks took over Metaheart—crawling and climbing all over the colossal structure—they created a scene of outright frenzy and curiosity in a sea of engaged Headliners. Home is where the heart is, and for us, EDC is home for all Headliners. You need only experience Metaheart for proof.
Latin Beats and Global Bass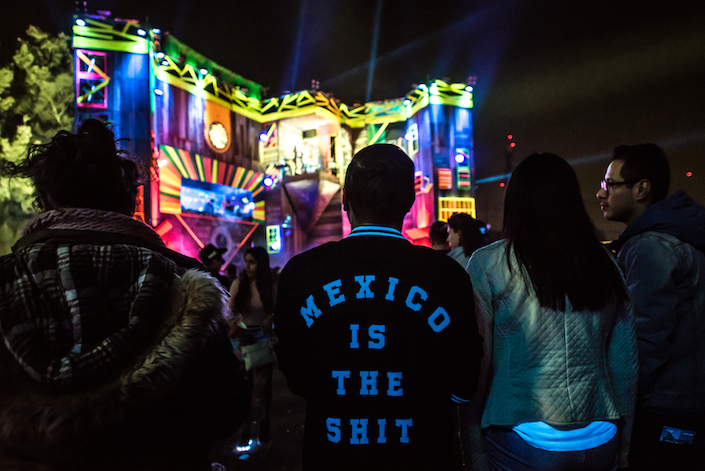 It was quite the sight to witness local ravers singing along to global DJs like Alesso and the Chainsmokers at the top of their lungs, despite not everyone fully grasping the English language. Even more impressive, though, was seeing some DJs paying homage to the homegrown sounds of Latin America throughout the festival, from Major Lazer dropping salsa and merengue bombs at kineticFIELD, to Boombox Cartel dropping the revolutionary street anthem "Gimme tha Power" from Mexico City–based, Grammy-winning rock band Molotov. Plus, the local acts and international artists were in top form over at the Dos Equis Stage, where fans were served up a taste of Latin beats and global bass from some of the up-and-coming acts from Mexico and greater Latin America. Mexico's own Erick Rincon and Ghetto Kids delivered the goods, while local tastemaker label NAAFI hosted a takeover at upsidedownHOUSE on night two. It's true: Music is universal. We speak our language on the dancefloor—not with words, but with our bodies. Even with language barriers and cultural differences, we're able to communicate with one another through the power of music.
This Headliner's Colorful Cast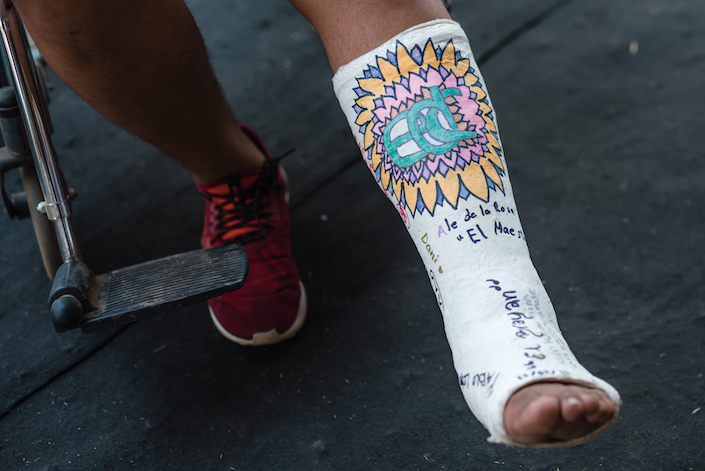 Nothing was stopping this Headliner from raving the night away. Kudos to you and your commitment, dude! And thumbs-up on the handmade EDC design on your cast.
PDA Everywhere!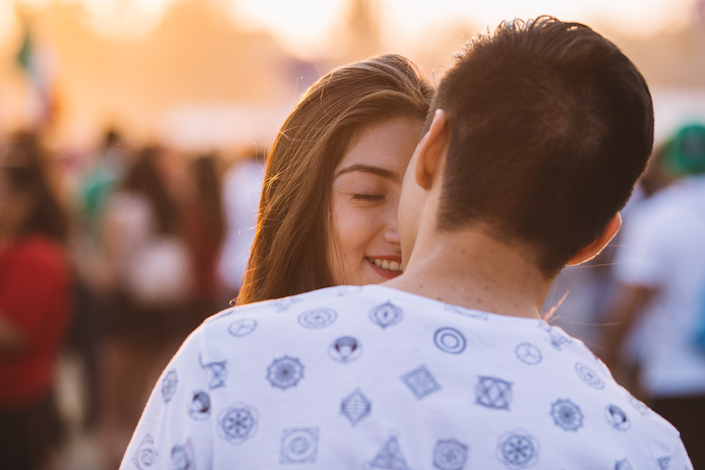 One of the first things we noticed upon our arrival to EDC Mexico was the rampant expression of PDA every which way we looked. Mexicans are known for their love of romance, and there's no better place to express tender feelings and emotions than on the dancefloor. So, to you we say: Dance like the Mexicans do, kiss like the Mexicans do, love like the Mexicans do.
This Gorgeous Sunset
There's nothing quite like a stunning sunset Under the Electric Sky. Every EDC location gifts us a special sundown glow unique to its host city, and Mexico City is always one of our favorites. There's a magic hour that happens between daylight vibes and nighttime antics at every EDC sunset, and this image captures that glorious transition.
The Claw!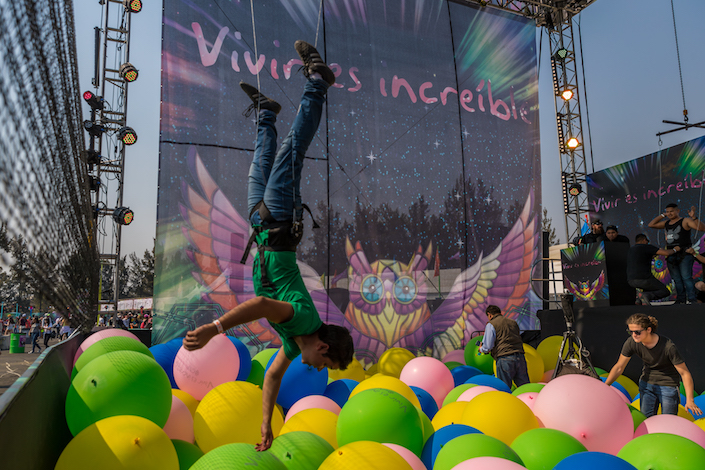 Ever wonder what a game of human claw machine would look like? Wonder no more! Headliners lined up all weekend long to get lifted upside-down and hung midair by the legs for a chance at winning this life-size carnival game. It's the game you never knew existed and now can't live without.
Bouncing Vibes at the boomboxARTCAR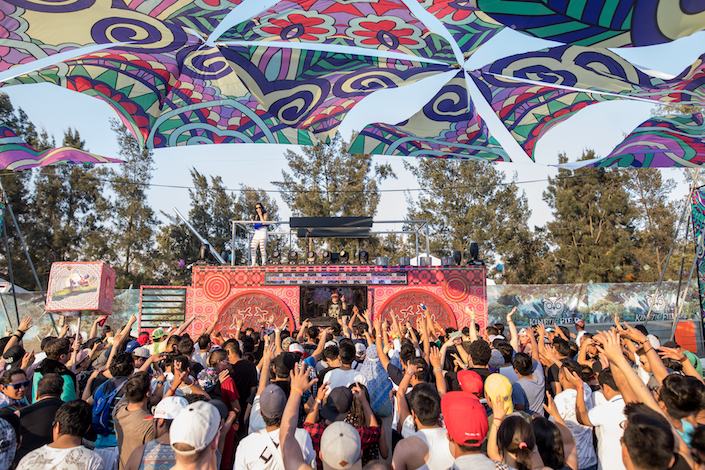 This roaming party machine has quickly become a Headliner favorite at EDC Mexico, and this year, the boomboxARTCAR came packing heat with a proper lineup.  Day one featured the infectious sounds of local artists like ANG, GMAXX, Kepler, LUJAVO, Rommel and many more. Night two welcomed an all-trance roster of local and international acts, including Coming Soon!!!, Vertical Mode, Perfect Stranger, Eddie Bitar, Ucast and more. You can expect the boomboxARTCAR to roll through the next EDC near you.
Follow EDC Mexico on Facebook | Twitter | Instagram
---
Share
---
Tags
---
You might also like