Sorry, Princess, San Holo Is Doing Things His Own Way
Upcoming Event
You might think that, with a moniker like San Holo, the producer born Sander van Dijck must be a pretty big Star Wars fan—but that's not really true. It's just a play on his nickname that got tossed around and stuck. The most he's interacted with Star Wars was the time (SPOILER ALERT) said character was murdered by his son, and fans started tweeting at him over and over again, "NOOO, I CAN'T BELIEVE SAN HOLO DIED!"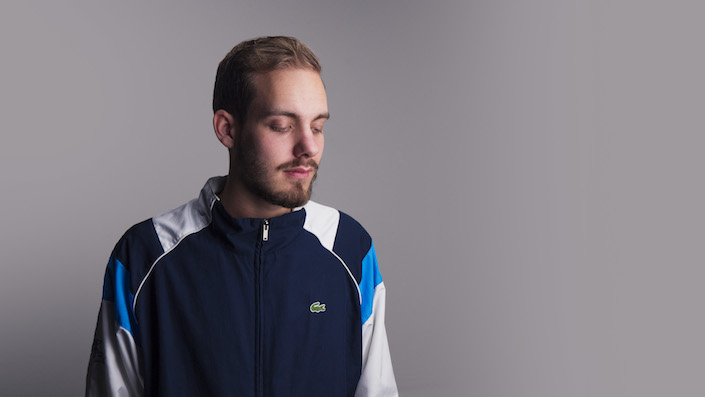 Still, there are a lot of similarities between the famous sci-fi character and the ever-promising Dutchman. Han Solo is so beloved for his endearing mix of a loner attitude, intense loyalty to his pals, and an unending appetite for new adventures. He's the kind of cool dude who rolls with the punches and always seems to come out on top—kind of like San Holo.
"I kind of rolled into the DJ world," he says. "I wasn't a DJ at all. I was just producing music, and suddenly I got a call like, 'Do you wanna DJ here?' I had to learn how to DJ really quickly, and I've been doing that for two years now."
Similar goes the story of how he got started producing. He's really a product of live music, having performed in different bands all throughout his adolescence. He learned sound engineering, mixing and mastering through that world. He was producing for different bands and experimenting with new sounds on his own when the call to join dance music's ranks came to his door.
"All of a sudden, there was this guy who was like, 'Would you want to one day make a track with me, see if we can make something together?'" he remembers. "We made that track together, and then suddenly it was like, 'Yeah, I thought it was kind of a ghost production thing.'"
It was a real bummer, but life then was no gravy train, and Dijck figured it was okay, as long as the check was real. It's just like Han: He'll do whatever for whomever if the money is good, but if he ever catches wind that you might be screwin' him, he'll blast you under a table. San Holo is the same.
"I was happy with it," he says, "but then I saw those tracks I produced, people really liked these, and they're getting lots of plays. I thought, 'Why don't I just start something myself?'"
He left ghost production behind and began a bass music project. He drew inspiration from the world of American trap and melodic house. He was constantly creating, pushing new tracks onto the world with great speed and finesse. He knew he had talent. People had already proved they liked his work. There was just one problem: No one was listening.
"I spoke to a friend one time, and he was like, 'You should just do some remixes,'" he says. "I always hated doing remixes, because it didn't feel like something that was my own. Then I thought, 'What if I just take an acapella and make my own universe around it.'"
That's how Don't Touch the Classics came to be. The breakout seven-track EP saw him rework iconic songs, from 50 Cent's "In Da Club" to Outkasts' "Mrs. Jackson" and Blur's "Song 2." His remix of Dr. Dre's "The Next Episode" was a particular smash, with sparkling synth textures and trap-tinged future vibes under the oh-so-familiar Snoop Dogg rhymes. The plan worked. San Holo's SoundCloud started blowing up—but don't expect that sort of thing ever again.
"I really just used those remixes to get some attention," he says. "It might sound bad, but it was a way for me to introduce my sound to the universe, to the listeners. People love listening to something they know first."
It's not just listeners, either. Anytime Dijck sent his music to labels, he found they wanted it to fit nicely into some kind of box someone else had built.
"They all didn't wanna sign it, because it was weird and new, or too melodic," he says. "I noticed how labels were always looking for the thing that was hot, but never really for the thing that was not there yet. I wanted to start a label because I had a lot of friends that make amazing music as well, who I love and that were having the same problem."
So, just as Han Solo and Chewbacca form their own destinies in the Millennium Falcon, San Holo and one of his besties started bitbird, a label dedicated to signing and releasing music that has one foot in the future and keeps a strong point of view. It's supposed to be different. It's supposed to keep you guessing.
"All I'm saying is, there is future bass and stuff, and that's been happening," he says. "It's kind of the new SoundCloud pop. It's something that started a couple years ago… and now it's all commercial radio. It's not very interesting anymore."
Critics would tell you future bass is the sound that gave San Holo a lane, but he would tell you he doesn't need a lane, thank you very much. He seeks the sound yet unheard. He might start singing on his tracks. He might start bringing back his live instrumentalist roots.
"It's definitively time for something new, because I've not been really inspired lately by even my own music when I play it live," he says. He did find inspiration, however, in his recent stint opening for Porter Robinson and Madeon's collaborative Shelter live tour.
"I was honored that they want me to be a part of that," he says. "They really are the types of artists that I look up to in terms of doing their own things and creating something for themselves. They're not riding the wave of what's hot or cool. They gained even more respect from me after this tour, seeing how specific they are with all the things they do—from the light show, to the sounds, to how they present themselves. They really have this clear vision of what they want, and that's exactly what they do."
In 2017, there are a few things you can expect. Expect a lot more music from bitbird and a lot more music from San Holo. Expect it to be different in some way—more musical, and more left-field. Expect it to be somewhat unexpected, but definitely don't expect him to ever give in.
Follow San Holo on Facebook | Twitter | SoundCloud
---
Share
---
Tags
---
You might also like