SingleRavers.com is the Site You've Been Waiting For
Think of a Match.com or eHarmony site for ravers, and you get SingleRavers.com.
It's the brainchild of Joseph Ioia, 33, his girlfriend Kelly McCall, 22, and her sister Julie McCall, 26. The couple met through Instagram, and now all three are spreading love and helping ravers find significant others the same way they met—through the dance music community.
"I'll be honest: At 33, it can be hard to find someone that's into the same stuff that I'm into," Ioia says. "You wouldn't believe the people that reach out to us. Even people from Southern California, which is rave central, still can't find anyone."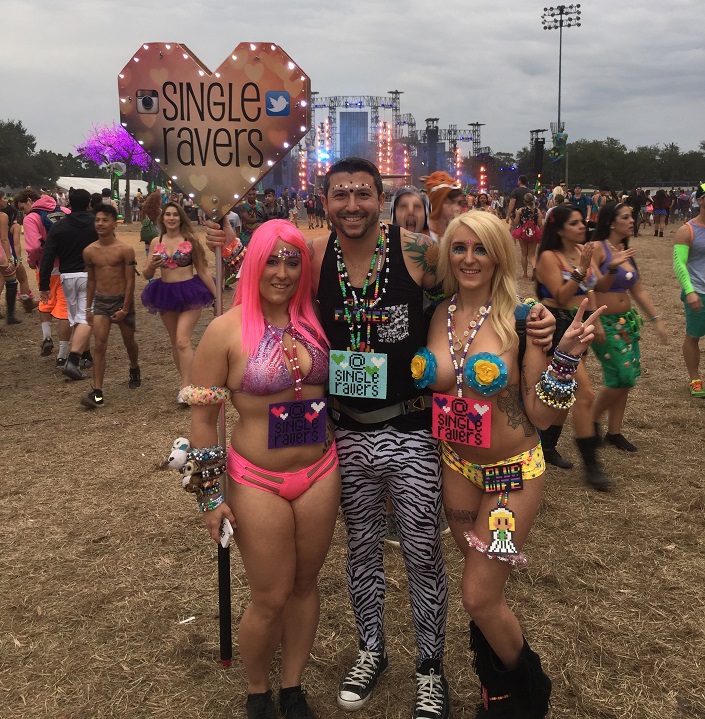 The site launched on October 3, 2014, and in 45 days already had more than 4,500 followers and close to 800 submissions. While the service is currently run through SingleRavers.com and the Instagram account, the plan is to expand it into a fully functioning social network, app and dating platform just for ravers.
We know you have a lot of questions about the site. Get them answered by reading our Q&A with Ioia below.
How does SingleRavers.com work?
We don't discriminate; we believe that everyone deserves to find love. Once people fill out their profile on SingleRavers.com we post them on our Instagram account in the order received. People get in touch by either commenting on pictures or direct messaging each other. The hardest thing is giving people the face time they deserve and also not spamming people who follow us with posts. We have hundreds of people waiting to be featured and want to give everyone a chance, so it might take a while for someone's profile to go up.
We post about eight to 10 guys' profiles on #MCM (Man Crush Monday) and four to five girls' on #WCW (Woman Crush Wednesday). On Tuesdays, Thursdays, Fridays and Saturdays, we post five to six profiles of each. On Sundays, we post "Success Story Sundays." This consists of people that either met on Instagram or at raves. We want people to see that it is possible to meet at a rave, and that the "couple that raves together stays together" thing really does work.
"In the first month and a half, we already created four relationships."
How did you get the idea?
My girlfriend, her sister and I went to Disney World after TomorrowWorld last year. My girlfriend and I were in line, hugging and kissing each other, when her sister says, "You two gross me out." We claimed that she just didn't get it since she didn't have someone to share that bond with. Before that, we had been talking about all these Instagram accounts with rave girls and boys, and I wondered if there were any pages featuring single people trying to find each other. I found one, but it only had 100 or so followers, so right then and there we made the Single Ravers Instagram account. When I went home, I bought the SingleRavers.com domain name and created the Twitter, Facebook and other social media accounts.
What have you been doing since the site launch?

We've been to EDC Orlando, Escape: All Hallows' Eve, and Hard Day of the Dead, spreading the word. In Orlando, we could hardly move for two hours due to all the pictures people wanted to take with us and the kandi they wanted to trade. Every festival we go to, we have a cool totem that's a huge attractor. We tell people about the site, trade kandi that says "@singleravers" on it, and have people follow us on social media. Everybody we talk to says, "Why didn't I think of that?" This is my way to spread love around the world; it's my destiny.
How's the response been?
In the first month and a half, we already created four relationships. The first one happened at Freaknight in Seattle. Two people contacted each other, met up, and spent all night together. They continued to talk after that, and even thought the guy doesn't live closeby, the couple is making it work. Another story happened with a guy from Philly: The girl direct messaged him, and he flew from Philly to Texas to see her. My friend Bianca and a guy who was one of our first features ended up meeting at a Halloween event, and they're best friends now. We're constantly finding out about people meeting up after talking through Instagram.
"In the end, we're just three EDM fans that want to spread love."
Do you fund this yourself?
Yes, right now I pay for everything. I dropped $300 for the totem, and we pay for all our festival tickets and make our kandi ourselves. We're happy to put in the work because we believe this can be huge. We've already been approached by two people to "invest" in the business, but I don't know if I want to bring anyone in just to get more capital, because I'm not sure I need it. But it definitely reinforces the idea that this can be successful.
Any hiccups so far?
The biggest issue we've run into is copycats. It's flattering, actually. Some people have the courtesy to message us and say, "Hey, we love your page, but we want to do Single Texas Ravers as a spinoff. Do you mind?" Yeah, I mind. We feature people from all over the country and world and want to continue to do that. I wouldn't be able to claim copyright infringement on a name like Single Texas Ravers, for example, but I still don't want them to do it. Same with Single LGBT ravers: We feature gay, lesbian and bisexual ravers all the time. I've also had people ask to work with us, to do some kind of regional division of Single Ravers, but still under our name.
Anything else you wanted to say?
In the end, we're just three EDM fans that want to spread love.
So what're you waiting for? Sign up for your own profile on SingleRavers.com, then find a date and bring them to one of our Crush events in San Francisco, SoCal or Arizona.
---
Share
---
Tags
---
You might also like