Sinden Rings in New Houseline Imprint With 'Sinden's House Line Vol. 1' EP
Upcoming Event
Sinden is a name that so much could be said about, and yet, nothing should need to be said at all. A longstanding force in the dance music world, he's done the very difficult task of both maintaining a strong staying power in the scene, while always organically shifting and growing his style. From hip-hop, to club, to bassline, to breaks, to house, to jungle, and on and on, Sinden is always toying with the borders of sound. So, it should come as no surprise that he's launching into yet another exciting new endeavor.
After the success of Sinden's House Line compilation on Insomniac Records last year, he is turning the Houseline name into its own imprint in order to explore those sonic ideas even further. The first installment features three furious tracks by the likes of warehouse deep-ender Dillon Nathaniel, mutant club's own Astronomar, and a one-two punch from Sinden and BIJOU.
Each track comes with its own distinct personality, while staying true to the overall mission of the Houseline. Sinden and BIJOU take "Technique" on a grooving G-house ride that crackles with energy while staying low and dirty. Dillon Nathaniel hammers out the warehouse thumper "Riot," which hits like sweat-inducing pneumatic machinery. Meanwhile, Astronomar drags deep house out of its comfort zone, and into his own mind-melting lane, with "No Pets."
It's a powerful first release and a melting pot of the future for this genre and this label. What's to come next for Sinden's Houseline is anybody's guess. But if this EP is any indication, then all eyes should keep watch.
House Line Vol.1 is available now on Sinden's Houseline.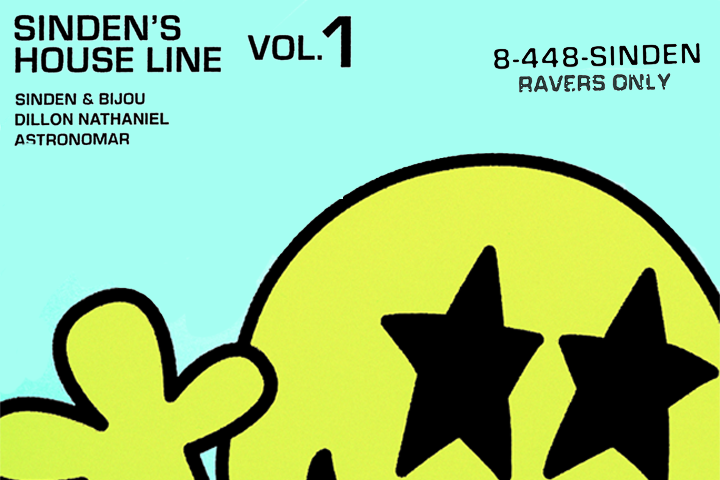 Why did you decide to make Sinden's Houseline into a full-fledged label?
I got a really positive response from the first free House Line comp, and that got me thinking I'd like to expand on it and open it up more. I've always really enjoyed programming releases, mixtapes and playlists, pooling and nurturing talent.
What do you think makes this label unique? What are you looking for in potential artists to release?
The market is saturated with labels more than ever. Once everything went digital, it became easy for anybody to release music—which I like and dislike equally. I believe what sets one label from another now is taste. Design and aesthetic is part of that, and it's important to reflect a strong visual look, but ultimately the music has to shine on its own. The signing process to me all boils down to the music. I'm always finding up-and-coming talent. Early on, I've put out music from artists like Melé & SBTRKT, right at the beginning of their careers, just because I believed in them and loved their music. SBTRKT was sending me stuff on MySpace. I don't listen to what's trending—that's cyclical. I just follow my gut. "Does this music evoke a feeling in me?" is what I ask myself. 
There's a lot of diversity, both between and within the tracks for this first release. What was the decision-making process for choosing them?
I thought about whether Houseline has a certain sound, or does it just encapsulate what's great about house music in 2018? It feels more natural to me to not be too uniform or impose restrictions and just to really represent different strands of house music—whatever excites me. For me, it's about releasing functional club music that DJs can play in different-size rooms—whether that's small, dark, sweaty clubs or bigger festival stages. As a listener, I want to keep them guessing. Sometimes it's tribal, sometimes it's warehouse, sometimes it's coming from rap, sometimes more techy.
As an artist and a label boss, you're constantly moving forward. What do you think has changed in the DJ world since you released, say, a track like "Beeper"?
Everything has changed, really, from the way we consume music to social media. Today, the word "brand" or "being on-brand" or "team" is everywhere. Everybody is a DJ. You gotta pop on social media. The social media image has really skewed and altered things. Followers, bots, gimmicky masked DJs, and the artist "brand," etc., has become more important than the music itself. Houseline is like the antithesis of this. It's not about being the "cool guy" thing or billing politics. I'm really happy to sign a kid with 100 followers on SoundCloud making dope shit. It's all about credibility, authenticity, and merit.
Houseline is about taking it back to the party, removing the DJ ego, the gloss and pretty sheen. It's about that raw shit, the feeling I got when I first heard pirate radio—the artist was completely anonymous. You didn't know whom you were listening to or what they looked like. You bought a record, and you didn't know who it even was sometimes. You went to a club—it didn't matter whether the DJ was even visible or which direction people were dancing in. It's not about the DJ; it's about making music for the fans to enjoy first and foremost, the experience to feel this music without all the external factors and BS that come into play.
With that in mind, what do you see on the horizon for trends in both music and the culture in general?
I feel that we haven't seen the full strength and fulfilled potential of UK-influenced bass house/garage hybrids over in the US yet. Culturally, it's tricky to say.
Are you interested in exploring those trends with Houseline or moving in a different direction and trusting that fans will follow?
Houseline is definitely invested in the sounds of bass house, the Night Bass sound, etc. Being from the UK, I was listening to pirate radio, going out raving, buying records week in and week out, living and breathing the culture and lifestyle, being involved early, and making bassy house music since 10 years ago. That's always a style of music that is dear to my heart.
Do you already have plans for future releases on this label? Either way, whom would you like to work with that your audience might be less familiar with?
Yeah, the schedule is mapped out for the next couple of seasons with some sick releases to look forward to. There's some guys you should definitely check out, like Spinstyles, CLB, Steadyrock, Jaxx Da Fishworks, and Franklyn Watts, to name but a few.
 What would a perfect 2018 look like for you?
Sold-out Houseline tour, getting on some mainstage lineups, seeing Houseline grow organically, seeing all the Houseline artists thrive, and making people happy with my music, ultimately!

Follow Sinden on Facebook | Twitter | SoundCloud
---
Share
---
Tags
---
You might also like