Q of the Day: How Do You Become a World-Class DJ?

Upcoming Event
We got some sound advice, wit and wisdom from some of the world's top DJs. Today's question:
How do you become a world-class DJ?
Tiësto

Lots of people see DJs having fun and partying, but that's just a small part. To really succeed, it's important to work tirelessly to hone your craft and to be original. Do not try and be the next version of your favorite artist, but rather, bring something honest and unique to the table. Of course, it also helps to make music, as we see that a huge hit helps get a massive foot in the door. At the end of the day, it's really about talent and putting the work in.
---
UMEK

You have to be persistent and patient, you have work hard all the time, and you have to love producing music and playing it to people. Curiosity is also good. Electronic music offers so many challenges—be it as art forms or new technologies. I'm learning something new all the time, trying to push things forward… It's hard to be original today, but if you're able to show something other artists can't or don't, that could be an advantage—and from that on, you also have to work on your image, branding and promotion. Once you have or basically are an interesting product, you have to find a good PR and marketing agent who is willing and able to push you on the scene. You can succeed even if you don't work with the best PR and booking agency and the best manager looking after you. You can even break out and make it on your own if you have extremely powerful charisma, style, music, or an amazing story that really makes you stand out from the crowd. But today, that's really rare. I would not put my money on this strategy, as this business has become very complex, and competition is extreme. Look at the DJ Top 100 list; they'd not be there without good PR, branding and marketing. The perception of some very big artists has gone from being recognized by their faces to being known simply as trademarked artworks and logos.
---
Henry Fong

I'm not sure—still working on figuring that out! Haha.
---
Steve Angello

Work your ass off, and keep the passion, drive and focus once you get a shot. And work even harder once you're there.
---
Hamilton

Getting well-known as a DJ these days usually comes through your music production. You make some tunes, and if people like them, it should be recognized globally.
---
Jamie Stewart

Hard work, practice, dedication—and never, ever give up. I've followed these steps, and the future is looking bright for me.
---
Pierce Fulton

From the small success I've seen as a DJ, my only insight on it has to do with simply putting out music. I know there are so many factors alongside it, but the most fundamental element in all of this is the music. It sounds obvious, but I sense that some people overlook it for more focus on branding or social media; but I honestly think those things will only get you so far without quality music.
---
Brass Knuckles

Non-stop hard work, practice, and networking. We work from the second we wake up until the second we go to bed. There is no set schedule for an artist. If you aren't working, then someone else is.
---
Loadstar

The main things I would say are passion, hard work and determination. It's so hard to break through as a DJ. We played countless shows for free in all sorts of crappy venues. It was these shows, however, that really helped us craft our skill, and eventually, people did take notice and started to pay us for gigs. At the time, we couldn't believe it—someone was willing to pay us to do something we loved!
---
Benny Benassi

Working hard, developing your own style, and having a bit of luck.
---
Kissy Sell Out

I still maintain that being a genuinely passionate fan of other people's music is the most important trait of a good DJ. My ego always sits firmly in the back seat of the vehicle when I perform because the connection with the crowd is really the ultimate prize. A common mantra of good DJs is to simply "know your records"! There's a balance between playing things that people already know and punctuating those milestone moments with left-field tracks that the crowd doesn't know they like yet. A good DJ show, therefore, is when you respect the audience in front of you whilst also shouting loud enough from the back that your passion shines through from start to finish.
---
Paul Oakenfold

You need to have your own style and original sound. You need to produce music. You need to stay current, work hard, and focus on your own abilities.
---
Dzeko & Torres

Just like you become a world-class anything: dedication, practice and hard work. Right now, you need to produce to get recognized, so you have to combine learning and improving your production while you polish your DJ skills as well.
---
Delta Heavy

Tune selection and the ability to read a crowd. Anyone can turn up and roll out the Beatport Top 10. Also, someone who can take the odd risk and is prepared to play older or different material. It's getting the right balance between educating a crowd and entertaining them.
---
Beat Rivals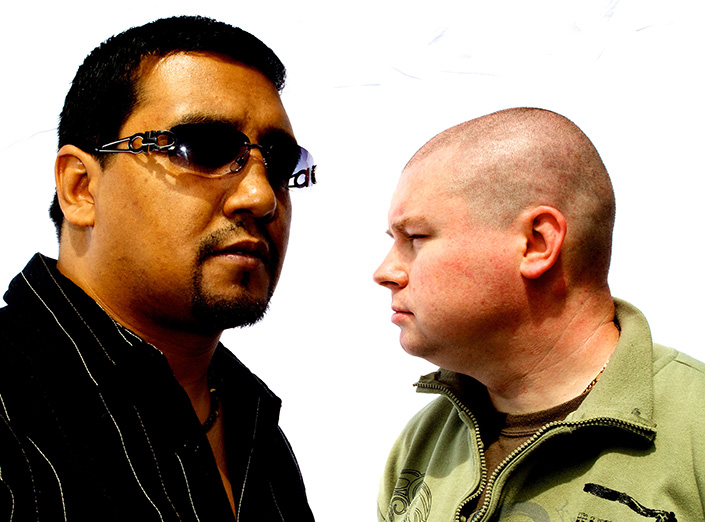 You are the one responsible for the whole night, the feeling, the emotion, the atmosphere. From the first gig you play, you will learn to read a crowd; and with experience, you'll get to know what makes them go wild. As you practice, you'll need to get your sets together and get organized. You will need to learn how to match the harmonics and the key of the music, and even how many bars to play before you need a change. These days, computers and software can help you determine the tempo and the key of the music; however, you will still need to know your tunes inside and out. Sticking to one genre of music and mastering it is one of the keys to success. Being a jack of all trades and a master of none generally gets you nowhere—unless you want to be a wedding or small party DJ.
That's the easy bit out the way; now you need to let everyone know who you are. Web presence is very important, social networking is key, a good website essential. Don't forget to keep your growing fan base updated on your gigs. Keep your website and social media sites updated, and even send out e-newsletters. Your DJing future is in your hands; go grab it.
---
Share
---
Tags
---
You might also like