Phantoms Wants to Make You Dance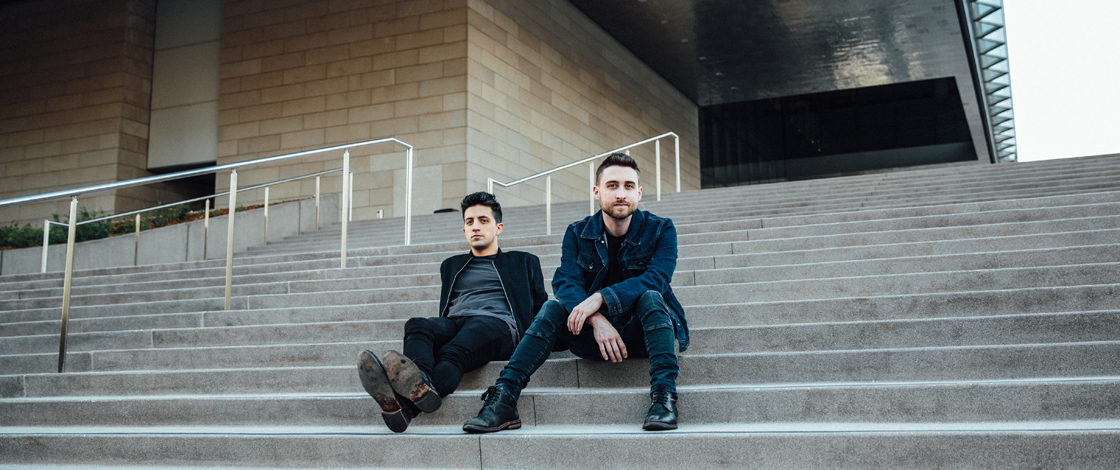 For the members of Phantoms, it all crystalized on October 8, 2007.
At the time, Vinnie Pergola and Kyle Kaplan were young, aspiring actors with notable credits, but they were spending more time and passion on making music to perform around Los Angeles. On that night in history, the pair made their way to the Fonda Theatre for a show headlined by French electro-house heroes Justice.
"We went to that show, and that's what did it for us. It was Midnight Juggernauts, DJ Medhi, Rest in Peace, and Justice," remembered Kaplan of the fateful night, calling in from Las Vegas, where he was spending the weekend partying with good friend Dillon Francis. "You want to talk about a defining moment—that's what cemented it for us."
"I think a lot of the people there were discovering electronic music for the first time," added Pergola about the dance music flashpoint that was Los Angeles in the mid-'00s, while chilling on the phone poolside at the Loews Hollywood Hotel. "That was one of the big shows in L.A. I've talked to a lot of people who were there. Those years were so, so exciting. That definitely shaped what we're doing now."
It was a bold leap from the world of acting to diving headlong into the whirlwind of dance music culture, but both members were more than ready to leave auditions and callbacks behind.
"With acting, we were just saying what was written for us in a script. This is completely ours, and that's really important to us."
"Vinnie left acting before I did. We were always making music in the background, and then my career slowed down a lot," Kaplan recalled. "I was on the TV version of Ten Things I Hate About You; it wasn't very good and got canceled. I was auditioning and just hating it. There was just that moment where we decided to go full-time on it. The ownership is a big part of it, too. With acting, we were just saying what was written for us in a script. This is completely ours, and that's really important to us."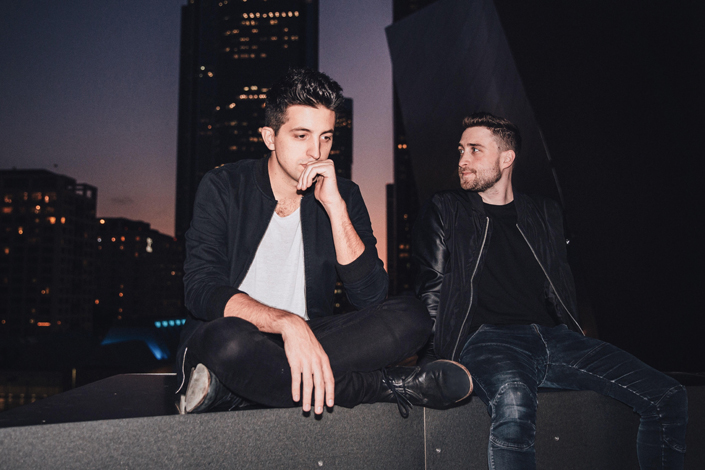 As Phantoms, the duo has crafted their own style of melodic, pop-leaning dance music, succinctly captured on the group's eponymous debut released earlier this year on the revived Casablanca Records label.
"Right now is such a singles culture," Kaplan said while discussing the album, which includes a slinky take on J.J. Cale's "Cocaine," inspired after the two saw it covered during a drunken night out in L.A.'s Thai Town. "We wanted that one body of work to go to for people discovering us. Now that it's out, we're already excited to start working on new stuff."
The 11-track full-length features a handful of guest vocalists, including Hayley Kiyoko, Vérité, Harlie and Grace Mitchell, as well as Kaplan himself.
"It was pretty organic. Grace is a girl we met because she happens to be on the same label," Pergola explained. "We'd met her at a couple of parties, and then we did a writing session after a long weekend in Vegas and just connected really well. We've been close friends ever since. She actually ended up writing a lot of the record with us. She's a good friend of ours now."
"We could've done a big swing to get this vocalist or that vocalist," chimed Kaplan, "but for us, it was more about working with people we were really stoked on and connected with."
For the album's lead single, "Pulling Me In," the band hit a variety of locales to perform the song in the unlikeliest of public places, including a suburban neighborhood street, the National Mall, Times Square, and Miami Beach.
"Being on Miami Beach next to the most beautiful ocean water you can possibly jump into—while wearing a tuxedo and sweating uncontrollably—was insane. Especially since we couldn't just jump in to cool off," Pergola laughed. "I think the other people on the beach just thought we were losing our minds. Two guys all dressed up on the beach jumping around and hitting these drum pads—we looked like two crazy people. It was amazing, but it was tough."
While the occasional onlooker was inspired to dance with the band, they were surprised at the civility they were met with across the country. "People were so polite everywhere we went," marveled Kaplan. "I think they thought we were doing like a real performance or something—a really bad performance with just a boombox—but still, they were nice about it."
Being on a label with a storied catalog—including seminal releases from the likes of Donna Summer, Parliament, and KISS—comes with some perks, including studio time with legendary producer Giorgio Moroder. They collaborated on the track "Champagne, Secrets, & Chanel," featuring vocals by Prince Charlez.
"It was really cool. We got to hang with him a bunch," Pegalo raved about working with the dance music legend. "He's a very talented guy, and he knows his craft, obviously. He's in an amazing place right now. For him to be thrust into the DJ world is incredible, and he loves it."
"One of the best parts about it was hearing Moroder's stories from back in the day. He was telling us how when you signed a recording contract in the '70s, it was literally just one page long," Kaplan laughed. "He really likes where electronic music is now. It was wild to hear how much he loves playing new stuff like Marshmello over his own classic tracks. He's all about the culture."
Phantoms will be spending much of the summer and beyond on the road, hitting a slew of music festivals and headlining dates along the way.
"We've been growing the live show over the years to where we really like it to feel like a full experience," Pergola revealed. "Everything flows together pretty seamlessly. There aren't a lot of breaks between songs. The idea is for it to feel like a dance party or even a DJ set—but also taking our songs to a different level and doing something new and interesting with them live."
With so much changing in the world of dance music over the 10 years since the members of Phantoms realized their destiny at that Justice show in Hollywood, they don't hesitate to respond when asked if they're still just as passionate and inspired by the scene now as they were then.
"What I find most exciting is that I don't know what's going to happen next, in a good way," Pergola said.
"You have artists like Bob Moses and Rufus Du Sol, which are like alternative dance. And then you have guys like Calvin Harris, who has a funk record coming out," added Kaplan. "There are no rules, and you can do whatever you want, which is exciting. Instead of everyone sounding like Flume for a bit, and then everyone sounding like Odesza for a bit, I like that it's going in every direction now. I have no idea what the next big sound is going to be, and I think the key to longevity is not chasing sounds, but finding your own sound."
You can catch Phantoms doing their thing at Nocturnal Wonderland 2017, which takes place Friday, September 15, and Saturday, September 16, at Glen Helen Regional Park in San Bernardino, CA. For more information, visit the official website.
Follow Phantoms on Facebook | Twitter | Instagram
Follow Nocturnal Wonderland on Facebook | Twitter | Instagram
---
Share
---
Tags
---
You might also like