Onstage: A Close Look Into Flosstradamus' Massive Military Bunker Stage
The Onstage series takes a deep and detailed look into the jaw-dropping, state-of-the-art stage designs and productions that drive electronic music into the future.
To raise a child, it is said to take a village. But to raise the hairs on the back of your neck, it takes a 53-foot tractor trailer full of wood and steel, more than 55 feet of stage, five hours of construction time, eight stage hands, four loaders, an electrician, a lighting tech, and two really dope DJs.
At least that's what goes into Flosstradamus' new stage production, the Bunker, a militarized, moving showstopper that's already blown minds from Colorado's Red Rocks Amphitheatre to Bonnaroo. The Bunker is so ill, so totally unbelievable, it's serving as the centerpiece to kick off the holy trap duo's Hi-Def Youth Tour this weekend in NYC.
"[There were] a lot of conversations and ideas being thrown around on airplanes and airports about how to do things differently," says Flosstradamus' tour manager, Mitch George. "[Flosstradamus] wanted to shy away from just standing in front of a big LED wall and getting lost in it. They were like, 'What can we do? What can we build?' They must have had some ideas in their head that got passed along to James Fenton."
Fenton is a seasoned set designer with 20-plus years of experience conceiving and building stage setups for film, television, special events, and a lot of theater.
"I consider it to be a very lucky occurrence that I got tied in to these guys," Fenton says. "Not only are they fantastic people, but Flosstradamus are really high intellects. They're not the usual fare you think of in the live music industry."
That intellect, unique point of view, and unquenchable artistic drive led to the Bunker, which in itself is the third installment in an ever-evolving story. Two years ago, Floss hooked up with Fenton on the original HDYNATION tour. It was all post-apocalyptic vibes then, built around a barricade at the end of the world in some fantastical second American Revolution.
"They're not some icon on a hill speaking down to their public," Fenton says. "They were really trying to create this voice of them being a part of the revolution, rather than these talking heads that are above it. It is a little militant, but I think the tenor of the United States' politics and the tenor of the people right now is one of a very revolutionary mindset, and they were really responding to that as people that are involved. They're shooting up—not down."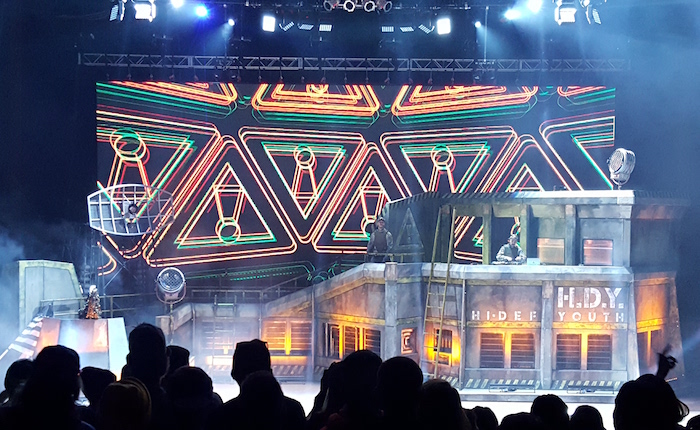 The Bunker is the biggest and baddest setting for the Flosstradamus storyline yet. The first step is to erect standard stage rigs in proper formation and cover them with lightweight wood panels. Those panels are then covered in more lightweight textures and treated and painted to look like solid concrete. There's a big steel antenna, working spotlights, and a one-of-a-kind CO2 T-shirt turret. Venues must provide the 40-foot LED screen. All told, the Bunker is one living, breathing spectacle spreading 54 feet wide and 20 feet deep and standing 15 feet tall.
"We wanted to have more moving parts to this stage setup, so we added physical spotlights, ladders, and a semiautomatic T-shirt cannon," Curt Cameruci, one-half of Flosstradamus, told us in a previous interview. "We are also dressing up our crew in theme with our own costumes to make the whole show feel like an immersive off-Broadway show. We've really tried to step outside what most people perceive as a traditional EDM show with just plain LEDs, lasers, etc.
"I send people [the stage] rider, and [venues] call me back immediately saying, 'Oh my God, this thing is giant. What are you guys thinking? You can't bring that here, no way!'" laughs production manager James Dean. "I have to work with them [and explain] how to get it done. By the end of it, when it's built and onstage, everybody feels like a kid. Until it gets there, it's pretty terrifying."
That kid-like feeling was a lot of the intention behind the Bunker; Dean calls it a "playground" for Flosstradamus members Josh Young and Cameruci. It's sturdy enough for Young to run on top of and large enough that he can be seen by the audience, no matter any obstruction. Cameruci, it turns out, is dangerously in love with the T-shirt cannon. Let's just say a steak sandwich can fly as far as a football field; don't ask how he found out.
"It's definitely one of the biggest, coolest things I've ever set up," Dean says. "It is so unique, so creative, and so challenging. Every show we do, it takes convincing, and it takes a lot of work to get it in and out of places. The fact that we've done it so often and we've done it so well [is amazing], and the crowd loves it."
Kat Bein is a HDYGRL, by all means. Follow her on Twitter.
Follow Flosstradamus on Facebook | Twitter | SoundCloud
---
Share
---
Tags
---
You might also like