My Philosophy: Going Full Circle With Junior Sanchez
Junior Sanchez is 40 years old, which isn't really that old in the grand scheme of things, but he's carved out a place as a sort of elder in the house music global scene because he's just been in the game so long. He started DJing around the age of 11 at home, and it took him only a couple years to start playing New York's hottest clubs in the '90s. In the nearly three decades since he got his big break, Sanchez has dipped his toes in many scenes in an effort to stay ahead of the game and to complete his journey from pupil to professor.
Released on Brobot Records in August, Sanchez's LP Under the Influence is both an interesting entryway into his work for the uninitiated and a nice summary of his oeuvre to date. It contains plenty of guest collaborations and nods to dance music's past (and present), but the real standout character on this record—besides Sanchez, that is—is New York, the city that has influenced so much of dance music history and which has served as the haven for all of these wonderful producers to thrive in.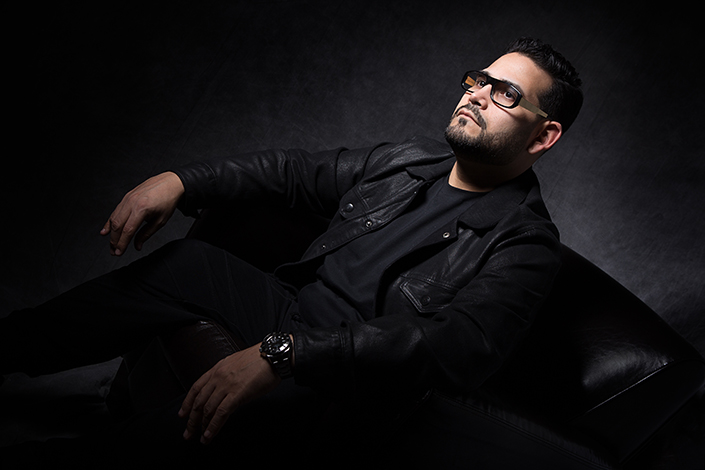 Speaking from his studio in New York, Sanchez tells the tale of how he got sucked into the wonderful world of house music in one of the most interesting clubbing periods in history, and how he turned that inspiration into a career that he is now paying forward as a teacher himself.
In about four seconds, a teacher will begin to speak.
I'm a family man. My daughter is 12. My son is 6. I'm a New York lifer.
I started DJing when I was about 10 years old. I was the youngest of six siblings. I have one sister and five brothers. And the format that they bought music in at the time was records. I would, you know, just rummage through their records. My sister was into like ELO, Blue Oyster Cult, Boston, Fleetwood Mac. I had another brother into super industrial bands like KMFDM, My Life With the Thrill Kill Kult, Revolting Cocks, Ministry. My other brother was into hip-pop at the time, Slick Rick. And my other brother is into new wave: Depeche Mode, New Order, etc. My other brother is into the Smiths.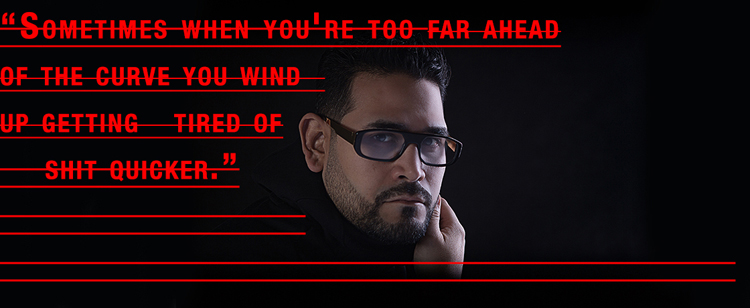 I grew up with so much music around me… like early Wax Track stuff. All that was super influential for me until I found house music myself, and that felt like that was mine. So all this music I was influenced by, I felt it didn't belong to me, because I learned it from my siblings or I discovered it through them. But when I discovered house music, the first record I really listened to—that really resonated with me—was Tyree Cooper "Acid Crash." It was one side, "Acid Crash," and the other side was a freestyle record called "Red Hot."
My parents are divorced, so I grew up between New York and New Jersey. I would go back and forth, dancing in front of Unique Boutiques, and go to Vinyl Mania and all the record stores, and really be engulfed in the early house culture of New York City. Hip-hop culture, too, because I had a lot of friends into hip-hop, like Stretch Armstrong, Lord Sear, and Bobbito. All these guys were influential as well. I would go to Sheets and Pillows, which was an early New York hip-hop night. But again—because all my friends were into hip-hop—when I discovered house, it felt like something new to me and felt like I was doing my own thing, so I dove into it really hard.
I was 13 going on 14 years old when I really started playing out in New York. I'd go to Peter Gatien's clubs, like Limelight and Club USA. My first real steady gig in New York City was at Club USA; I had a residency there.
I lived with my mom, who didn't really understand. My mom's Brazilian, and it was kind of like I just did my thing. She was super concerned about me, but I was a rebel and would just sneak out of the house. I would go out to New York on a Wednesday night to go to a bar for Little Louie Vega's industry night, called the Underground Network. It was a Wednesday night; Louis was the resident. I would go there and then go to Disco 2000 at Limelight, which was around the corner. I would make it back home in time to just jump on a bus and go to school on Thursday morning, where I would just pass out. That was like my daily, you know? Go out and club. But I didn't do any drugs. I didn't do much stuff, because music was such a driving force for me. Once I found what I really was into, I was so focused.
I was like, "fuck it." My mother would, you know, she would get upset and come into my room in the middle of the night and cut my hair, because it was dyed and she didn't want it dyed. I cut my hair blond and dyed like all different colors, because I was going to raves a lot. She was super not into that, but I would just deal with it.
So I was DJing at Limelight, and this guy comes up to me. He was like, "Hey, can you make music like how you're playing?" I completely lied and said, "Absolutely!" And he was like, all right, then come to my studio in New Jersey, and let's make a record together. I was about 14 years old.
I never really thought about how old I was. In New York and in the scene, it wasn't about your age. It was about how you look. I was always kind of unguarded how I dress; I was wearing Docs in seventh grade, you know. I learned that from my brothers, my sisters—they were also different. But it was about how you carry yourself, how you're presenting yourself, so the age at that time in New York City wasn't a problem at all. I guess I looked young, but that never crossed my mind—until a few years ago, when I was talking to my nephew, [who] was like 14. I'm like, "What are you doing with your life?" He says, "What do you mean? I'm in school." I thought everything that was happening to me was completely normal.
I signed my first record with Strictly Rhythm. I was about 15, and then I got a check for, I don't know, 12 or 15 hundred bucks. I'm like, wow… I do one of these a month, and I could live. I could pay rent. It wasn't even about anything more grandiose. I took that check and opened a bank account, and then I just snowballed from there.
Armand Van Helden started to blow up; he had done "Witch Doktor." My career started taking off, and by 1990, I'd released a lot of records. I met Roger Sanchez, and we became tight. I met DJ Sneak, and Sneak, Roger, and I got a project going called the S-Men. We did six turntables together. I was the baby of the group. They obviously took a liking to me because they saw how passionate I was.
Back then, I didn't even mention how old I was. It was kind of like, you just didn't say—you almost hide it. And the more you didn't mention it, nobody would question you… Now, being 13/14 years old is like, oh that's a great "marketing tool." I never took what was happening with me seriously, and that is a good and a bad thing. I should have, but I didn't.
After years of touring, producing, and all that, I then got into the family thing. When I had my daughter 11 years ago, that really changed everything, because at that time I was really kind of bummed out with house music. I started a band called Output, and I was producing a lot of bands at the time. I love dance music, but I was kind of like, "Where is it going?"
I'm always looking for something youthful, something different, or something that's going to keep our culture going. In dance music, you can get inspired by a lot of things. Like when DFA first started—this is pre–LCD Soundsystem, pre James Murphy blowing up—I would be inspired by what he was doing. To me, he was like early ESG, early disco, live dance music. I kind of helped usher that whole mentality in Downtown New York. I didn't realize I was doing that at the time, but people like Arthur Baker and Soulwax and Erol Alkan were all doing their thing.
That era was kind of pushing the envelope in house music, because house music, I guess, needed a kick in the ass—even though it's always been amazing—but sometimes things get stale. I look at it this way: The wheel doesn't always need to get reinvented. It just slows down, and sometimes you need to spin it again. That's what's happening with me. That's how we kind of kept this fresh: by trying to stay innovative, trying to stay, you know, ahead of the curve. But sometimes when you're too far ahead of the curve, you wind up getting tired of shit quicker.
This all circles back to my album that I just released, called Under the Influence. The reason why I did the record is that I came to a realization months ago that I have such a diverse musical talent, because I've had so many musical influences. And I wanted to make a record to reflect that. The list of my influences is infinite, but what I realized is that all along, like especially in the past year and a half, all my influences are my friends. I got to thinking about that, because you take for granted that you hang out with the people that inspired you, the people that really got me into what I'm doing. I tapped into that frequency, or that influence, and I just made an album in three months that pays tribute to everyone I admire that I grew up with. People like Todd, MK, Little Louie, Masters at Work, Armand—everyone! I wanted to make a record that touches and inspires and says "thank you," because this is what your influence did, and this is how I'm giving back to the world.
It kind of goes full circle, you know?
---
You might also like