Miss K8 Is Wreaking Havoc at Basscon: Wasteland 2017
Miss K8 has paid her dues. When she first discovered hard dance as a fan, she began working toward her ultimate goal to become a world-traveling DJ/producer. She was one of the first promoters to book hardcore artists in her native Ukraine, a country traditionally soaked in house and techno. In tandem with her pioneering efforts to bring hardcore to her homeland, she dove head first into the world of DJing. She showed an early talent behind the decks—ably reading her crowds and finding balance within the aggressive energies across hardcore subgenres—and quickly became an artist to watch. Her profile was already rising.
While Miss K8 continued to grow the hardcore footprint in Ukraine, she began her journey of discovery in production. Without a base of hard-head producers at the ready, she learned from house and techno producers and applied her newfound skills to creating a trademark sound composed of blazing kicks and hard-edged yet melodious sounds.
It was around this time that her dual worlds as a promoter and an artist collided: She booked the masked marauder of hardcore, Angerfist, for a show. As a promoter, she had achieved a massive goal in bringing him to Ukraine for the first time. As an artist, she gained the opportunity for her long-awaited entrance onto the worldwide stage. She soon found herself signed to Masters of Hardcore, the leading agency in hardcore, and working in the studio alongside the very DJs she'd once desired to emulate.
Nowadays, the former enthusiast is recognized as the Goddess of Hardcore by thousands of global fans and has risen to a rightful place alongside the dons of the genre. She's one of the few hard dance DJs to currently sit in the DJ Mag Top 100 DJs poll—the only Ukrainian artist and one of only two female acts on the list. But she doesn't really like to talk about the latter.
Miss K8 joins a stacked lineup of hard dance heroes at Basscon: Wasteland 2017 this weekend, where she's making her highly anticipated US debut. We caught up with the queen of hardcore techno to chat about her journey to the top of the game.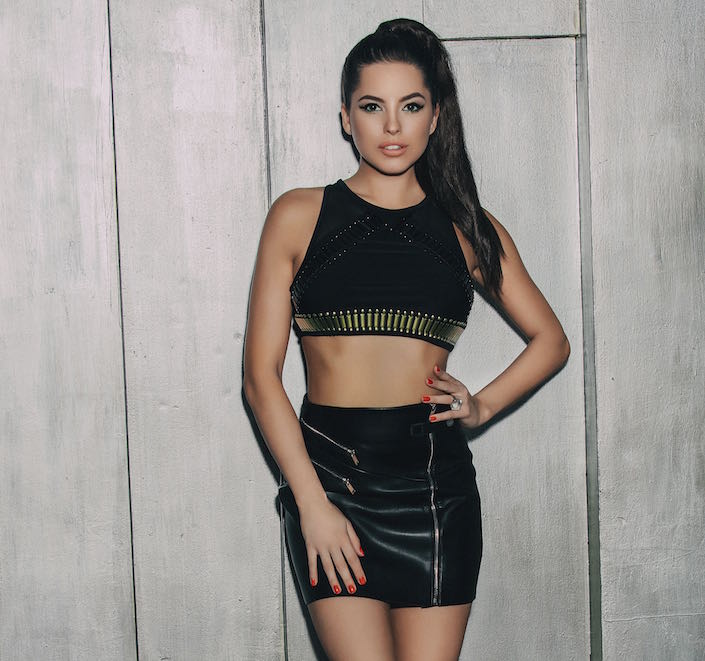 You're making your US debut this weekend at Basscon: Wasteland. How does it feel to come here at a time when hardcore and hardstyle are both reaching such a high point in popularity in the US?
It feels great! I'm looking forward to my first performances in the US. I've played in Australia, Asia, Europe, South America, and Canada, but not in the US yet. It's finally time to change that. I can't wait to drop my bass like an earthquake!
Were you always into more aggressive music?
Absolutely. I was always missing something in mainstream music, and I tried to find the perfect sound for me. I've always liked extreme and aggressive music. It all started with heavy metal and techno, and later the dark side of drum & bass, hard techno, and finally hardcore techno.
When you first started to learn about production, you were taught about house music. How did you begin to apply those same principles to hardcore?
In Kiev, I attended classes at the Flymusic DJ School for music production. I was working in Ableton and learned the basics of composing and building tracks. Their main focus, though, was in house music and techno. After finishing the course, I tried to move further into more of the distorted and rough elements of hardcore music on my home PC, something they could not teach me at the production class. Over the years, I developed my own hardcore sound.
Hardcore and hardstyle have both become global forces over the last few years. Why do you think audiences have become more enthusiastic about these genres recently?
Because our music is full of energy and drive. I think the internet also plays a big part in this, because US, Australian, and Asian music-lovers can see the aftermovies of enormous hard dance festivals in Europe. It's like a virus spreading, slowly but surely.
What is the role of the US in this development?
The US, and Insomniac in particular, has taken hard events to a new level of quality. Los Angeles has a solid hard dance scene, and it's great to see other cities growing as well.
Catch Miss K8 at Basscon: Wasteland 2017, taking place Friday, April 28, and Saturday, April 29, at the NOS Events Center in San Bernardino, CA.
Alexander Dias likes his bass hard. Follow him on Twitter.
Follow Basscon on Facebook | Twitter | Instagram | SoundCloud | Mixcloud
Follow Miss K8 on Facebook | Twitter
---
Share
---
Tags
---
You might also like