Meet the Star of Above & Beyond's Latest Music Video
Upcoming Event
If you have a thing for pilots, then you most definitely need to check out the music video for Above & Beyond's "All Over the World," starring actor Max Lichtig. A play on Catch Me if You Can, the video shows Lichtig roving the world with beautiful women—all on stolen money. A fan of Flume, Odesza and Disclosure, Lichtig is no stranger to working on music videos such as this one. "My friends and family joke that my career will be kept afloat through music videos alone," he says.
Here, Lichtig shares memorable stories and pictures from the set of the video.
How did you get in touch with Above & Beyond and their team to work on the video?
I was found by the video director, Kenlon Clark, who also directed Above & Beyond's past videos for "Blue Sky Action" and "We're All We Need." He found me on a website called Backstage, which is used by actors, producers and directors to find each other for upcoming projects. The producers checked out my resumé and reel and decided they liked me enough to offer me the gig.
What was the process of shooting the video? 
Music videos usually take no more than two days to shoot. Any more, and they're usually over budget. A weekend is used to feverishly create this highly creative concept that's usually more easily put on paper than on film. It's always amazing to watch the video come to life and is always so beautifully collaborative. Everyone's working a million miles a second so everything gets done in time.
The first day of shooting for "All Over the World" was in Pacoima, California, at this mock airport that's been used in previous films such as Airplane!. It's a warehouse filled with three mock airplanes, complete with every interior plane detail you could imagine, including blowup dolls sitting in the cockpit. The second day, we shot at the Dream Factory, a warehouse in Anaheim, California. The building looks small from the outside, but the inside is completely and utterly filled to the brim with almost every movie set a film could need—including a fully realized mini hospital, an interrogation room, a living room and bedroom, jail cells and more. It's total movie magic in a nutshell.
What was it like working with Above & Beyond and their team?
Unfortunately, Above & Beyond were in London at the time, so I couldn't meet them; but the team I worked with on this video is amazing. From the makeup department to the executive producer, everyone was nicer than they had to be and equally professional, so I was pretty lucky. Major props go to Alexzandra Granath, who was in charge of the wardrobe department and responsible for getting our outfits as close as possible to the characters in —down to the shoes worn in specific scenes of the Spielberg film. Clark, the director of the past few Above & Beyond music videos, is as much of a creative genius as he is an awesomely fun human being. He's hilarious and kept it light during every take, so no one got too stressed out, even when we were really crunched for time.
How do you personally interpret the video?
To me, the Catch Me if You Canreferences are used as a backdrop to a story of a troubled relationship between a father and son who never got to say the things they always wanted to say to each other. This manifests in my character wanting to fill this void by becoming everything he's not. He's distracting himself with temporary successes so he doesn't have to face the truth about him and his father's relationship. Only in the end is he able to reunite and amend their fractured relationship.
Any memorable stories from the shoot?
The interior shots of the living room, the hospital, the jail, kitchen and the dining room are all part of the same warehouse at the Dream Factory (they all share walls with each other). In the shots where I'm running in slow motion, I'm running alongside a van with some of the crew and director filming alongside me. I was wearing shoes that were perfect for the character but not best for running, and in one of the takes I turned a corner and slipped onto the concrete and just completely ate shit. I got up and pretended like nothing happened, but holy crap did it hurt.
Something else people wouldn't know is my role in the video was actually originally supposed to go to a pretty well-known young actor, but he dropped out in the end, and I was able to keep the part! Thank God for scheduling conflicts.
For pictures from the set, click to the next page.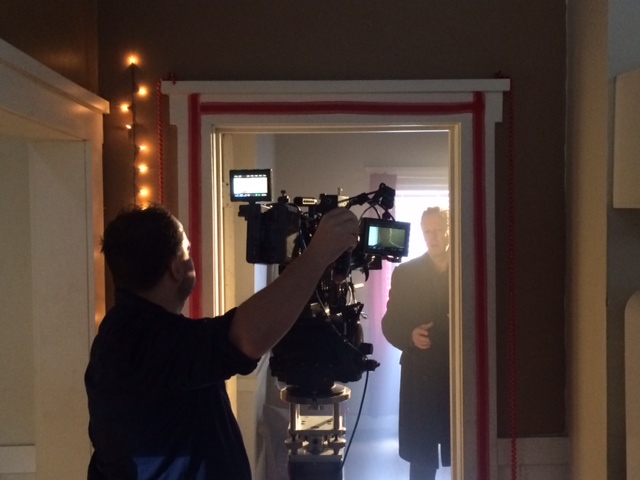 Director Kenlon Clark on the left.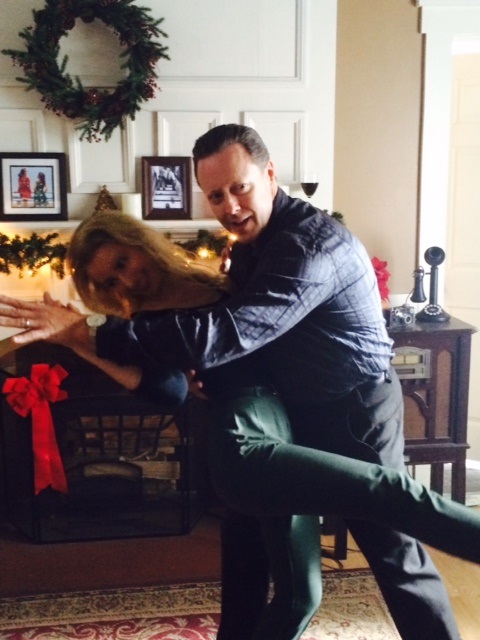 Ray Trickitt on the right played Lichtig's father in the video. "He does the most amazing Christopher Walken impression, Lichtig says. "He never broke character."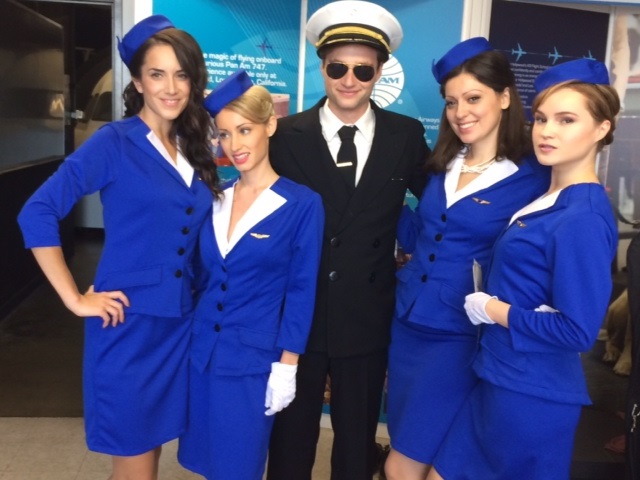 Lichtig with stewardesses from the video.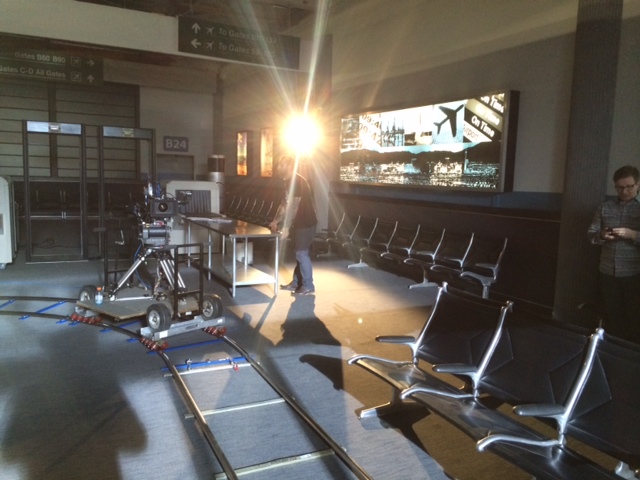 Backstage footage from the set.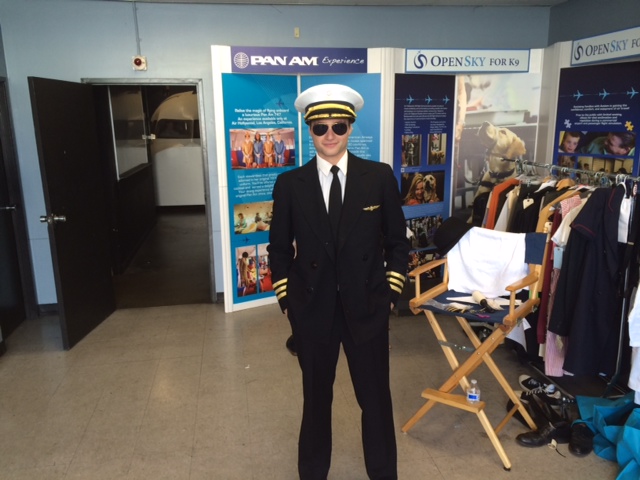 Lichtig in uniform.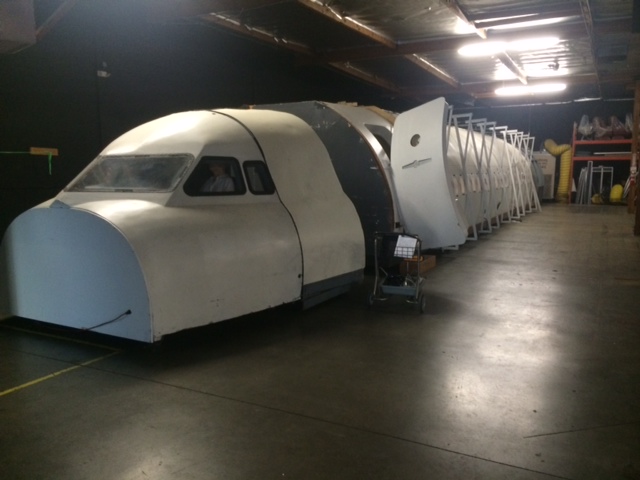 The mock aircraft used on set.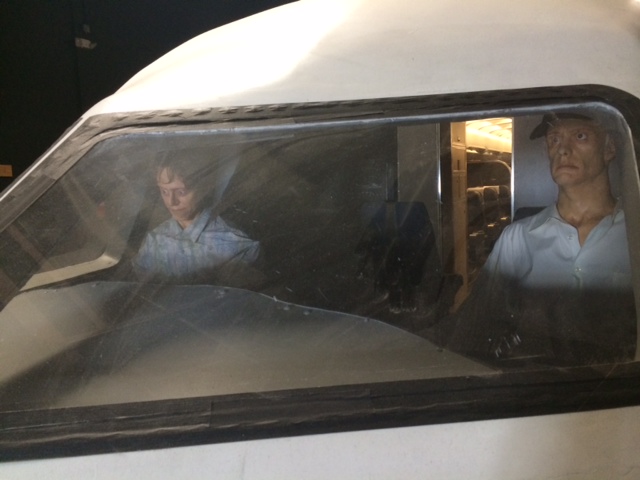 Fake dummies in the mock aircraft.
---
Share
---
Tags
---
You might also like