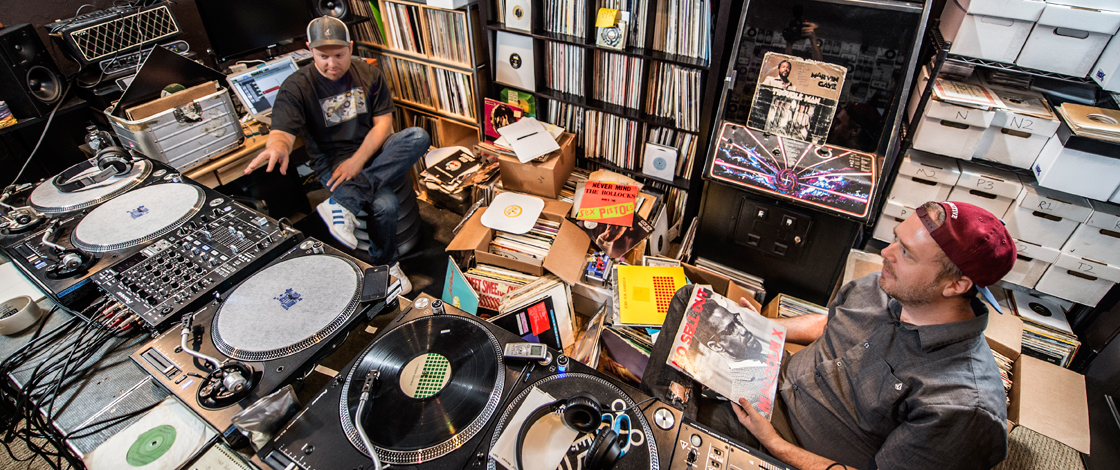 Josh Davis, better known to his fans as DJ Shadow, pulls an old piece of vinyl from its battered sleeve and gently places it on one of six turntables that crowd his small home studio. The record's center label is covered with yellowed masking tape—hidden so rival DJs couldn't identify the track and bite it for their own sets. A smaller strip of tape covers some of the grooves, a hip-hop DJ's trick for marking the beginning of a drum break.
"Here's another example," Shadow says, as he drops the needle and a familiar, swaggering drum beat kicks in. The brim of his gray and black Kangol baseball cap sways slightly to the rhythm. "This is just a classic breakbeat."
I think there is the perception that hip-hop is based on funk and that James Brown, Sly Stone and George Clinton provided the basis for rap, but it's only a partial truth.
Shadow and his friend and fellow DJ, Cut Chemist, are giving an impromptu tour of the record collection of Afrika Bambaataa, one of hip-hop's earliest DJs, whose legendary sets in the late '70s and early '80s New York helped define the genre's sound. For months, they've been sifting through Bambaataa's massive collection of over 40,000 pieces of vinyl, picking and choosing which ones will become the building blocks for their historic Renegades of Rhythm Tour, a 90-minute DJ set built entirely out of vinyl once owned by the man known to rap fans as the "Master of Records."
Even for two of hip-hop's most skilled turntablists and knowledgeable historians—as a duo, most famous for their legendary 1999 Brain Freeze Tour, on which they played nothing but 45s—it's a daunting task. It began last year in a drafty storage unit in Queens, New York. Shadow and Cut (real name: Lucas MacFadden) had only a few days to pull as many records as they could from the collection before the rest of it was shipped off to Cornell University, which had purchased the vinyl in order to preserve and digitally archive it. From there, Shadow brought the records back to his home in Marin County, just north of San Francisco, where he and Cut have spent months further winnowing down the pile.


"If you had come in April, there were boxes from here to the wall," Shadow says, gesturing across the studio's roughly 20-foot length. Many of the original boxes have since been shipped back, but about 800 records remain, of which they guess maybe 200 will find their way into the final set.
Shadow, who grew up in nearby Davis, first came to prominence in the late '90s with his groundbreaking instrumental hip-hop album Endtroducing…, an atmospheric mix of chillout ambience and intricately programmed drums, all painstakingly assembled from hundreds of samples. Slim and sharp-featured, wearing a black T-shirt with a pile of 45s silkscreened to its front, he's the more intense and talkative of the two. Aside from a vintage arcade game, Tempest, which sits unplugged near the door, his studio is all business, lined with shelves full of vinyl and precariously stacked recording equipment (at one point during our interview, he knocks a vintage Vox Percussion King drum machine off its perch). The handle on the front door of his house, nestled here amid the Northern California pine forests, is molded in the shape of a giant turntable arm.
Bambaataa was interested in bringing different types of people together. That's why he would go to other parts of town and bring in the punk rockers with the neighborhood kids. Everybody thought there was gonna be fights, but he figured out a way to make it peaceful.
Cut Chemist, sporting a backward red snapback, is quieter than Shadow, but when he does speak, it's often to finish his partner's sentences; clearly, the two men have spent a lot of time together. For much of the past year, he's been on tour with his recently reunited, Los Angeles-based rap group Jurassic 5, one of the most influential crews in the late '90s alternative hip-hop scene. But between tours, "we just sat here and opened every box," he says. "Listened to every record as best we could to determine which ones we would use."
One of the most fascinating things about the collection, as Shadow and Cut have curated it, is how little of it falls under the conventional heading of "hip-hop," or even the standard funk and soul records that are often thought of as hip-hop's foundation. Yes, there are familiar funk jams, like the heavily sampled "Gangster Boogie," and more than a few '70s blaxploitation soundtracks (including the "classic breakbeat" Shadow played earlier, from a film called Truck Turner starring Isaac Hayes). But scattered around the room are also records by synth-pop pioneer Gary Numan and '80s Brit-soul stirrers Simply Red. Even a dog-eared copy of the Sex Pistols' seminal punk album, Never Mind the Bollocks, tops one pile.


"I think there is the perception that hip-hop is based on funk and that James Brown, Sly Stone and George Clinton provided the basis for rap," Shadow says. "But it's only a partial truth."
As evidence, he holds up two well-worn, marked-up salsa records that were clearly among Bambaataa's favorites. The Bronx, where Bambaataa was born Kevin Donovan and raised by politically active parents, had (and still has) a large Puerto Rican and Dominican population who would have appreciated his occasional salsa, soca and calypso beats. "As any good DJ," Shadow explains, "he was always trying to find a bridge to connect with his audience."
In those early days, no one was yet producing hip-hop records, so Bambaataa, like all hip-hop DJs at the time, used his diverse record collection as raw material, lifting favorite passages from certain records and looping or layering them to create the new sound. Good breaks—sections featuring only drums—were the most highly sought-after. "Once it became about the breakbeat, then it just became a search for breaks," Shadow says.
Perhaps more than any other of hip-hop's earliest DJs, Bambaataa took the new sound out of the Bronx projects and introduced it at parties all over the city—and eventually, all over the world. "He was interested in bringing different types of people together," says Cut Chemist. "That's why he would go to other parts of town and bring in the punk rockers with the neighborhood kids. Everybody thought there was gonna be fights, but he figured out a way to make it peaceful."
He was also one of the first hip-hop DJs, along with Grandmaster Flash, to enjoy radio success with hit singles, especially his groundbreaking 1982 song "Planet Rock." Borrowing its futuristic, synth-heavy sound from German electronic music pioneers Kraftwerk, "Planet Rock" was unlike anything anyone had ever heard, even within hip-hop circles.
"'Planet Rock' spawned genres," says Shadow. The entire '80s genre known as electro-funk originated in the track's stuttering 808 drum machines and pulsating synths, along with later offshoots like Miami bass, freestyle and an early techno/hip-hop hybrid genre, hip-house, the forefather of today's trap music.
"It's not an overstatement to say that dance music in its current form would not exist" without Bambaataa's music, according to Shadow. "He was always about the future," adds Cut.
To honor that forward-thinking legacy—if that's not a contradiction in terms—Cut and Shadow are determined to present Bambaataa's music in a way that breathes new life into his records' old sounds. Deep knowledge of hip-hop's roots is "not a prerequisite for enjoying a set like this," Shadow insists. "We're not trying to be up on high, preaching to people. That's not what this set is about."
To demonstrate, he and Cut bust out a few of Bambaataa's records and rehearse a section of their 90-minute set. Working on two mixers and six turntables, they weave together fragments of several familiar tracks—"Gangster Boogie," James Brown's "Funky President," Esther Williams' oft-sampled 1976 soul/disco hit "Last Night Changed It All"—with more obscure breakbeats, often working with two copies of the same record to loop and extend a particularly juicy break. Even with the occasional miscue—this is still a rehearsal, after all—it's a breathtakingly intricate display of turntable mastery.
The final set will be choreographed down to the second, a dance performed on six turntables. "Some people don't quite understand the lengths that we go to get the mixes right," says Shadow. "We're not up there like, 'Oh, I hope this works.'"
"We make room for improvising when we mess up," Cut adds sardonically.
Both DJs are quick to note that, despite their ongoing love affair with turntables and vinyl, they're not trying to be some nostalgia act. "I don't consider myself a purist," says Shadow. "I've been DJing for two-and-a-half years using CDJs. I haven't played vinyl on a tour since 2009." Too much good new music, he says, no longer gets released on wax. "I don't want to limit myself to a format that's not going to allow me to express myself as a DJ."
Cut Chemist echoes this sentiment: "When I do my performances, I like to use every medium possible. There's sets where I do everything: Serato, vinyl, CDJ, DVJ. I don't discriminate." After the Renegades of Rhythm Tour, he's doing a solo tour for which he'll be playing a combination of vinyl and cassette—not as some technical exercise, but because he's collected a bunch of music that exists only on cassette.
Both Shadow and Cut have shared festival stages, club nights and even tours with DJs and producers working in different genres of electronic dance music, and they express nothing but admiration for what today's EDM scene has become. "There's just so much out there," Shadow says. "There's so much to learn from. If you're open-minded, you're gonna be like, 'Oh, he's not doing with I do, but who am I to say that's wrong?' That's what it comes down to. Especially when they're pulling a crowd like they're pulling, or they're making people go crazy."
Shadow gives a specific example from a tour he did in the '90s with the drum & bass DJ Peshay. He and another hip-hop DJ on the bill "were really bugging out off the whole mixing style. It was really aggressive mixing without any scratching at all. Totally effective, totally unique to the genre. That was the first time I kind of felt like, 'Well, maybe I've been ignoring other ways of doing things.'"
Bambaataa, too, crossed over into electronic dance music in the '90s. "His collection had drum & bass," Shadow notes. "He spent several years in Italy playing Italo-house in the early '90s. He's always been looking for the next thing."
These days, Bambaataa remains a somewhat enigmatic figure. He still DJs on the regular ("Bambaataa can play anywhere in the world, any weekend of the year," Shadow says) and is reportedly working on opening a hip-hop museum in the Bronx. But he hasn't released any new music in nearly a decade and, for the most part, keeps a low profile.
Although they didn't need Bambaataa's blessing for the tour (since he'd already sold his collection), Cut and Shadow decided to reach out to the Master of Records anyway. If they were looking for some profound insight from the hip-hop godfather, they didn't get it—or maybe they did.
"Don't forget the go-go!" was his only advice, according to Cut—a reference to an early funk/hip-hop hybrid specific to the Washington, D.C., area, which spawned many of hip-hop's best-known breakbeats.
Cut Chemist and DJ Shadow share a laugh over their spiritual mentor's highly pragmatic words of wisdom. Then they get back to work.
Follow DJ Shadow on Facebook | Twitter
Follow Cut Chemist on Facebook | Twitter
All photos by Bennett Sell-Kline
---
Share
---
Tags
---
You might also like