LOUDPVCK, More Than Just Trap Lords
When Kenny Beats and Ryan Marks first met at Berklee College in 2009, they had no idea they would go on to create trap-centric duo LOUDPVCK. In the years that have followed, they've become genre staples, remixing artists like Nervo and gaining support from the likes of Flosstradamus and Skrillex. With an album in the works and new music as GLADPVCK, their side project with Gladiator, they're back and armed to the teeth. We caught up with the duo to talk genre labeling, future releases and personal fan connections.
"There are a lot of ways to get to the top. The only way to not get there is to be a big asshole to everybody."
You guys have a ton of music coming out. There's an album in the works, your side project GLADPVCK with Gladiator. Is that why your SoundCloud account was a little bare recently?
Ryan: Yeah, all the songs we did before, except for a couple official remixes, were free downloads, completely grass roots. That's how we built it from the very beginning, but we really wanted to work with some labels we love. Whenever you start to do that and deal with those entities, you push your release times back a lot. You get a lot more out of it at the end of the day, but there's also a lot more that goes into the release schedule, so it's always months more with someone like Ultra than it is when it's just us putting a record out on SoundCloud.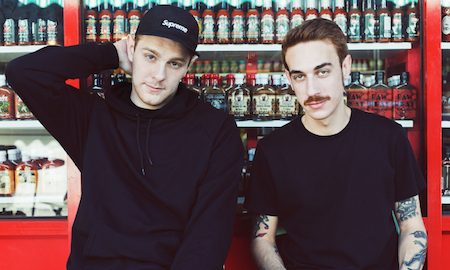 There's a lot of pressure on artists now to release music very frequently.
Kenny: 100%. At the same time, now that we're going to put out all this original music with no samples, we really have a chance to set a precedent for our sound. Now people are finally going to get a taste of where our heads are.
"We're going to want to make music that people can sing with their mom or their cousin or their friends."
I'm curious about what that sound is exactly. In a lot of your recent interviews you mention Jersey club and future bass-influenced artists like Wave Racer and Flume.
Kenny: We come from such a diverse musical background of actually playing instruments and listening to so much jazz and rock that, sooner or later, we're not going to put 808s and big-ass snare rolls in everything. We're going to want to make music that people can sing with their mom or their cousin or their friends.
Ryan: Maybe most producers are as diverse as listeners. I don't think everybody just stays in their little subgenre and listens to that shit. Most of the kids I know that are great producers in a certain lane listen to all kinds of diverse music. We have backgrounds that have nothing to do with electronic music. So guys like Flume and Wave Racer are really interesting to us because they're bringing such a musical quality to what they do. Is our stuff is going to reflect that? Yes. That's the kind of stuff we're waiting to do on a larger release where we'll have more room to explore without irritating LOUDPVCK fans.
You guys both went to Berklee College of Music when a lot of people now are choosing electronic music production specific schools like Icon Collective. What made you both choose Berklee?
Kenny: We didn't go to school for exactly what we're doing now. Ryan went for music production and engineering in the traditional sense. I went for music business. I never once touched a laptop or anything DJ-related in class for credit at Berklee. Ever.
Ryan: Our parents also wanted us to get bachelor's degree and Berklee is a four-year accredited university. I don't know about Kenny, but the day I set foot in Berklee I did not expect to be a fucking EDM DJ. I really wanted to play jazz piano at the time.
Coming from Berklee, how does a theory-heavy background impact what you do now?
Kenny: When it comes down to it, if you throw all the theory and things that we were taught at Berklee at the kind of music we're making, you'll end up overthinking it. There's a lot to be said about trying to be the most musical or the most melodic. But at the same time when we're making a huge trap banger, sometimes you've got to break it down to what's really making kids rock; what's the one thing that's working instead of what are all the techniques I can show off.
How did GLADPVCK, your collaboration with Gladiator, come about?
Kenny: We met them when we first started LOUDPVCK and we would see them out all the time. We had a house in Tahoe and in less than a week we got the rough ideas done for both "Tony" and "Nagano" and finished them up in L.A. Those guys have also been a big help for us on the DJ end because they've both been DJing forever. They really schooled us a lot on technical ability and how to plan your set. On the flip, they've only been producing as long as Gladiator's been around, so I feel like we got to share a lot with them about how we make shit.
Any plans to continue the GLADPVCK project?
Kenny: Probably not. "Tony" did exactly what we wanted it to do. It's this big banger record, and Flosstradamus and Carnage played it. We're hoping "Nagano" will do the same thing at a different end of the spectrum as a big room track. I think leaving it short and sweet is a lot better.
I noticed in your interviews that the one piece of advice you always give is to just be nice to people.
Kenny: When we're around a fan or around someone who supports LOUDPVCK, we make sure to go out of our way. If you meet a kid and just give them dap and say peace, he gets a picture for Instagram. But if you sit there with him for five minutes and you talk, drink a beer, then it's personal. It gives you a better sense about an artist.
Ryan: I haven't met that many people who are not nice in this industry, but out of the people that I have, it makes me not want to work with them or listen to them or play their records out if they're a producer. I think that's true in all walks of life. There are a lot of ways to get to the top. The only way to not get there is to be a big asshole to everybody.
Follow LOUDPVCK on Facebook | Twitter
---
Share
---
Tags
---
You might also like