Interview: Keys N Krates—From Remix Band to Actual Band
Adam Tune is standing at the cash register located in the drum section of Hollywood's Guitar Center store, discussing the dilemma with his bandmates. The airline has misplaced his meticulously customized drum gear from a gig the night before, and now he's in a scramble to replicate a makeshift kit from the store's available stock.
Physically exhausted from a string of shows, he's flustered and annoyed, a mood his face can barely mask. In true Canadian nice-guy fashion, though, it's evident he's making a decent effort not to be rude. Add that headache to a packed schedule that includes a gear showcase at the Native Instruments Los Angeles office, a powwow with record label Dim Mak at their East Hollywood headquarters, and a soundcheck prior to a headlining show at the Avalon in Hollywood later that night.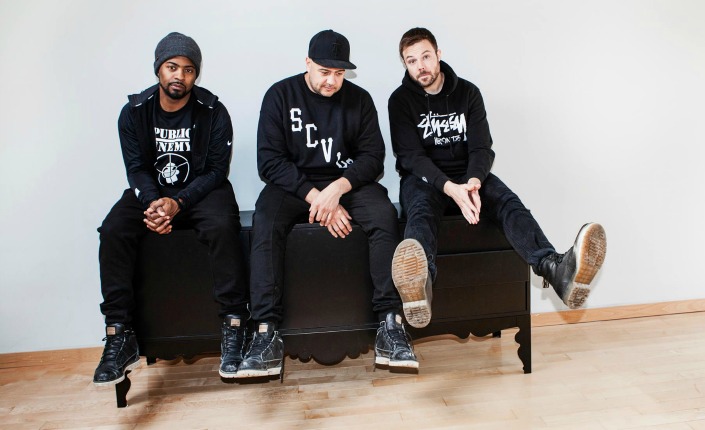 Still, this is cake compared to their last scheduled performance at Avalon in January, which they were forced to cancel after having their laptops and passports stolen.
What sounds like any given day for a touring rock band is an anomaly in electronic music, where live gear is sparse and what's considered a "live performance" is often limited to a DJ, a laptop, some knobs and bright, flashing lights.
"Being a band is harder than being a DJ," says Jr. Flo, turntablist for live electronic band Keys N Krates. "I know how cushy it is. You have a laptop; most guys have USB sticks. They literally roll into the gig five minutes before they walk onstage. They hit play and do their set, and you're a superstar. What's not appealing about that?"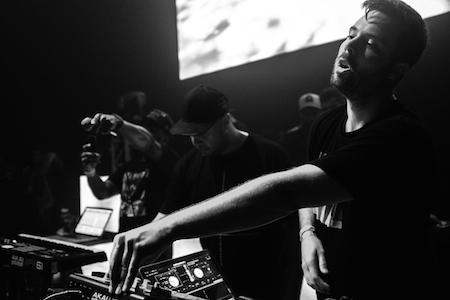 It's a daily struggle Keys N Krates face as a touring band—a powerhouse trifecta of keys, drums and turntables care of David Matisse, Tune and Flo, respectively—and that level of frenzy is captured in their newly released Every Nite EP.
As best exemplified on Every Nite, the Toronto trio has successfully brewed a unique sound that blends multiple electronic subgenres—trap, electro, bass, dubstep—with hip-hop-tinged production. Joining the ranks of contemporaries Hudson Mohawke and fellow Canadian Lunice, who together form the production duo TNGHT, Keys N Krates artfully straddles the thin line between current-day rap music and dance culture, two worlds cut from the same cloth yet operating in separate spheres. Hip-hop/electronic hybrids are nothing new (see Flying Lotus, M.I.A., A-Trak), but Keys N Krates are the freshest to ever do it, and their proven formula has landed the group on a pedestal all their own.
"Being a band is harder than being a DJ."
Every Nite embodies the Keys N Krates evolution. The EP strikes chords similar to their previous Dim Mak release, the SOLOW EP: plasticized party vibes; hands-in-the-air trap snares; hip-hop juke; and pitched-up vocal samples à la Kanye West's The College Dropout days. The more playful SOLOW was the steppingstone to big brother Every Nite, a darker and heavier undertaking. The mindlessness of "Ratchet Hoe$" and straightforwardness of "Dum Dee Dum" from SOLOW are replaced by the layered complexity of "Your Love," the ominousness of "Hypnotik," and the crapulent purple-drank lean of "Yes We Faded." Ultimately, Every Nite is the midpoint to graduation from a band seeking longevity.
The progression from SOLOW to Every Nite is in line with the artistic maturity of Keys N Krates. What started as a live remix band blossomed into original productions as the act developed as a unit. "All three of us became producers together," says Flo. "We came together as this live act at first, but we really wanted to make our own music and incorporate that into the show. We wanted a weirder audience that was going to come out and take whatever we gave them, which would allow us our own creative freedom."
This move—from Keys N Krates the remix band, primarily relying on the works of other artists, to Keys N Krates the fully-fledged production machine—came from a thirst for absolute creative expression. "We're doing live interpretations of this music," explains Flo of their live remix days. "Why don't we just fuckin' make it?"
And thus was born the current iteration of Keys N Krates—no longer a remix or cover band, but now a legitimate production and songwriting entity.
Just like any other band, Matisse, Tune and Flo live for the crowds, and the stage is their first home. The songwriting magic, however, is split between onstage jam sessions, studio rehearsals, and on-the-road idea formations, and all three are involved every step of the way. This flow of energy and creativity between the stage and the studio is key to the Keys N Krates ecosystem. "It's kind of an interdependent process between the studio and the live show," says Flo. "It goes back and forth and feeds our writing."
It's this elaborate creative process that distinguishes Keys N Krates as one of the most unique acts in electronic music now. Today's most lucrative solo DJs are banking Wall Street-level annual salaries, all off the power of laptops, home studios, easily manageable software, and minimal hard gear. Keys N Krates live in a separate world, where the power of three creative voices is often a double-edged sword.
"Being three people, we always say it's our greatest advantage and our greatest disadvantage," says Flo. "There's probably a lot of stuff that gets worked through and formulated into a song because there's three of us, and then there's probably a lot of ideas that get stifled and don't turn into a song because there's three of us. It works both ways. You have three chefs in the kitchen that are very opinionated and very particular and care a lot about what we all put out as one unit… It's the nature of the beast."
The stage is where Keys N Krates dominate most, however. Tune unleashes a flurry of drum patterns often seen with vigorous rock drummers. Matisse becomes one with his keyboard arrangements. And the ever-smiling Flo brings his championed turntablism skills to center stage. It's a kind of energy rarely experienced within electronic music, and even less in hip-hop shows.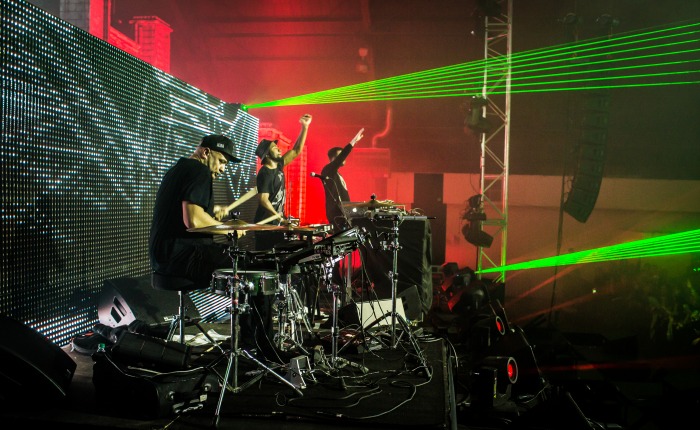 "You can go in front of these kids and play these weird rap beats you make that they've never heard before and get a crazy reaction," says Flo. "That's a new thing to hip-hop culture, because hip-hop culture has always been based on familiarity. For us, we can play a new tune at a show, and kids go crazy. They're not there to hear a song they necessarily know. They're there for a vibe, the same way the electronic kids are when they go hear a house DJ play."
Their unique take on the live hip-hop/electronic hybrid module has helped Keys N Krates solidify a growing cult following, where their sound appeases both audiences in different reaches, but with the same intensity. "The rap and EDM thing, the line is so blurry now, that it's hard to even talk about," says Flo. "We want our brand to be associated with putting out quality shit—not just an EDM song that's here today and gone tomorrow, but a body of work that you can take and listen to at home, as well as hear at the club or hear at our live show. All we care about is playing shows to our fans, where they come out and they're into the music we do, and we can have a communal experience."
And with this unique live setup also comes unique challenges most solo DJs or DJ acts never experience: human and equipment variables. "For the most part, with a DJ set, it's pretty reliable; not a ton can go wrong," explains Flo. "Whereas if you're a band, all our instruments have their own variables. There are so many things that can really go wrong with our set. We're not a DJ act. At the end of the day, we're a band."
Add to that the possibility of rappers in their tracks and live shows, and the Keys N Krates sound becomes almost boundless. In October of last year, the group released a much-hyped remix of their fan-favorite "Dum Dee Dum" with Kanye West cohort and G.O.O.D. Music signee CyHi the Prynce, along with Chicago rappers King Louie and Tree. "Dum Dee Dum (Remix)" received critical praise across the national tastemaker media landscape, including The Fader, Complex, Noisey (Vice), numerous hip-hop and electronic blogs, and beyond.
While Flo hints at the possibility of future rapper and vocalist collaborations, he sounds a tad reticent. He realizes adding such live vocal contributions mean more human variables. "It's hard for us to balance working on that kind of stuff because we're really focused on making our own music, and we've found it hard to bring other vocalists in to [collaborate]. We're starting to try and get more into that, but it's a different variable."
Hip-hop/electronic hybrids are nothing new, but Keys N Krates are the freshest to ever do it, and their proven formula has landed the group on a pedestal all their own.
As the growing tide within electronic music continues to shift, and more and more dance music acts begin to adapt live performance elements, Keys N Krates are light-years ahead. The future of the Keys N Krates live show is infinite, with the possibility of a rotating cast of rappers and singers and maybe even a live string arrangement not too far in the distant future.
"There's nothing stopping us from doing that in the future," says Flo. "We'd love to have a string quartet with us onstage or a horn section or a possible choir. When we're able to do that, we will do it. Trust me."
For now, Keys N Krates are basking in the success of Every Nite, which reached #13 on the Billboard Heatseekers Albums Chart with the single "Are We Faded," cracking over 1 million SoundCloud plays only days ago (their previous single "Dum Dee Dum" from their SOLOW EP has racked over 3 million YouTube views as of earlier this year).
Even so, Flo maintains that the group is still under the radar and growing as a cohesive unit.
"We're still learning. We're still new to the production game. As long as we just continue to make good shit, maybe our shit could cross the radar one day. Maybe it will happen one day, who knows. Maybe it will never happen. And we're okay with that."
Every Nite is available now on Dim Mak Records.
Keys N Krates perform at Escape: All Hallows' Eve Saturday, November 1, at the NOS Events Center in San Bernarndino, CA. Tickets are available now.
Follow Keys N Krates on Facebook | Twitter
---
Share
---
Tags
---
You might also like