Insomniac Cares Branches Out to New Heights
On a bright, sunny Saturday morning, a group of volunteers surrounds a newly planted tree in Griffith Park in Los Angeles. As part of the final phase of the tree-planting process, the volunteers form a circle around the seedling and yell, at the top of their lungs, "Trees need people. People need trees. Welcome, Evelyn!"
There's nothing but smiling, happy faces as the tree is welcomed to its new home on earth, and all is good in the world for a brief yet memorable moment.
The crew here today is composed of roughly 50 ravers, Headliners, life lovers, tree huggers, and environmental enthusiasts, all offering their time and energy to support TreePeople, an eco-friendly nonprofit organization working to create a sustainable urban and natural environment in Los Angeles.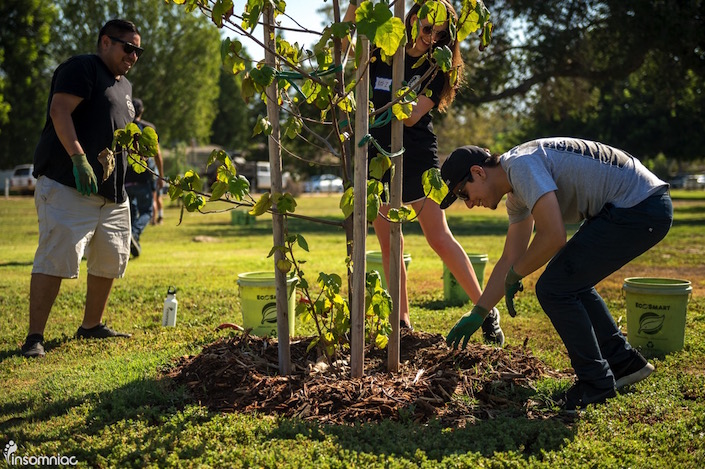 As for all the neon kandi and bumping dance music filling Griffith Park, you can chalk that up to the dedicated Headliners here by way of Insomniac Cares, which organized this weekend volunteer trip in conjunction with TreePeople.
Serving as Insomniac's charitable giving arm, Insomniac Cares is dedicated to leaving a positive impact in the communities in which we hold our events and festivals. Since launching in 2011, Insomniac Cares has allocated proceeds from all ticket sales and guest list allotments from our festivals toward a network of local charities. To date, Insomniac Cares has donated more than $1.7 million to worthwhile nonprofit organizations focusing on arts and education, health and well-being, and environmental sustainability.
As Insomniac continues to grow as a global leader in the festival and concert industries, Insomniac Cares, too, is branching out to new heights. In 2016, the organization's core focus expanded to include volunteer events and community outreach services at our festivals and beyond, with the TreePeople partnership serving as a foundation for our future social-based efforts. As well, Insomniac Cares hosted several Headliner-powered donation drives at a number of our festivals last year, including collections for books and art supplies at Nocturnal Wonderland to benefit the Shade Tree of Las Vegas, which was also the recipient of a $120,000 donation from our second annual EDC Week Charity Auction.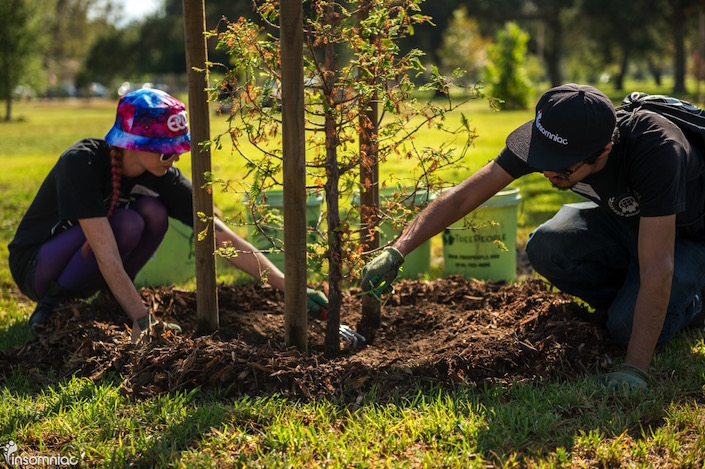 We subsequently hosted a warm winter clothing drive at Escape: Psycho Circus this past October to benefit Helping Hands Pantry of San Bernardino and held a canned food drive at EDC Orlando the following month to benefit the Second Harvest Food Bank of Central Florida. Insomniac Cares has also worked with the Nevada Childhood Cancer Foundation, Heal the Bay and To Write Love on Her Arms, which produced a suicide prevention awareness campaign at Nocturnal Wonderland 2016.
For Insomniac, as well as Founder and CEO Pasquale Rotella, Insomniac Cares represents a visible manifestation of the values that drive our company and our culture forward—kindness, respect, passion, community, love—according to Desiree Naranjo, Communications Manager at Insomniac and one of the core members of the Insomniac Cares team.
"Pasquale really believes that the values of our dance music community should all be present—not just at our festivals, but throughout our daily lives," says Naranjo. "Insomniac Cares is a way for us to spread that goodwill."
For Headliners and Insomniac staffers alike, Insomniac Cares also offers a palpable sense of family and benevolence that spreads far beyond the dancefloor and into everyday existence.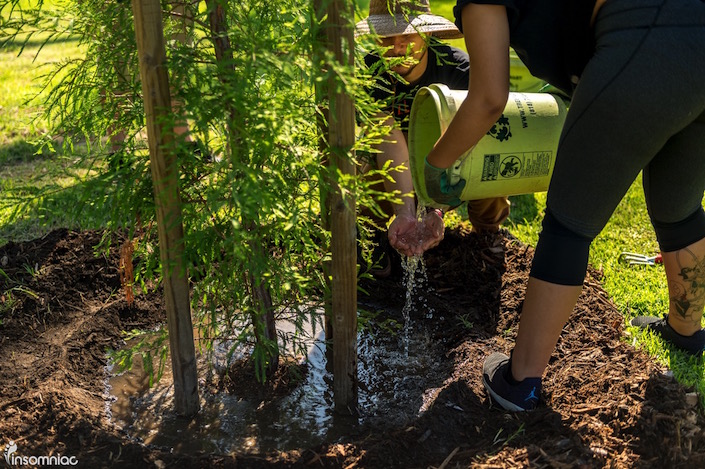 "Insomniac Cares has helped build a community outside of our festivals," adds Naranjo. "We've had so many Headliners reach out to us [wanting to get involved], and that has just been one of the most rewarding parts for us. And I think it's a way for our Headliners to interact with each other outside [of our events] while doing something nice for other people."
This connection rings strong and true back at our tree-planting home base in Griffith Park. What started off as a group of strangers looking to do some good for the world quickly became a close-knit family of Headliners and friends.
As our day comes to an end, one volunteer puns aloud the name of our final planted tree and our daylong tree-loving gathering: The tree is named Pasquale Rootella, after our founder, and our fun day under the sun shall be henceforth lovingly called TreeDC, in honor of our beloved festival, EDC.
In 2017, Insomniac Cares will continue its evolution and broaden its scope and community outreach services via further charitable giving initiatives, donation drives, volunteer events and more. For more information on how to get involved with Insomniac Cares or to send us ideas or charity suggestions, contact us at insomniaccares@insomniac.com.
And always remember: #InsomniacCares.
Follow Insomniac Cares on Facebook | Twitter | Instagram
---
Share
---
Tags
---
You might also like