If You Like ODESZA, You'll Love…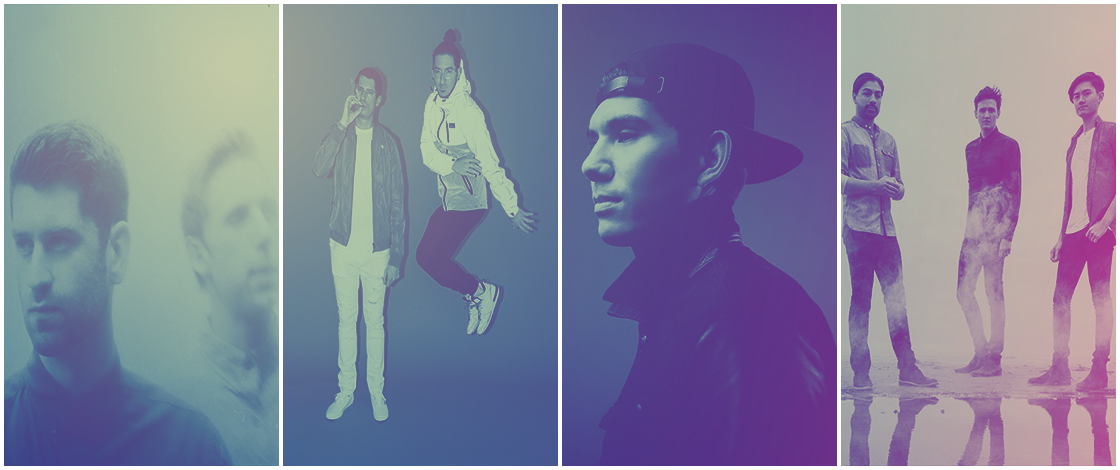 Upcoming Event
Like it or not, today's rock stars don't wield guitars or throw devil horns in the air. Instead, they run the show behind the DJ decks and studio boards. With the global explosion of electronic music, DJs and producers are today's cultural heroes and bona fide rock stars. What a time to be a DJ!
So, it's no surprise to see dance artists adopting rock and traditional band elements into their modern-day electronic approach. You can see this new direction in the roster of live acts and crossover house artists of Nocturnal Wonderland 2016. While keeping true to pure house and electronic music fundamentals, they're updating the sound with modern songwriting and pop appeal.
It's an exciting time for electronic music, as more and more, the genre is infiltrating pop music and mainstream culture. Last year, we saw the rise of tropical house—yacht rock for millennials—and there's no doubt that 2016 is the year of electronic bands.
Leading the way is ODESZA, who took the music world by storm with their 2014 album, In Return. Their mix of live rock over an electronic foundation is the sound of the future. Likewise, the following three acts are leading the new phase of dance music while pushing the envelope and bringing something fresh to the table.
Experience it all at Nocturnal Wonderland 2016.
ODESZA
Making their Insomniac festival debut at this year's Nocturnal Wonderland, ODESZA are world-renowned for their live show. The beloved indie-electronic duo are bringing songs off their critically acclaimed album, In Return, to life on the Nocturnal stage. The twosome leads the way in the live electronic realm, quickly becoming one of the most sought-after festival acts this summer. Find out why, live at Nocturnal.
Big Gigantic
From: Boulder, CO
Releases on: Big Gigantic Records, 1320 Records
Why we like them: The funk soul brothers of today, Big Gigantic—composed of saxophonist/producer Dominic Lalli and drummer Jeremy Salken—are like a frat party within a festival. Their live show is unpredictable in ways you can't even begin to imagine, and their sound, both on the stage and off, is more eclectic than all of our SoundCloud streams combined. Funk, electro, soul, hip-hop—Big Gigantic does it all, and you're likely to hear bits of these genres at their performances. The duo mixes the ideals of freestyle jazz—Lalli holds a master's degree in jazz from the Manhattan School of Music—with the open format of electronic for a sound that hits harder than a freight train.
Listen to this: A Big Gigantic show is like a box of chocolates: You never know what you're gonna get. You can expect the same from their new album, Brighter Future. If "All of Me" is any indication, this release will see the two experiment with more sounds in their own sexy-sax style.
Follow Big Gigantic on Facebook | Twitter
Gryffin
From: NYC
Releases on: Darkroom/Interscope Records
Why we like him: There's no doubt that Gryffin is the breakout star of 2016. The producer embodies the spirit of a true musician, owning skills across multiple instruments with a strong grasp on songwriting and production techniques. His background as a classically trained pianist sure paid off, and his love for live performance is quite obvious, both onstage and throughout his recordings. Gryffin carries the type of sound you'd hear equally at festivals and in shopping malls, as his crossover appeal—driven by sensible pop and soft electronics—is the stuff even your mom will sing.
Listen to this: On his latest—and only his second original release—Gryffin teams up with vocalist Bipolar Sunshine, whom he remixed in 2014. Over a year later, the duo returns with "Whole Heart," a fanciful number that best represents Gryffin's gifted musicality and production prowess via an electronic punch lightened with acoustic guitar. Here's one that could possibly launch a new movement.
Follow Gryffin on Facebook | Twitter
Autograf
From: Chicago
Releases on: Autograf, Ultra Music, Counter Records
Why we like them: This electronic trio possesses a style that's influenced by art as much as it is by music, as seen on the Andy Warhol–inspired artwork of their Future Soup EP. Autograf broke out in 2015 via string of remixes, topping Hype Machine a total of 20 times. The group debuted a new live setup on their inaugural headlining tour earlier this year, and they're set for a co-headlining tour with fellow producer Goldroom this fall. As such, the group has perfected their live performance skills, all while chopping it up in the studio with some new tunes. With their mastery over live instrumentation and vocal manipulation now on lock, Autograf are resetting the mold of live electronic music in America.
Listen to this: While this track is soft and subtle on the surface, there's a lot going on at once here. Driven by sparse guitar plucks and a surprisingly beautiful string section, "Don't Worry" feels like a piece of gallery art.
Follow Autograf on Facebook | Twitter
Nocturnal Wonderland 2016 takes place September 2–4 at the San Manuel Amphitheater & Grounds in San Bernardino, CA. For more information, visit the official website.
Follow Nocturnal Wonderland on Facebook | Twitter | Instagram
---
Share
---
Tags
---
You might also like