If You Like Bassnectar, You'll Love…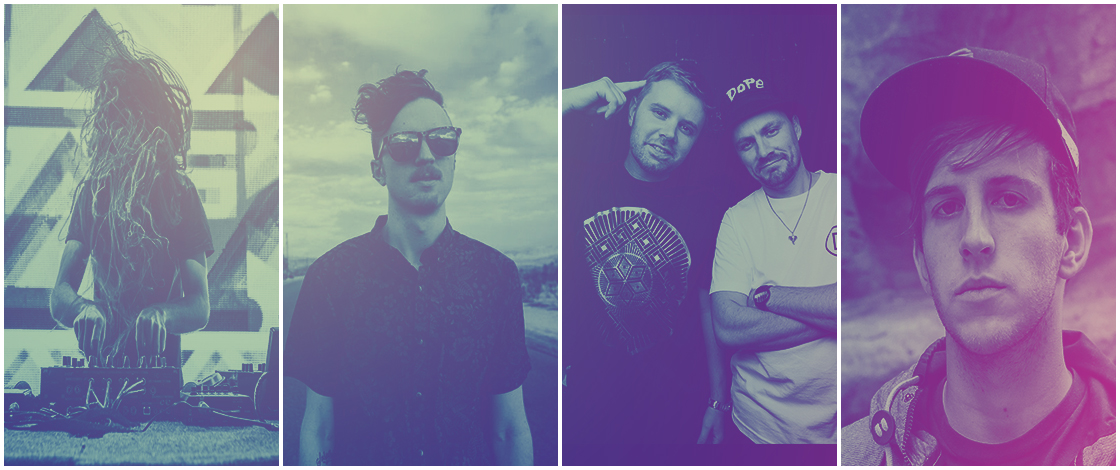 All bass music is not created equally, and that's a very good thing. There's a preconceived belief that bass music is only about aggressive bass and in-your-face beats pounding your ears to death. Not true. Bass artists today are embracing the melodic side of the genre and integrating songwriting into their music for a result that's big, bassy and beautiful.
Anyone who's been paying attention has noticed these new elements invading the bass world. With alternative bass on the rise, we're now seeing a new type of producer who spends equal time loving harmony and low end. Even a genre OG like Bassnectar is following suit. The bass-hungry giant does a great job of pulverizing eardrums while somehow highlighting the sexy side of the sound. Much like Bassnectar, these acts are pushing the sound to new territories and are proving there's more to bass music than what's on the surface. Get to know them at Nocturnal Wonderland 2016.
Bassnectar
The bass don has always followed his heart, and that's led him to explore his emotional and sincere side, which you can fully hear on his latest album, Unlimited. The layers stacked into album opener "Reaching Out" combine charmingly for a striking yet rocking cut. There's a reason why so many bass producers look up to Bassnectar, and the musical diversity of Unlimited is it.
Minnesota
From: Minneapolis, MN
Releases on: Gravitas Recordings, Minnesota Music, MalLabel Music, Tycho Records and more
Why we like him: From the get-go, Minnesota has aimed to explore the melodic side of dubstep and bass music with tunes that thump through the wall of speakers while simultaneously pleasing your feels. He found his inspiration to pursue music as a full-time career after witnessing Pretty Lights, the Glitch Mob and Bassnectar, who counts himself as a fan and has adopted Minnesota tracks in his sets. With a background in rock—following multiple attempts at forming a band as a kid—and a history of hip-hop remixes, Minnesota is now one of the foremost figures in the West Coast bass movement. He's going b2b with fellow bass-head G Jones at Nocturnal Wonderland, where Headliners are sure to meet face-melting beats and in-the-moment bliss equally.
Listen to this: Minnesota virtually defines what melodic dubstep should sound like in this number. There's more emotion here than you'll find in bass music, as heard in singer Jackie Rain's bright vocal. It's hands in the air, feet on the dancefloor, and hearts in the hands from beginning to end here.
Follow Minnesota on Facebook | Twitter
Hermitude
From: Sydney, Australia
Releases on: Elefant Traks, Nettwerk, Omelette Records and more
Why we like them: These two Australian bros have been killing the festival circuit around the world literally all summer long, with no breaks this year. At one point, they performed at three festivals over two countries and opposite coastlines in one weekend. How'd you spend your summer? Their combined love of instrumental hip-hop, analog synths, and vintage electronics has won them multiple awards back home, including the Australian Music Prize and AIR Award. While they perform as a DJ duo behind the decks, they're known for bringing the energy of a live band to the stage, which has secured them prime spots across festival lineups basically everywhere. Luckily for you Headliners, Hermitude are bringing their live show to Nocturnal Wonderland, where you'll experience firsthand how people get down Down Under.
Listen to this: For those lucky fans who've witnessed the power of Hermitude in the past year, you may have heard this party-starter in their sets. "Vibration" is actually an old track that didn't make it onto their last album, Dark Night Sweet Light, but it still sounds fresh AF to us.
Follow Hermitude on Facebook | Twitter
Illenium
From: San Francisco, CA
Releases on: Nest/OWSLA, Artist Intelligence Agency, Okami Records and more
Why we like him: Illenium owes his sound completely to his homes. Mixing the hippie, free-spirit vibes of his San Francisco hometown with the bass-loving, head-banging way of life of his current home in Denver, this up-and-coming producer is leading the charge within the melodic bass world. He got his first break in 2014 via a string of standout original tracks, which led to bigger bookings across many major festival stages. It's all culminated with the release of Ashes, his debut album, which has introduced bass-heads to a new shade of bass and has solidified the Illenium sound. He's got the stuff to set the feel-good ambiance at Nocturnal just right.
Listen to this: The key to the Illenium sound is emotion, which he encapsulates seamlessly on this gem. With help from vocalist Joni Fatora, Illenium shows the softer side of bass music and the often-hidden beauty in this genre.
Follow Illenium on Facebook | Twitter
Nocturnal Wonderland 2016 takes place September 2–4 at the San Manuel Amphitheater & Grounds in San Bernardino, CA. For more information, visit the official website.
Follow Nocturnal Wonderland on Facebook | Twitter | Instagram
---
Share
---
Tags
---
You might also like