If You Like Andy C, You'll Love…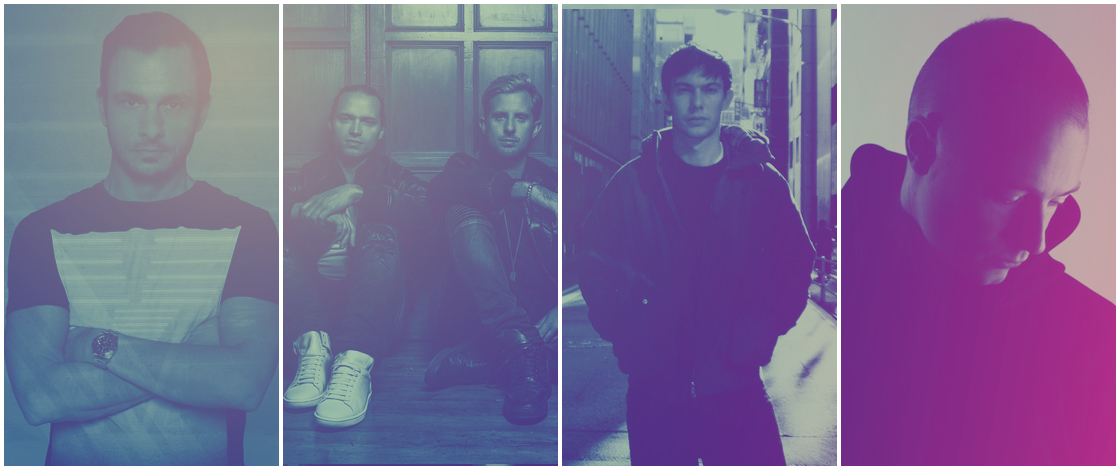 It's fast, furious and filthy. It's all killer, no filler. It's the best of electronic music distilled into pure wildness and blasted at fans at a blistering 150–180 BPM. It's drum & bass, and it's truly the UK's gift to dancefloors worldwide.
Originating in London and Bristol in the early '90s, D&B continues to melt faces and send souls soaring into the night. It's a genre that's constantly evolving as new, fresh faces pick up the torch and run with it, stomping all over everything in their paths. EDC UK 2016 pays homage to this fiercest of genres with an array of legendary artists—Goldie, Roni Size, Noisia, Pendulum, and more—as well as the scene's hottest rising stars, whose work signifies that drum & bass ain't going nowhere but up.
The drum & bass community owes a lot to genre pioneer Andy C, and any bass-head who considers themselves a fan of his needs to get down with these D&B dudes.
Andy C
If Jeopardy's Alex Trebek said, "He's the pioneer of the D&B sound and was once ranked by Mixmag as the fourth best DJ in the world," you'd be right to immediately chime in and ask, "Who is Andy C?" for $400. Andy C is a monster on the decks, a devil in the studio, and a boss behind the desk as cofounder of RAM Records. He's famous for something called "the double drop," which means he lines up two blood-pumping tracks and unleashes their bassiest blasts simultaneously, leaving the audience completely floored and exhilarated. His rhythms and selection set the standard for the genre. All those who come after him build upon the rock-solid foundation he's implanted in fans' hearts and minds throughout the years. He'll be rockin' the stage at EDC UK 2016, where you can experience his intense performance firsthand.
Sigma
From: London
Releases on: 3 Beat Records, Hospital Records, Viper Recordings and more
Why we like them: Sigma are as comfortable working with the bossy vocals of hip-hop singer-songwriter Jacob Banks as they are with the powerful soul of pop star Rita Ora. The duo takes the whiplash of D&B speed and pairs it against emotional piano chords and uplifting string melodies to give a gnarly genre a decidedly optimistic shine. Sigma found massive success with "Nobody to Love," a juiced-up bootleg of Kanye's "Bound 2" that reached the coveted #1 spot on the UK Singles Chart, a feat they doubled with follow-up single "Changing," featuring Paloma Faith. With the recent release of their debut album, Life, these two proved that drum & bass doesn't have to be relegated to dark, smoky underground warehouses. It has a place in the mainstream spotlight, too.
Listen to this: "Cry" comes in slow and soft like any beautiful, sweeping house anthem, but as soon as the drums start building, your feet will know without a shadow of a doubt that they're in for some sweet, adrenaline-rushing D&B, baby.
Follow Sigma on Facebook | Twitter | SoundCloud
Culture Shock
From: London
Releases on: RAM Records, Hospital Records, Drum&BassArena and more
Why we like him: Music and culture guru Zane Lowe of BBC Radio 1 and Beats 1 radio once compared Culture Shock's music to Pink Floyd's Dark Side of the Moon. If that's not enough to pique your interest, how about the fact that Andy C's RAM Records has hosted more of his original material than any other label on the market? These are huge accomplishments for a young artist. He's basically been knighted by the greats as the next best thing. His sound is brash and brilliant. It keeps melody in the backseat while texture takes the wheel, but there's a funkiness to his sets that reveals an understanding of house concepts and structure, which means even the pickiest listener will find something to love when Culture Shock hits. His latest EP, Transit, pushes the boundaries of the genre into an exciting future, cementing his place as the leader of the new school.
Listen to this: We've always loved Ashanti's "Foolish," but we never realized how much it needed a dope breakbeat until we heard "No More (Back to You)," a collaboration with Josh Parkinson and the fourth single off Transit. It's like future house took three shots of Cuban coffee and started running down Rainbow Road.
Follow Culture Shock on Facebook | Twitter | SoundCloud
Friction
From: Brighton
Releases on: Shogun Audio, Renegade Hardware, Hospital Records and more
Why we like him: Not only has Friction won multiple awards, he's been inducted into the Drum&BassArena Awards' Hall of Fame. He founded Shogun Audio in 2004 and has been releasing beat-busting hits of his own alongside like-minded masters, further positioning himself as a tastemaker and professional standard. He hosts BBC Radio 1's Drum & Bass Show, and Pete Tong once called him "one of the best big dogs" on the scene. He melts beauty into his bark with a style that isn't afraid to dig deep with heart or come hard with bombast. In fact, those two sounds aren't mutually exclusive in Friction's world, and that's what makes him one of the best.
Listen to this: Straight from his latest EP, Dare, this cool groove will have you high-stepping through your day while the horns transport you to another universe. The drums, of course, are nothing to mess with.
Follow Friction on Facebook | Twitter
Kat Bein eats drum & bass for breakfast. Follow her on Twitter.
EDC UK 2016 takes place Saturday, July 9, at the National Bowl in Milton Keynes, Buckinghamshire, England. For more information, visit the official website.
Follow EDC UK on Facebook | Twitter | Instagram
---
Share
---
Tags
---
You might also like