How Will Atkinson Found His Sound on a Tiny Scottish Isle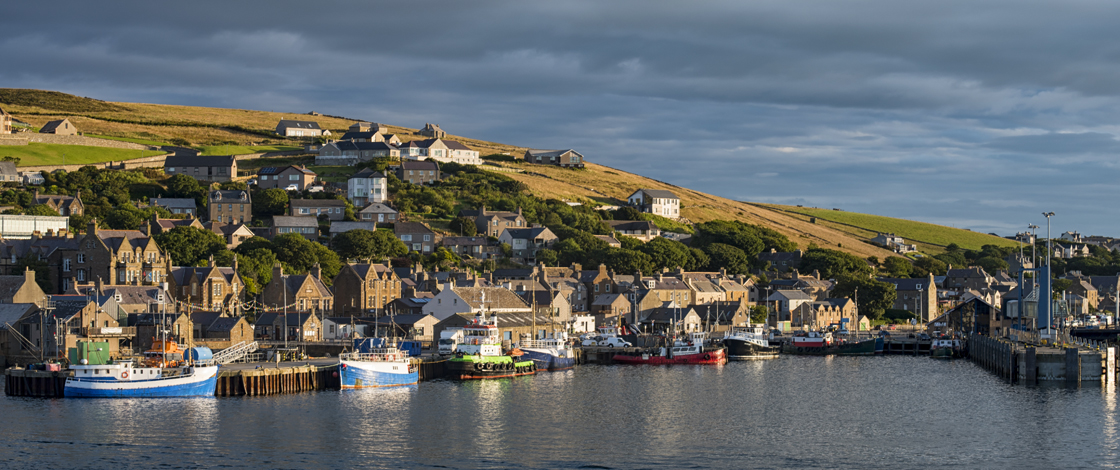 Will Atkinson's childhood reads a little like the musician's version of a Cinderella story. Growing up on the small archipelago of Orkney, Scotland, Atkinson was a kid with a crazy dream. He fell in love with music early on, mixing tracks when he was 8 and 9 years old, despite taunts from his peers and doubts among his teachers. Atkinson even had his own fairy godmother of sorts—someone getting him equipment, cheering him on, and pushing him forward—though he just calls her "mum."
Now, the 25-year-old DJ/producer flies from his new home base of Glasgow to venues all over the world. This weekend, his dream will take him to SoCal to play on the tricked-out stages of Beyond Wonderland.
Atkinson's sound is, first and foremost, deliberate. He seamlessly blends trance with driving techno, the anthemic qualities of the former working in harmony with the layering techniques borrowed from the latter. Throw in the upbeat qualities of house, as Atkinson does, and a two-hour set becomes a two-hour exploration of movement—your body moving to his beats, the music's movement between giant swells and quiet, thoughtful dips or funky interludes.
Ahead of his debut Beyond performance, we chatted with Atkinson about what it was like to find his niche in Orkney, how he got to where he is today, and where he's envisioning his future self.
You grew up in Orkney. What was that like?
Orkney is a really small place. It's maybe 20,000 people spread out over 17 small islands—although there are actually another 50 which are uninhabited. I was brought up in the main town of Kirkwall. Growing up there, you find things to do as a kid. You run in fields, you build "tree" houses—there aren't any trees there, though, so really, you build huts. You build rafts. It was a really carefree sort of childhood.
How did you get into dance music?
My mum got me into it. She was influenced during the funk era in the '70s and '80s, and she recommended that I tune in to Radio 1. That was '98 or '99, and back then you had guys like Judge Jules and Pete Tong reppin' dance music. I heard a live broadcast—I think it was Homelands 2001—Judge Jules played a track called "Stay With Me" (from his Angelic project) in front of about 50,000 people. That was it; I was hooked. That was the moment that I realized, this is what I want to do.
What's the dance music scene like in Orkney?
I doubt there was literally one other DJ of my style back then in Orkney. As far as I know, I was the only one. There was one club, though: Fusion. Out of all people, it was Judge Jules who opened the club back in 2003. I must've been about 13 at the time, so I was too young to go. But I waited round the back with my mum and our family dog at 3am with one of Jules' tried-and-tested rare classics (DJ Elite's "That Fuct Camera"), and he came out after the show and signed it for me. It was crazy—my mum screaming, the dog barking—yep, chaos.
After that, I sort of kept up with both the club owner and Jules. In 2004, I was given a chance to play—opening for Fergie (the former BBC Radio 1 DJ, not the singer)—but it was the under-18 event before the main show, and the scene is so small in Orkney, it didn't sell. The regular over-18 part of the night went ahead.
So, what did you do then? Go home?
I contacted the club owner, Neil. He was the closest person to a mentor I had back home, always interested in my progress. He told me to come to the hotel so I could at least quickly meet Fergie before the show. I brought a record for Fergie to sign, and I explained to Neil how devastated I was to be missing out on the night. He made a phone call and told me to go home and wait. I must've waited up until about 1 am, and I was on the verge of giving up and going to bed. Then my phone rang.
All I could hear was thumping bass, drunk punters, and Neil yelling down the phone, telling me to get to the front doors by 1:30 am. I'm sure I peed a little. Neil was there to greet me when I got there. We walked in, and to this day, I've never seen anything like it in Orkney. The whole house was absolutely rocking. Full-on, heads-down, driving techno. Neil took me through the crowd toward the booth. I couldn't believe some of the faces I recognized. The best part was seeing a rock climbing instructor—who had been teaching our high school class during the week—totally off his chops, going absolutely bananas in a corner. I'm laughing now thinking about it. Fergie had me running back and forth grabbing him vodka and champagne, chatting up dancers—it was such a ridiculous situation. I must have been 14 at the time, so it was a pretty dodgy thing to do.
What did people in your town think of you wanting to be a producer?
In Orkney, you're either a fisherman, or you're a builder, or a mechanic; it's very trade-oriented there. There aren't many creative jobs. I couldn't make money on this back in Orkney, as much as I wish I could.
I feel I was maybe sort of judged by a few folks growing up. People thought I was a bit weird because I had this big dream going on of doing something else and "making it." I found out who my true friends were; they stuck by me. There was the odd few who would make remarks, cheap shots. "Oh, there's the DJ," blah, blah, blah. I can stand up for myself, though, so wasn't too bad. I was far too focused on making it happen, anyway.
A lot of it I got through teachers, actually. I guess I brought it on myself a wee bit… I was a bit of a clown in school, to be fair. Throwing a computer out of a window would be one example. However, I always remained focused on what I wanted to do: music. I remember one of my biology teachers pretty much saying I would become absolutely nothing, that I would never equate to anything. So, it's cool to be in a place now where I can say I'm actually living my dream, proving these people wrong. There's a long way to go, of course. It's funny seeing some people contacting me now. These guys didn't have a minute for me back then. But hey ho, I'm not holding grudges—far too much energy.
I had a ton of support from family. My mum was my rock when I started out. She's always believed in me—sometimes to the point where I've questioned if I want this as much she does. She's been the one dragging me through it when things were tough, and that's even when times were pretty hard for her. She has always been there, rain or shine. I owe it all to her.
Can you describe your introduction to trance music?
I was more of a house-head until I was 10; I know that sounds funny. I came up listening to Pete Tong and Judge Jules when I was 7, 8, 9, 10 years old. And I still love house and play house. But I remember the moment I found trance. I didn't know it was trance at the time—didn't know what trance was, even. There was an advert on TV, promoting Gatecrasher Summer Sound System, and one of the track snippets was "Superstring" by Cygnus X. When I heard it, all the hairs on my body stood up. Goosebumps, hair standing up—all the clichés. It was my first experience with trance, and it was amazing. I bought the album. It blew my mind. The rest is history, as they say.
What about other genres?
I'm very into techno. I discovered that after trance. There was a period when I fell out of love with trance, around 2005–2008. I just wasn't inspired by it. So, I got into techno—guys like Fergie (again, the DJ, not the singer) were big influences for me.
Now, it's all come together. I play a broad spectrum, from funky house to driving techno to sad, melancholy trance to full-on, pants-down tech trance. It's all under one roof.
What are you most excited for in the near future?
I'm really excited to get into my new studio. I've been renovating it with my dad—a sort of father/son bonding thing. Really cool, and it looks shit hot. The room that I used to be in has served me well for the past five years, but it's an absolute dungeon. It used to be a vocal booth, so it has no windows. I'm looking forward to getting some vitamin D in the new space. I'm also going to be debuting a ton of new music at Beyond Wonderland, so I'm excited for that. From everything I've heard about the festival, it sounds like the place to be. I'm generally just in a really great place with my music right now, learning at a pace I've never experienced, all balanced with good sleep and lots of training. It's all good, and I've not even started yet.
Catch Will Atkinson at Beyond Wonderland on Friday, March 18, 2016.
Follow Will Atkinson on Facebook | Twitter
---
Share
---
Tags
---
You might also like