How Reddit Changed Electric Mantis' Life
In 2013, Electric Mantis, né Wyatt Pearson, was just another bedroom producer attempting to penetrate the blockade obstructing his path to success. He had no idea a simple Reddit post of his tune "Flips and Flops, Drips and Drops" would be the ammunition he needed to completely destroy the barricade and propel him into a position more fitting of his talents. "Flips and Flops" is a marvel of sound design, with its dreamy synths floating around a rock-solid beat accented by a constantly evolving army of vocal snips, lasers, and samples of oddball sounds that only contribute to the funky, lighthearted groove. The sonic mastery he displayed wasn't drastically different from the music he had already spent the previous year sending to labels and blogs. However, an endorsement from Djemba Djemba and his post ascending to the front page of Reddit provided the perfect entry point.
Over the last three years, Electric Mantis' talent and reach have expanded exponentially. He now boasts an impressive body of funky, forward-thinking bass beats, including remix work for Porter Robinson, Gramatik and Giraffage. He has dropped his unique brand of future funk as a guest on countless tours, as well; Mija and Jai Wolf both personally pegged him to join them on the road. And with a recent signing to AM Only—one of dance music's most prolific artist agencies—he will undoubtedly be coming to a city near you very soon.
We recently named Electric Mantis one of our December Essential Artists. To give a better idea of why we think he is clearly one to watch, we had a little chat with Wyatt about making music on a budget, virtual reality, and the importance of having mentors.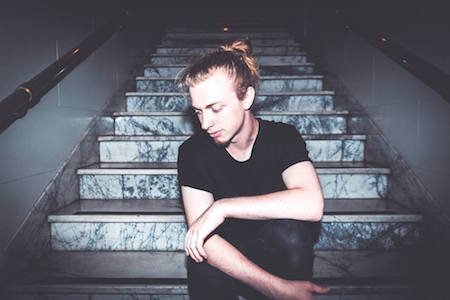 You went from dozens of plays a day before "Flips and Flops" to tens of thousands. Yet the music you were producing hadn't really changed. You were getting calls because you were getting lots of plays. How has the whole "We won't listen to you unless you are blowing up" idea affected up-and-coming producers?
Since it's hard for artists to get traction on songs unless they're already blowing up, a lot of them seek creative and weird avenues to push out their music to get that initial boost. For me, Reddit was that boost, and from there, I was able to push my music out to even larger audiences. Getting that first bump can be difficult; but if you are vigilant and persistent, you can find a way.
You got props early on from Djemba Djemba. How important has the support and mentorship of bigger artists been in your career?
Very important. It's difficult to quantify exactly, because larger artists will indirectly help by playing your music live and spreading it to industry people. Artists like Giraffage, Gramatik and Porter Robinson have helped me directly by allowing me to remix their tracks, and sharing my music. But just as important are artists my size and smaller. Whenever I discover an artist that is smaller than me, who is pushing out some groundbreaking stuff, I find myself motivated to push my own boundaries. I'm reminded of why I love producing.
You recently stated on your Twitter account, "Making music broke is cool, but it would be amazing to have access to field mics, percussion, real instruments, sample packs and a studio." Is there something to be said about necessity being the mother of invention?
No doubt, making music on a budget forces you to be imaginative and can have some cool effects, but having access to proper equipment frees up the creative process a lot. Being able to create whatever sounds you want, with whatever sound design you desire, is immensely useful. Rather than trying to flip through the samples you have available, you can plug in a microphone and create exactly what you want.
You've moved around quite a bit over the last few years. How has each of those moves helped you progress as an artist?
Starting in Alaska, I was exposed to the metal and jazz scenes. This was great for learning about music theory and technique, which I later applied to production. When I moved to Oregon for school, I was lucky to have a roommate who introduced me to chiller underground electronic music. This mellowed out my sound into what it is today. Also, the weather affected my production, as you can hear in the Braincase EP, with all of the moody synths and rainy vibes. I now live in California, which is great for music, because the scene is so vibrant and there are so many people living here, working in the industry.
You've posted a couple of times about the future of music being in VR. If you could place a fan in a VR version of one of your songs, what would it look like?
I think the future of most art is heading into virtual reality. We still don't quite understand the impact this tech is going to have on everyday life, but I'm getting more and more confident it will replace the TV and computer in the next few decades. I've been brainstorming this concept of an album that's integrated into VR, where the "album art" is a fully interactive experience. Imagine an indie game where the level mechanics and visuals are centered on the soundtrack, and the mechanics of each level are affected by what is happening in the score. It would be an album where each level is a song all building toward an overall experience that blends music and visuals. Complete that with detailed, crisp sound design and binaural sampling, and you've got yourself a really cool experience. I'm trying to align with some game developers on the concept right now, but it's still very much in the planning phase.
Follow Electric Mantis on Facebook | Twitter | SoundCloud
---
Share
---
Tags
---
You might also like