Here's How to Rave Out Your Nocturnal Wonderland 2017 Campsite
Headliners, Nocturnal Wonderland is just around the corner. As you prepare to enter this vibrant and shadowy world, now is the time to think about what you're going to do to set your campsite apart from the rest. Here are 15 creative ways to rave out your Nocturnal Wonderland campsite and create the rave home of your dreams—your personal style and imagination will do the rest!
1. Go Full Black Light in the Spirit of Nocturnal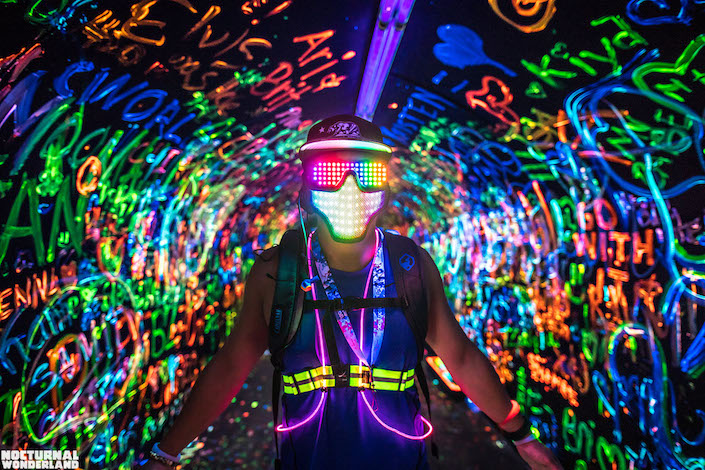 The dark magic of Nocturnal Wonderland comes alive under black light, and the festival grounds will be dressed up in plenty of it. Give your campsite the same bright, glowing look with all-black-light everything, from balloons to glow-in-the-dark powder for that extra glow-up. Let your imagination run away here: There are plenty of fun black light decorations, like this space mosaic and these star garlands, and tools, including tape and rope, out there to play with. Our ultimate must-have? This black light flashlight to light your way around the campground and give your sleeping space a nocturnal glimmer.
2. Glam Up Your Campsite With Homemade Art Installations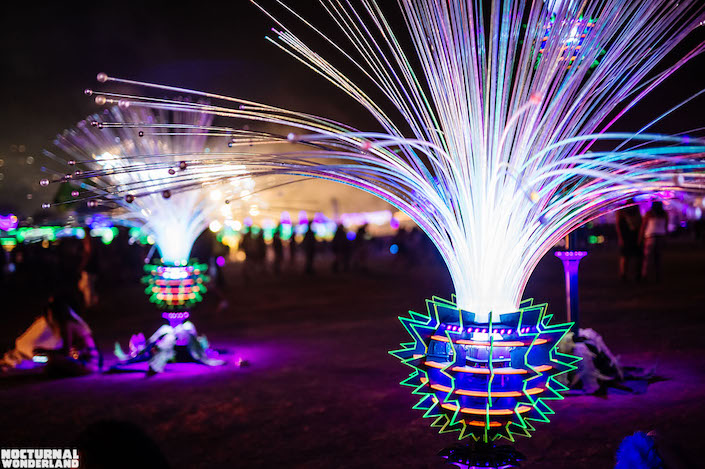 The colorful, larger-than-life art installations around Nocturnal Wonderland will leave you in awe. Recreate that feeling for your friends and fellow Headliners with your own bite-size installations at your campsite. Inflatable lawn decorations, which you can light up from the inside with a black light flashlight or glow sticks, creatively styled found items, two-dimensional handmade artwork, or your very own 3D masterpieces will all lend a unique spark to your campsite. Bonus points if you're handy with a hammer and can build something truly amazing and interactive for the festival weekend.
3. Make Tapestries Your New Best Friends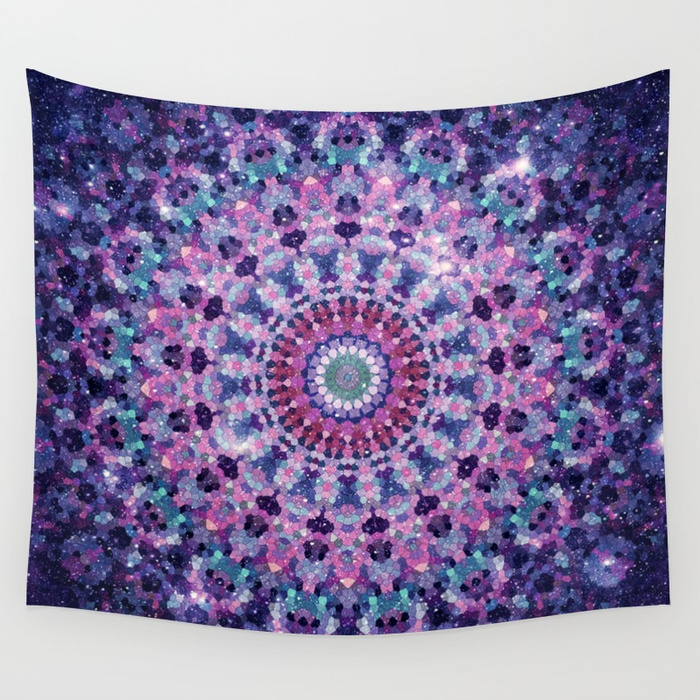 A well-placed tapestry or three can add a splash of color and pattern to your camp without a lot of extra effort. And they go a really long way: Hang them from the trees; drape them over the hood of your car or RV; use them as makeshift dividers to separate the sleeping areas of your camp from the living area; and place them on the ground as colorful carpets to help keep your campsite a little more dirt-free.
4. Get Your Disco On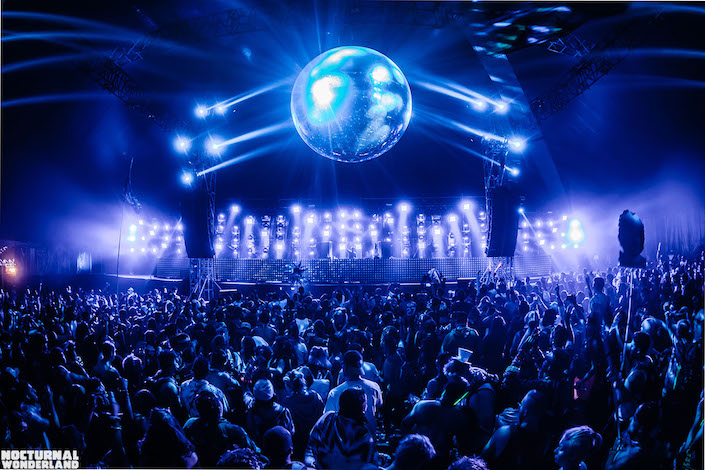 Those mini disco balls are perfect centerpieces for your camp. Hang them on trees, in your tent, or anywhere where they'll catch and refract the glow of nearby lights for a trippy, dance-ready atmosphere.
5. Doll Up Your RV or Car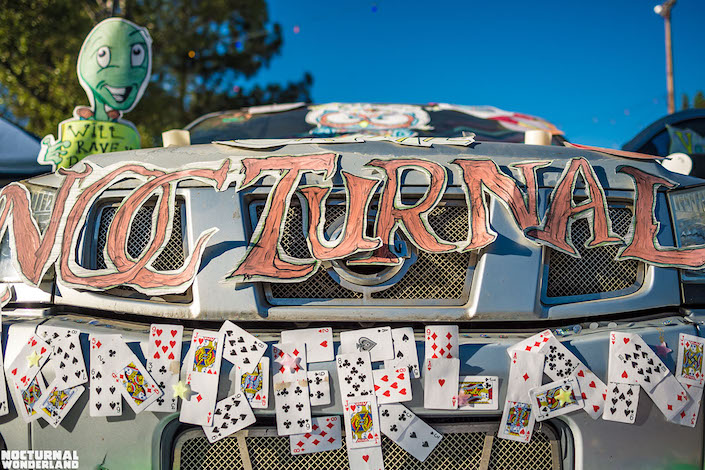 Buy temporary car paint in every color, and let your imagination loose on your ride, whether you're in car camping or an RV. Doodle huge, arching rainbows, craft smiling owls, think up dark characters, and write love notes to your rave family.
6. Raveify Beer Pong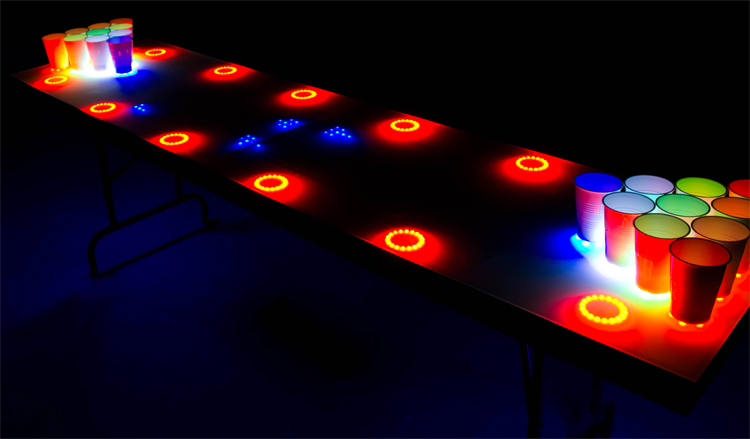 For our 21+ campers, you can play a game of raveified beer pong: Pick up some black-light-reactive neon cups and glow-in-the-dark ping-pong balls, and make a load of new kandi. Wrap a kandi bracelet around each cup. When you land one, your opponent must drink it, and you collect the piece of kandi. Play by standard beer pong rules. You'll know who the winners are based on whoever has the most kandi-laden arms.
7. Follow the 10 Rave Commandments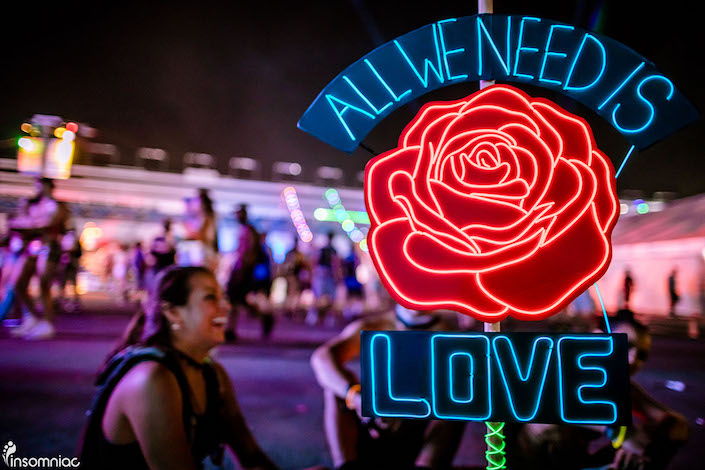 Take a few minutes with your rave fam to come up with your campsite's 10 Rave Commandments, such as "Greet everyone you meet with a hug" and "Dance your ass off." Then post the list outside your camp so newbies know what to expect.
8. Create Your Own Glowing Walkway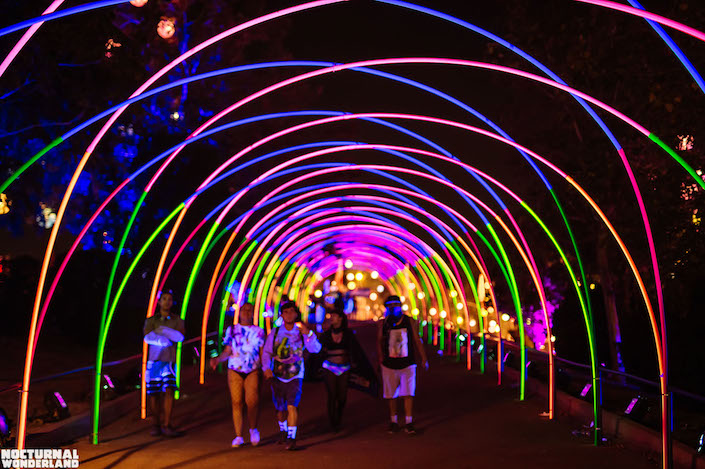 Your campsite is magical, and the path leading to it should be, too. Put together a glow-in-the-dark walkway using fluorescent paper to create colorful "bricks" that will positively shine under black light. Get even more color with black light paint, which you can use to create swirling, path-like designs on your ground covering of choice (see #9). Then decorate rocks to add as path markers, or use garden ornaments like gnomes, mushrooms, and more.
9. Carpet Your Camp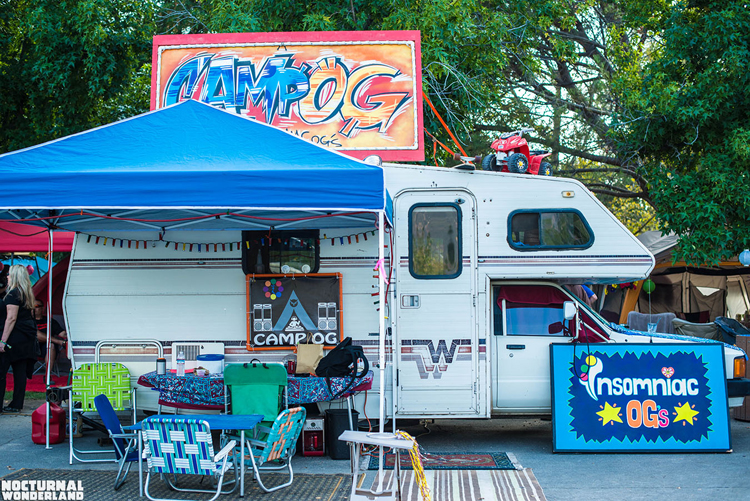 Any dollar store offers must-stop shopping before any camping festival, and one of the best deals to snag is some cheap ground cover. Buy small area rugs and carpet your campsite's floor, plus the surrounding area. Your feet will thank you, and the low price means you won't need to worry about the inevitable jungle juice stains. Just donate or recycle the rugs that look too rough to make it through another festival, and hit the dollar store again.
10. Get Innovative With Your Storage Space
Your campsite may be small, but you can still keep it relatively tidy. Hit Target or somewhere similar for an inexpensive hanging shoe rack. Hook it up to your canopy, or MacGyver it over a tree branch. You can then decorate it with copious amounts of glitter and glow-in-the-dark and black-light-reactive paint. Use it to store cups, water bottles, paper towels, sunscreen, and all your other rave essentials.
11. Make Your Chill Zone Sparkle
While they provide some useful back support, portable camping armchairs often look drab. Dress up a few with sparkling fabric paint, glitter, black-light-reactive stickers, and anything else you can come up with for a chill zone that still screams, "Rave with us!"
12. Make Glow-in-the-Dark Bubbles
This DIY project is both simple and impressive, so get ready to draw in plenty of passersby. Simply break open your favorite color glowsticks and pour the contents into standard bubble containers. Shake 'em up, and you'll be blowing glowing bubbles in less than a minute!
13. Raveify Jenga
For our 21+ campers, bring a fresh Jenga tower and play a twist on the Jenga drinking game by writing PLUR-inspired instructions on each block, like "Hug your neighbor," "Trade kandi," "Play a song," and more. Then, enlist your camp neighbors for a game—it's the perfect icebreaker.
14. Make a Totem Garden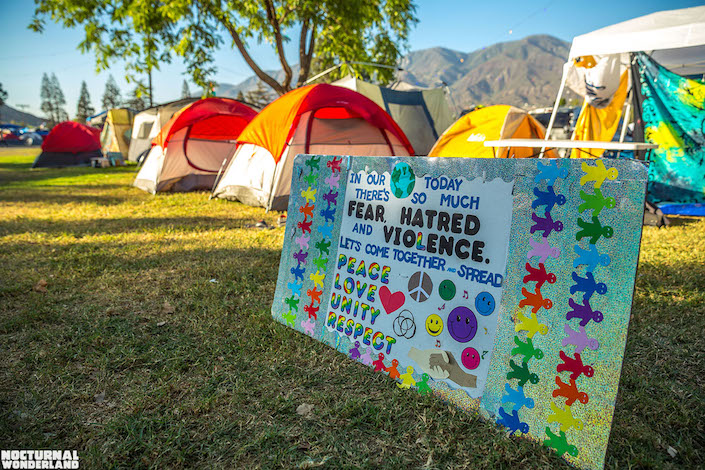 Have each of your friends make a totem to contribute, and make sure they've attached them to PVC pipes or other long sticks that can act as stems. Then stick each totem into the ground in a dedicated area outside your RV or tent to create your own totem garden. When visitors come to your camp, offer to house their totem in the garden, too.
15. Make Glowing Lamps for Your RV Porch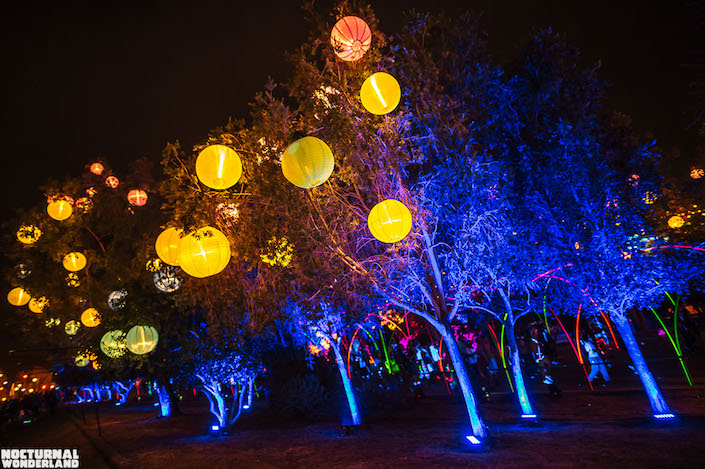 Collect plastic water bottles and fill them about three-fourths of the way. Then stick different color glowsticks in them to create self-standing, glowing lamps that will make the outside of your RV feel like a homey, ravey porch.
Nocturnal Wonderland 2017 takes place Friday, September 15, and Saturday, September 16, at Glen Helen Regional Park in San Bernardino, CA. Tickets are available now. For more information, visit the official website.
Follow Nocturnal Wonderland on Facebook | Twitter | Instagram
---
Share
---
Tags
---
You might also like