HeadlinerHIGHLIGHT: Yvette Berlanga
It's always worth repeating: Insomniac fans, the real Headliners of the show, are the reason we stay up late doing what we do—and why get up early. Doctors, soldiers, teachers, yoga instructors, chefs, baristas—you name it—our Headliners might grind and roll their way through life along different paths on their way to the dancefloor, but they're like family once they've arrived. In celebration of their uniqueness and the music and lifestyle that connects us all, we give you HeadlinerHIGHLIGHTS, an ongoing series profiling the diverse individuals that make up the Insomniac community.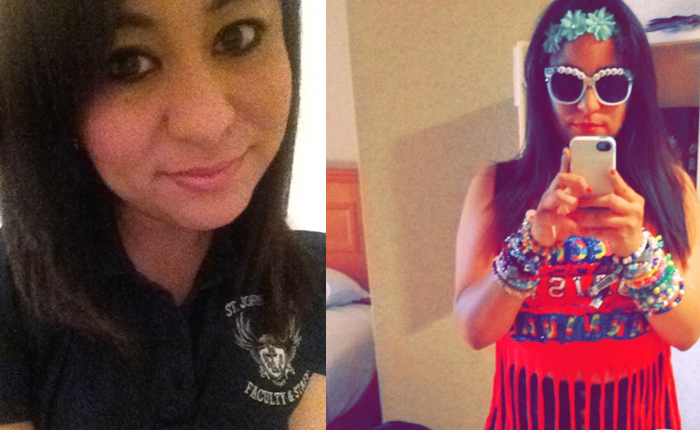 Name: Yvette Berlanga
Profession: 5th-grade teacher and softball coach (3 years)
Currently living: San Antonio, TX
First Insomniac show attended: EDC 2014
Spirit animal: My spirit animal is a dragonfly because they symbolize change and transformation throughout life, which I relate to greatly. Dragonflies go through a complete metamorphosis in their life, which I feel I have done as well, growing from who I used to be to being the person I am today.
Currently listening to:
Let's start off with a little about you and dance music.
I was 18 when I discovered dance music. I went to college in a city away from home, met new people, some of whom had been into the music for a few years. One day they took me to their hometown and to a local show, and I fell in love with not only the people, but the music as well. I've been a huge fan ever since.
My favorite thing about the culture is the amount of amazing people I have met in these past years; I have never been surrounded by so many truly beautiful people who are accepting of everyone, no matter what differences they may have. Dance music has broken me out of this quiet, shy shell that I was stuck in ever since I was a child. Through high school, I was a really quiet and a bit antisocial. It wasn't until I started listening to dance music that I was able to finally just be myself, let loose, and not be so worried what people thought of me. My self-confidence has grown greatly in just a few short years, and I have dance music to thank for that.
How would you describe an Insomniac event to someone who has never been?
Describing any kind of event to someone who has never been is honestly the hardest thing to do. No words, pictures, or videos I have do any justice on the reality of it all. I usually just take the easy way out and say, "You just had to be there."
Do you go out and party with coworkers?   
I can honestly say I have never partied with a coworker, as much as I would like to do that! Work life and rave life are definitely kept separate. Only one coworker is aware that I go out to shows on a weekly basis, and she's honestly fascinated at how many shows/festivals I attend. It's always fun to talk to her about the experiences I've had. Maybe one day I can convert another fellow teacher to become a music junkie like me.
What's a typical day like for you at work?
Waking up at 5:30 am, having my morning coffee, and getting to my classroom around 7am. I write a good-morning message, along with some warmup work for my students to get the day started. I teach every subject (math, reading, English/language arts, science, social studies, and art) during the hours of 8am – 3:30 pm.
Though the school day is done, my work is not. I do after-school tutoring from 4–5pm for my students to get any extra help they may need. As soon as I clock out, it is straight to the softball fields for me, where we are either practicing for a few hours or competing in a city league night game. A typical workday does not end for me until around 9pm. I give myself a bedtime of 10pm, if I can even stay up that late!
What do you like to do outside of dance music?
Outside of dance music, I am a typically boring person. I love going out to eat, and I definitely love catching up on my sleep. Going to the movies whenever I can is a must as well.
If you could have one magical/superpower, what would you want?
To have the ability to go back in time whenever I wanted to. I do not live a life of regret, but to have the power to be able to go back and change certain times where I made the wrong choices in life, or to even have the chance to say a final goodbye to a long list of friends and family members who I have lost in my life, would be all that I wanted.
Follow Yvette Berlanga on Facebook | Twitter | Instagram
---
Share
---
Tags
---
You might also like