HeadlinerHIGHLIGHT: Miranda Rachelle
It's always worth repeating: Insomniac fans, the real Headliners of the show, are the reason we stay up late doing what we do—and why get up early. Doctors, soldiers, teachers, yoga instructors, chefs, baristas—you name it—our Headliners might bump and grind their way through life along different paths on their way to the dancefloor, but they're like family once they've arrived. In celebration of their uniqueness and the music and lifestyle that connects us all, we give you HeadlinerHIGHLIGHTS, an ongoing series profiling the diverse individuals that make up the Insomniac community.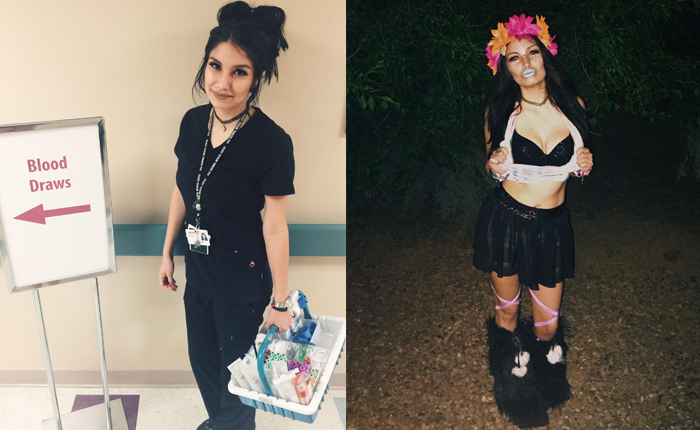 Name: Miranda Rachelle
Age: 22
Profession: Phlebotomist/processor (1 year)
Currently living: Silver City, NM
First Insomniac show attended: EDC 2015
Spirit animal: A Dillon Francis
Currently listening to:
Let's start off with a little about you and dance music.
I live in a small town at the way, way bottom of New Mexico. I have a 6-year-old daughter named Phoenix, and she is everything to me. I have a boyfriend, Chris, that I'm so cheesy and thankful for. And my best friend Mariah, we're literally inseparable; we're soulmates.
I've been raving for two years now and haven't stopped since my first one. Mariah and I went to EDC last year alone, but out of nowhere we formed a squad of five, and we all love each other so much. It's nothing but good times when we're together. Before EDC last year, I had been working with a security company at the copper mine we have here in town. They didn't want to give me the days off, so I had to pick between a job I was unhappy at, or EDC. I quit two days before we left for Vegas, and when I came back, I applied for my phlebotomist job. I still had the EDC glow, so I rocked my interview; thanks, EDC.
My favorite thing about the dance music culture is the energy. At home, I'm sassy, smart, and don't take any shit. A lot of people tell me I don't have feelings, because I don't cry or feel a lot of things deeply. But when I'm around that energy, I'm a totally different person. I can honestly say that since going to raves, I feel like I discovered myself. As cheesy as it sounds, I found myself getting lost in the music, environment and vibes at every rave. I just feel like I want to do amazing things after. I want to change for the better.
How would you describe an Insomniac event to someone at work who has never been?
Amazing. I've tried so many times, and I just can't figure out how to put it into words. Especially EDC. I think you really just feel at peace with yourself. You're not worried about your bills or your home life; you're free. The feeling I have there is unbelievable; it's like the feeling I get when I look at my beautiful daughter, or when I see my best friend happy, or when I'm in my boyfriend's arms. The energy is incredible, and I've missed it every day since I walked out of the Speedway last year.
What's a typical day like for you at work?
I work Monday–Thursday in a lab at Gila Regional Medical Center. It's the only hospital in our town, and the closest to some surrounding towns. The hospital holds 68 beds, and for 40 hours a week, I'm the only phlebotomist in the entire hospital—with my lab tech, Mark. I draw all the blood, do what needs to be done to get it ready and put it on the machines to run. Mark results it all.
It will be my one-year anniversary in July. I really like what I do, and I'm going to school in August to become an EMT, so it's good experience. At my job, it's either a really, really busy night, or I end up drawing about five people total. There's really no in-between. The night crew that I work with is like a family, and we all do what we can for each other. On a busy night, it feels like I don't have time to breathe. On a slow night, I'm usually shopping online for rave outfits or watching Netflix. I guess I can thank EDC in a big way for this job.
Do you go out and party with coworkers?
After so much effort, I still haven't gotten any of my coworkers to go to a rave with me. I'm still trying really hard to change their lives, though.
What do you like do outside of dance music?
If I'm not at work or at a rave, I'm either cuddling with my daughter Phoenix or on an adventure with her. We're so close, and she is the best thing I've ever done. She's currently in kindergarten and is the smartest, sassiest little girl I've ever met. She teaches me something new everyday. She loves EDM; all the songs I listen to, she knows the words, and we go pretty hard every time we're in the car. We're trying to learn how to shuffle right now. With a little more practice, she'll be better than me.
If you could have one magical/superpower, what would you want?
Invisibility, for sure! There's so much you could do—get past security and into festivals for free. Rob a bank.
Follow Miranda Rachelle on Facebook | Twitter | Instagram
---
Share
---
Tags
---
You might also like