HeadlinerHIGHLIGHT: Aaron Katz
It's always worth repeating: Insomniac fans, the real Headliners of the show, are the reason we stay up late doing what we do—and why get up early. Doctors, soldiers, teachers, yoga instructors, chefs, baristas, and you name it, our Headliners might grind and roll their way through life along different paths on their way to the dancefloor, but are like family once they've arrived. In celebration of their uniqueness, and the music and lifestyle that connects us all, we give you HeadlinerHIGHLIGHTS, an ongoing series profiling the diverse individuals that make up the Insomniac community.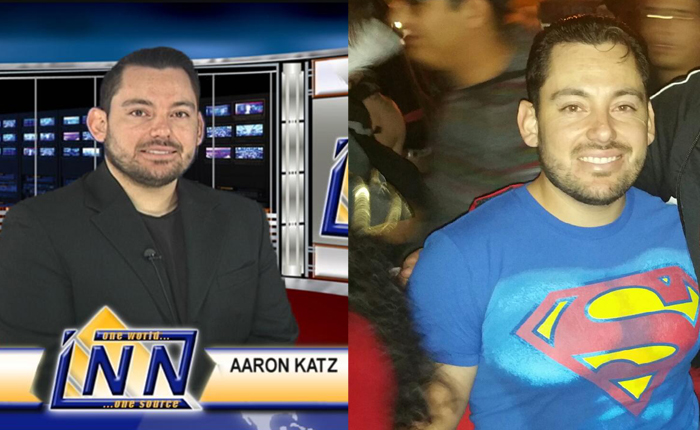 Name: Aaron Katz
Profession: News Anchor/Video Editor/TV Show Host. I do these things in order to train Army units preparing to deploy. Basically we provide realistic media interactions with soldiers to get them used to dealing with, communicating with, and utilizing media outlets.
Currently living: Covina, CA
First Insomniac show attended: Beyond Wonderland 2013, which I learned about from a flyer I got when I was leaving Swedish House Mafia's One Last Tour in Los Angeles. Since then I was hooked and have tried to go to every event my work schedule allows me.
Spirit animal: I don't know if I have one, but if I have to pick one I'd say a Chameleon, because when I'm at work or in everyday life I'm kind of a normal guy, but at an event I feel like I can show my true colors—pun intended. And yes I tell cheesy jokes all the time.
Currently listening to:
Let's start off with a little about you and dance music.
I never listened to electronic music regularly until around 2010. One of my friends who had lived in Malta when he was younger grew up listening to it, and he introduced me to some old Tiësto. From there I got into Swedish House Mafia, their One Last Tour was the first event I had ever been to. After that I found out about Beyond Wonderland, which was the following weekend. I went to that, and then it just spread from there. I've seen Tiësto, Swedish House Mafia, Calvin Harris, Martin Garrix, Subfocus, Knife Party, Bro Safari, Skrillex, Jack U, Dog Blood, Showtek, Clockwork, Kennedy Jones, 3Lau, Sex Panther, WeAreTrio, LUMBERJVCK, Deorro, Will Sparks, Eric Morillo, Krewella (with Rainman), Tommy Trash. I know I'm leaving out a lot of others. My favorite thing about the dance music scene/lifestyle is, of course, the people. There are so many cool people at these events, it seems like everyone really gets along for the most part. It really is like a family.
How would you describe an Insomniac event to someone at work that has never been?
I would tell them it's like no other event. At first it's almost overwhelming, seeing everyone in these crazy costumes, or sometimes almost naked. But just talk to one person for a minute and you see how welcoming and accepting the whole community is. Events are really a place where you can leave all your problems at home and step out of your comfort zone—comfortably without being judged by people. While the music is amazing of course, these events are about so much more than that.
Do you go out and party with co-workers?
I don't get to party with my co-workers, unfortunately, because my job requires me to work away from home, so when I am off I go home, and usually don't get to see my co-workers. So my work and my rave life are separate, but I don't hide my rave life from my work. I love telling them about my experiences and long crazy weekends.
What's a typical day like for you at work?
Depending on the day, I will either come in later in the morning and I will have to edit news stories brought back from the training area. I'm fortunate to work with some really cool people, many of whom are soldiers. So almost every workday is filled with hilarious and inappropriate jokes, which is awesome.
What do you like do outside of dance music when you have nothing to do?
I try to spend as much time with my girlfriend as I can since we don't get to see each other often. So when we aren't at events, we like to ride my motorcycle when we can. Sometimes if we're feeling lazy we just stay home and look up new songs to show each other—#relationshipgoals. I have also just recently gotten into photography, so now I try to go out and take pictures of all kinds of things as often as possible.
If you could have one magical/super power, what would you want?
I would want to be able to teleport, so I could go anywhere in the world whenever I wanted—and go to all the festivals. I would just teleport to the spots right after the entrance.
Follow Aaron Katz on Facebook | Twitter | Instagram
---
Share
---
Tags
---
You might also like