Galantis Offers Danceable Cure With 'Pharmacy'
There's an old musical maxim that goes something like this: "You have your whole life to write your first album and just months to write the next one."
For Linus Eklöw and Christian Karlsson, that's only partially true. As Swedish duo Galantis, the pair proudly unveils its first solid body of work, a 13-track onslaught of feel-good grooves titled Pharmacy. But the would-be "nice to meet you" is more accurately a re-introduction by producers dance fans have admired for years.
Before Pharmacy, Karlsson and Eklöw got plenty of practice in. As Style of Eye, Eklöw cut his teeth on Icona Pop and Rebecca & Fiona remixes. Meanwhile, Karlsson won praise, and sometimes even Grammys, for his work with Britney Spears, Miike Snow and Madonna.
"We made all the mistakes with other people's music," Karlsson jokes. "We had to have the years experimenting."
With all that rehearsal in the real world at the ready, Galantis makes a strong foot forward. Pharmacy is perfect pop with a sly edge. It's artful, it's disco, it's smart, it's dumb. It's everything you'd want in a dance record—nothing too serious, but seriously good. It's the result of two years holed up in a studio. The guys drowned in their own creative energy and the music was their only life raft.
"For us, this album has been the perfect form of self-medication," Eklöw says.
"We tried a lot of other things but just ended up in the studio working on this music that really healed us," Karlsson echoes. "We put our life into this album, and it feels amazing to finally be able to put it out, to be able to go out and play these songs for people."
From studio to stage, Galantis are dedicated to delivering the highest-quality musical experience possible. You won't get a lazy DJ set from these dudes. Galantis breaks the equipment out of the dark room so fans can jam along to in-the-moment magic. Armed now with a new arsenal of sonic prescriptions, the duo is eager to unload.
Pharmacy aims to capture the essence of dancefloors through the ages. From the infectious upbeat anthem "Runaway (U & I)" to the melancholy-tinged melody of "Dancing to the Sound of a Broken Heart," the docs tackle cases of love found and lost, youthful abandon, the ever-present desire for more, and all the other things that keep kids running for dark clubs and bright lights. They claim the album is a personal story of triumph, but they aren't giving away any clues.
"I'd rather have the message be interpreted," Karlsson says. "We don't want to put any words into anyone's mouth. Our lyrics, almost all of them can be interpreted in different ways, and I think that's cool. I like to hear people's different takes."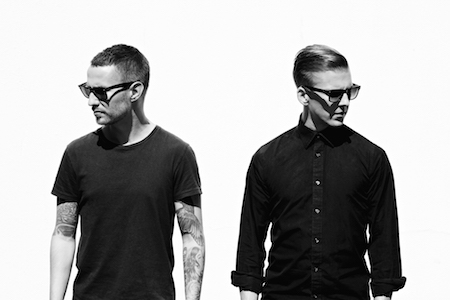 "Peanut Butter Jelly" seems most open to interpretation. The most playful of all Pharmacy tracks, it features a sample from '70s Bettye Swann b-side "Kiss My Love Goodbye," lending the already hook-riddled single with shiny, disco swag so authentic, it's sticky with sweat.
Karlsson says he and Eklöw listen to a lot of retro grooves when recording.
"I feel like (music) was more open-minded (in the '60s and '70s) than it is now, so it's good to go there," he says. "There's great music coming out now, but it has been formatted a little bit too hard for radio. Like, it needs to be this length, the hook needs to come within the minute. All those types of rules might not be best for music."
The rules be damned, Galantis leads the charge for a better, brighter, more thoughtful brand of dance music. It's recommended that you take a healthy dose of Pharmacy, and call back in the morning.
Follow Galantis on Facebook | Twitter
---
Share
---
Tags
---
You might also like