Elohim Shares 10 Songs She Feels a Strong Connection With
Upcoming Event
No one likes being lied to. People can see right through the facade some artists stand behind as they try to make a meaningful connection with their fans. Elohim is the antithesis of the fake-for-fame brand. The Los Angeles–based artist chooses to keep her identity in the fray, making sure not to obstruct the focus from a catalog that is almost like an open dialogue about real-life issues. Anxiety and introversion are themes she touches on regularly in her songwriting, using her tracks as a tool to reach out to those who are trying to navigate through life under the often crippling conditions she grapples with herself.
She refers to her sound as "experiential alternative," a synth-heavy permutation of pop that has more substance than any top 40 name. Songs like "Xanax" and "Skinny Legs" are highly relatable, acting like a friend you can lean on, even when all you want to do is crawl under the covers and block out the world. Listening to Elohim is like doing trust falls with music, only you know for a fact she will be there to catch you every time.
It's not surprising that the world is opening up to her in a big way, having played major dates at Coachella, Middlelands and Skyline. Alison Wonderland has also selected Elohim as support for the forthcoming FMUOASL Tour that kicks off in September. She's about to wrap up her own string of dates in Los Angeles at the Hammer Museum this Thursday, so don't miss out on this one.
The Elohim hype is totally justified in our eyes. Since she has found a way to really connect with fans on a personal level, we figured it would be some fun to find out which songs are doing the same for her. This is what she came back with.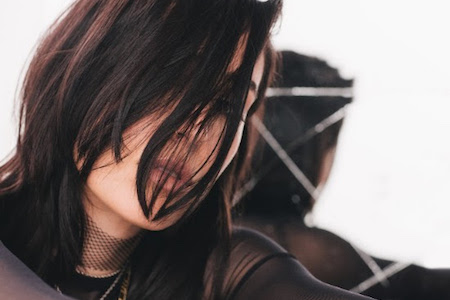 What types of records/artists do you find yourself drawn to the most?
I am always drawn to unique, genuine, one-of-a-kind-artists. It is very obvious when someone is writing or performing from their heart. I am intrigued by artists that put every ounce of authenticity of their being into their art. I love when musicians create an entire world you can glide into whenever you need it.
Your latest single, "Skinny Legs," made the cut. Can we get you to set up that song for those coming across it for the first time here?
For me, this song is the battle between myself and my inner voice. Sometimes, the negative, fear-based thoughts are louder than my calming voice of reason. I am aware of what is going on, and I know I am fine, but I can't stop that convincing demon inside of my head. I think everyone goes through that at some point in his or her life—I just happen to deal with it daily. "Skinny Legs" is a wild ride with a lot of interesting sounds. It is a release for me, and hopefully the listener, to rid all of the crazy thoughts.
Of the remaining nine tracks, which one is the most relatable to where you are at in life right now?
It is hard to not say my own song, because I wrote it. But if I have to pick one, I would pick Nosaj Thing's "Don't Mind Me." Not necessarily lyrically for this one, because to be honest, I am not sure what the lyrics are—but to me, this one is all about the feeling. The sounds evoke a magical something inside of me that takes me to another world, yet helps me get grounded in my own. It is hard to find music that does that. When I was on tour, I randomly came across his whole album, and it became my preshow ritual music before going onstage every night.
What is your favorite lyric from your playlist, and why does it resonate with you on that level?
"I got a lot of enemies that used to be my friends." I just love this lyric, the context around it. "When I'm solo, I'm just swerving through my ends… when I'm sober, I just don't like who I am." There's a lot of reflection in NAV's lyrics that resonate with me. We all have enemies that we once loved. It's not always human; it can be a place, substance or moment that we continually strive to overcome. "I'ma break every box they try to put me in."
How would this list be different if it was a teenage you picking out the music?
More emotional, less hip-hop, but not too far off. I have stayed a big fan of Radiohead and quirky alternative artists. I listen to a lot more jazz now. I have this vinyl set of Billie Holiday that has a permanent residency in my home right now.
In what scenario(s) does music tend to have the most profound impact on you as a listener?
Two scenarios come to mind—the first being when I am completely alone. Moments of solitude draw me closer to the music I am listening to. On the other end of the spectrum, when I am with my closest friends, dancing with the volume turned all the way up, completely immersed in the music, laughing, singing and living in the moment… there might not be anything more wonderfully impactful.
When was the last time music helped you cope with an extremely difficult situation?
"Love" on Kendrick's new album really affected me. The first day I got into it, I had it on repeat for hours. I felt alive, fearless, in love, and invincible. There is no telling when or why a song will do that, and it is very rare—but when it happens, it is pure euphoria.
Wrestling with anxiety has been a prevalent theme in your music. What message do you hope to get across to fans that might be battling with similar circumstances?
We are all in this together. Let's be there for each other, love each other, and help guide each other. You are not alone; you are totally and completely loved. You are valued.
Follow Elohim on Facebook | Twitter | SoundCloud
---
Share
---
Tags
---
You might also like