Eli & Fur Bring Their Smoldering Deep House Vibrations to Nocturnal Wonderland 2018
Eli & Fur make music you might hear in a variety of worlds: the radio, the club, the warehouse, at a beach bar, on a commercial. Their music—most of it falling in the vocal-driven, deep tech-house ballpark—is sneakily pervasive. In advance of their Nocturnal Wonderland debut later this month, the ladies were kind enough to take a break from their studio work in London to discuss how they got here and what this sort of second act in their prolific career has been all about.
Eliza (Eli) Nobel and Jennifer (Fur) Skillman met more than a decade ago, when they were 16 years old. Though they attended different schools, they had many mutual friends who were into music. After the two moved in together, they started DJing at house parties and such. They soon realized they might have something more than just a hobby on their hands and started making a proper go of the whole DJ/producer thing.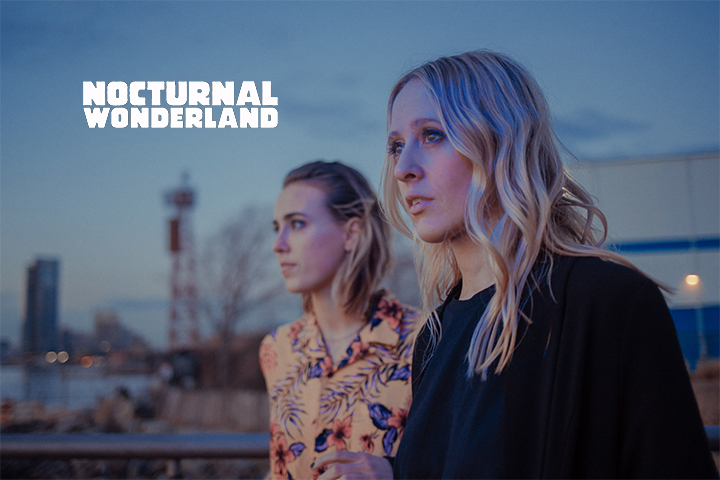 It wasn't long before they both found day jobs working for a music production and songwriting company. They ended up writing pop songs for UK groups like the Saturdays and Girls Aloud, as well as doing vocal sessions with other singers.
"It was super different to what we were doing on the side at the time—making music in the evenings and DJing on the weekends," Fur explains. "It was great having that balance, though; we love all types of music, so it kept things fresh, and we learnt a lot."
Their big splash came in 2013, when their first major single, "You're So High," racked up tens of millions of plays online, aided by Hype Machine (around the peak of its ability to generate said hype).
Word quickly spread, and it didn't take long before Eli & Fur were releasing cuts on venerable house labels, like Defected and Above & Beyond's deep house imprint Anunjadeep. Since then, they've found a trajectory similar to that of Tale of Us, balancing touring, production, and remixing for the better part of this decade.
Several years ago, Eli described their collective style as "melodic music rooted in the underground, with the potential to cross over. It's got to reach a lot of people, inspire them, make them happy and want to dance. It's got to be great dance music." This essentially still holds up today, as they yearn for broad exposure while keeping the music somewhat left-of-center. Making their collaboration even more interesting, Eli & Fur are both known to sing on various tracks and often use a heavy amount of processing, making it a bit ambiguous and androgynous at times, as they skirt these lines between gender, soft/hardness, dark/light, depressing/uplifting.
They admit that breaking through—especially in what is still a straight-male-dominated ecosystem—is difficult, no matter who you are. But they think you can get there if you "stay true to yourself, stick up for yourself and your beliefs, don't take any crap from anyone, because there will be people who won't want you to succeed," Eli explains. "Be in it for the long run. Be kind, and encourage other people; we are big believers in karma! Focus on the positives. It's your life; you have to do what makes you happy. So, go with your gut feelings."
"It all boils down to the fact we both love what we do, and we have such an amazing and rare friendship that allows us to be able to spend long amounts of time together."
Eli & Fur have also been going hard this last decade and are wary of the possibilities of burnout or succumbing to other DJ/producer occupational hazards. The keys to survival are 1) staying grounded and 2) being OK with saying "no."
"We are having such an incredible journey and are excited for what's to come," Eli says. "We wouldn't want to jeopardize this in any way. Things can get tiring sometimes, and it's not always plain sailing. But being able to do this for a living—it's a dream. So, it's important to focus on keeping a level head, knowing when to say no, splitting time between touring, and making music and balancing your time in the right way."
Also, it helps if you're actually close friends, know how to communicate, and are a good traveling companion. "It all boils down to the fact we both love what we do, and we have such an amazing and rare friendship that allows us to be able to spend long amounts of time together," Eli explains.
The duo is currently in the studio, finishing off new demos—some of which they hope to get out before the end of the year. They also have remixes coming for "Parfume," a track on their new EP. "It has been nice to have a bigger body of work," writes Fur. "A large proportion of our sets now are our own tracks, or remixes of them, which is important to us. It's an amazing feeling being able to play our own tunes out."
As summer wraps up, they look back to each of their favorite tunes of the season. Eli admits to a "bit of a cheeky plug here, but I love the remix Rodriguez Jr. did for our track "Night Blooming Jasmine." It just took the original to another place, and I absolutely love playing it out. It's a special song for me, personally, so I would have to say that."
For Fur, she chooses the Guy J remix of Jamie Stevens' "My Tears Don't Help Me." She says that though "it's not a new track, we have been playing it out a lot this summer. It's nice to look back, as well as forward, when keeping the sets fresh."
Speaking of fresh sets, Eli & Fur are getting hyped for their inaugural appearance at Nocturnal Wonderland, merely days away from now. "The production looks amazing," Eli remarks. "Love the neon vibes, and we play when it's dark. That always dictates the sort of tracks we will play. We never prepare totally, but we definitely have all our favorites at the moment, as well as testing our own new ones." Expect some dark, melodic, rolling rhythms when the sun goes down at Nocturnal.
Eli & Fur are playing at Nocturnal Wonderland, which takes place Friday, September 14, and Saturday, September 15, at Glen Helen Regional Park in San Bernardino, CA. Tickets are on sale now.
Follow Eli & Fur on Facebook | Twitter | SoundCloud
---
Share
---
Tags
---
You might also like