In honor of Women's History Month, we are throwing some shine on the most influential female industry figures who helped pioneer electronic and dance culture.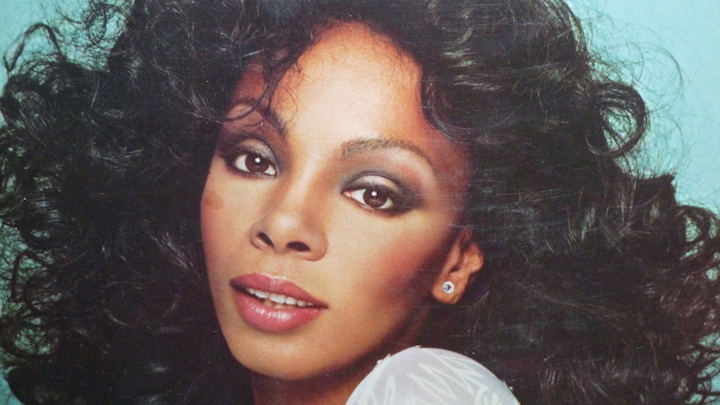 Donna Summer is an immovable force. She's likely the most recognizable name in this series, even if you were born decades after the end of her reign atop the pop pyramid. Her songs seem to never go out of style and remain relevant, a testament to the bold and bizarre choices she and her colleagues made in a time when disco seemed to be running out of steam.
If you haven't heard her undeniable, culture-changing "I Feel Love," stop skimming the internet for a moment and do so right now:
Summer's discography reads like some sort of murderers' row of disco classics, and her oeuvre is both important and highly functional in any club, on any sound system. If this sounds like hyperbole, it isn't.
Born LaDonna Gaines in Boston, she grew up singing in a variety of styles—like gospel, soul, Broadway, and some "light" opera—before moving to New York and getting involved in psych groups and a touring production of Hair. That brought her to Germany (causing a rift with her father), where she stayed after the production ended. She married an Austrian actor named Helmet Sommer and had a child. She divorced and then met Pete Bellotte and Giorgio Moroder, setting out on a solo career (and anglicizing her name to "Summer"). They had some early success, but it wasn't until "Love to Love You" that they had their first breakout earworm.
Still effective in 2018, "Love to Love You" is a steamy midtempo number that swirls on and on with a recursive set of orgasms. They cut a 17-minute version of the tune that Neil Bogart of Casablanca records requested "to soundtrack an orgy." It charted and led to a phase of disco dominance, catapulting Summer into full divadom. The song also mortified her church-going family.
Summer's true gift was taking two of pop music's most classic (and frankly, most tired) themes—sex and love—and somehow breathing new life into them by being fearless.
Summer and co. weren't the first people making disco music about sex, but they were some of the most imaginative, and they were just plain good at it. It's a great song because it so openly demonstrates and celebrates a woman's ability to feel pleasure, too. The song also reverberated with queer communities and became an instant anthem.
Summer's true gift was taking two of pop music's most classic (and frankly, most tired) themes—sex and love—and somehow breathing new life into them by being fearless.
"Love to Love You" was big, but "I Feel Love" was galactic in scope, the sound of two continents and two decades slamming into each other. The song's pulsing, motorik-inspired, "perfect" beat was a genius foil to her beautifully human voice. You could probably write a book on why this song exploded and influenced a good decade (if not several, if you count her influence on pop music and pop diva experimentation to this day) of music around the world.
"I Feel Love" was allegedly written on the day that Summer met the love of her life, Peter Mühldorfer, with whom she stayed together until her passing in 2012. Bellotte told Pitchfork, "Donna announced that her astrologer had told her 'this is the man.' That was the night 'I Feel Love' was written: When she'd changed her whole life. And it was the best thing that ever happened to her." Moroder and Bellotte were the programming, producing geniuses, but there is no "I Feel Love" without Summer and her idiosyncratic power, which was her true legacy.
Summer and "I Feel Love" opened the door and helped predict a future of house, disco, techno, Italo, and the meeting of pop and EDM, while boldly breaking through old barriers of sex and sexuality. She also helped prove that a diva didn't need to be a tyrant. Her life and lore go way deeper than these two classics—but if you hear only two, these are the two. Otherwise, seek out the rest of her discography and all the special stories about the greatest disco diva of all time.
---
Share
---
Tags
---
You might also like