In honor of Women's History Month, we are throwing some shine on the most influential female industry figures who helped pioneer electronic and dance culture.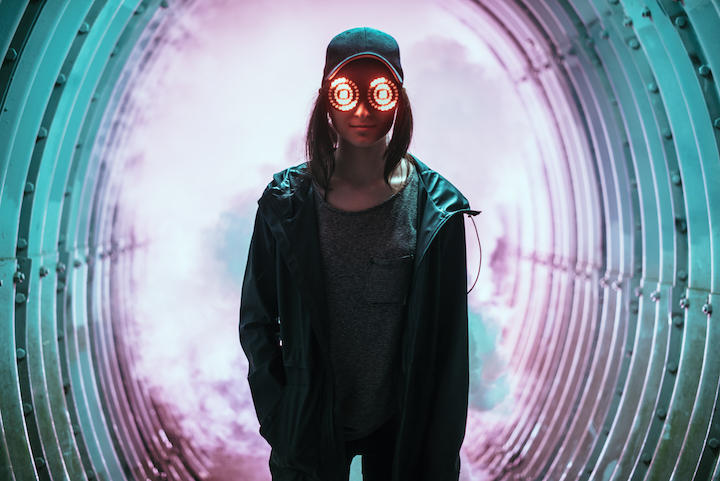 REZZ's story is one of those movie plots. She's gone from self-taught SoundCloud producer to instantly recognizable DJ/producer in a very short period of time, all before she could legally rent a car in America without paying a surcharge. REZZ's love for dramatic, bass-driven funk—along with her signature cap and LED goggles—have made her an icon, a sort of super heroine for young bedroom producers everywhere.
Born in the Ukraine in 1995, Isabelle Rezazadeh was raised in Niagara Falls, Ontario, in a Persian-Ukrainian-Canadian household. After relocating to Toronto, Isabelle was particularly moved by a deadmau5 show and decided she wanted to give this EDM thing a whack. So, she just picked up a copy of Ableton Live when she was 18, dove into it, and started making music. It wasn't long before she was picking up the finer points—not only of sound design, but also mixing, mastering, and engineering, which she still does herself to this day.
She started sending out her music, and she started getting noticed. As REZZ told DJ Times last year, "It happened because of the internet, basically. I was releasing a lot of music for free on my SoundCloud page, and a lot of blogs were picking up on it. Those blogs surprisingly attract a lot of people who are in the industry. One of the guys at Nest HQ found me, and then Skrillex ended up following me and said, 'We have to do something with you.' So, we made a three-track EP and released it on Nest."
REZZ released her song "Serenity" on mau5trap In 2015, to wide acclaim, and she's been making music or touring ever since. The following year saw the birth of the Cult of REZZ—her most zealous and passionate fan base. Her first LP, Mass Manipulation, dropped in 2017, followed by an extensive world tour.
At the end of the day, REZZ is someone whose cute, cartoonish veneer belies a tough, muscular producer. Her robo-funk, synthy dubstep lives somewhere between Skrillex and Ed Banger. It has shades of ghetto house/tech and dark bass. Her aesthetic ultimately offers a path forward past the post-brostep explosion of the early 2010s.
And it seems like she's only just started to scratch the surface of her potential, that massive things are on the horizon for this energetic wunderkind. For 2018, REZZ is booked to play her first Coachella, as well as REZZ Rocks slated for the end of this year, when she'll take over the majestic Red Rocks Amphitheatre in Colorado. This year is REZZ's year.
---
Share
---
Tags
---
You might also like