Doing it Live with Krewella

Aesthetically, the Krewella crew looks more punk than PLUR. Their black-on-black outfits, Yasmine's ripped leggings, Jahan's killer combat boots, and Rain Man's Suicide Silence T-shirt starkly contrast the Rainbow Brite outfits of modern EDM culture.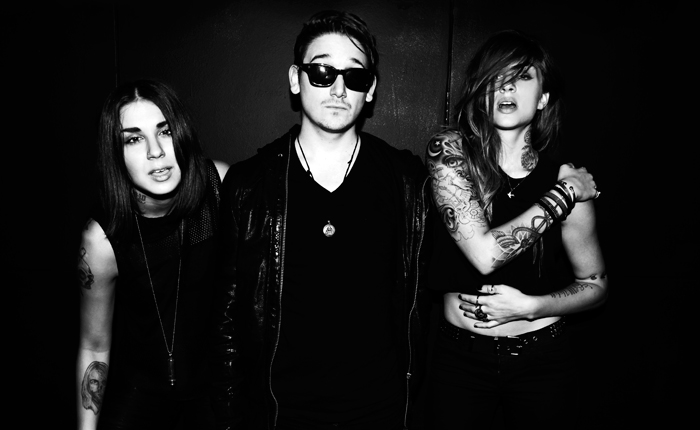 Onstage, however, Krewella concoct a live mix of rock-infused theatrics with the lights-and-lasers spectacle we've come to love at electronic shows. The constant demand for Krewella gigs allows the group a chance to perfect their performance chops and adapt to the rapidly changing EDM landscape.
Krewella sisters Jahan and Yasmine Yousaf predict that the future of EDM is within live performance. If their show is any indication, they might be onto something.
Did you launch Krewella with the intention of one day performing live?
Jahan: When we started, we didn't even think about performing. We started getting booked for shows here and there, and then we had to quickly figure out how to perform our songs out. The reason we picked up DJing is because our songs are dance songs. We love the idea of mixing back and forth from our favorite EDM songs at the moment and our homies' tracks and remixes of our own. It's a very dynamic set.
Do you prefer DJ gigs or live sets?
Jahan and Yasmine: Live.
Why?
Yasmine: It has more of our soul in the show. People actually feel our music. It's not us playing our tracks. It's us singing them. They get to actually see them in the moment, and that's so much more special.
Is a full Krewella band a possibility in the future?
Jahan and Yasmine: Yes.
Drums? Guitars? The whole nine yards?
Jahan: We talk about it all the time. That's like one of our fantasies. We're all just incubating ideas at this point.
Without the music you make, you're nothing. You can't just take away from the importance of that.
There aren't too many artists in EDM that perform live. What acts within and/or beyond EDM inspire you?
Yasmine: We've come into our own as performers who just want to leave everything on the stage. I want to sweat everything out. I want to give every emotion.
You want to "Get Wet."
Yasmine: Essentially, just get wet. That comes a lot from the rock bands that we grew up on. If you're comparing it to females in rock music, Siouxsie and the Banshees, the '80s group. Siouxsie Sioux was insane onstage, and she just became this animal. I want people to feel that energy.
Jahan: As far as in the DJ world, we've seen Bloody Beetroots, Netsky…
Yasmine: Modestep!
Jahan: We've been really inspired by watching some of these groups.
It seems as if audiences are growing bored of the generic DJ set at EDM events and music festivals.
Yasmine: I actually think it's less of the audience, but more of the artists getting bored. For example, EDC New York, we're one of a couple of live acts, and yet still selling thousands of tickets and people are still losing their minds. I don't think the audience is quite bored yet, but when they do get something different, it's still an awesome surprise. Maybe in a couple of years they'll be like, "I don't want just to see a guy with his hands up pushing play." I hate calling it that because DJing is still an art, but that's what people think, the perception on the outside. They might want something more.
Do DJs today rely too much on technology and production and not enough on performance?
Yasmine: It's hard to say because so much of the work is done in the studio. Without the music you make, you're nothing. You can't just take away from the importance of that. The trajectory is going toward more live. There are so many options for people to grow as an artist.
Is EDM heading toward a live performance renaissance?
Jahan: You see legends like Armin van Buuren and Tiësto going on tour and bringing a full live band. If these guys are spearheading the whole DJ movement, every underground DJ and all the up-and-coming DJs all follow in their footsteps. I think it's really cool that they're pushing the envelope. When you're that famous, you have the power to really do whatever you want.
Follow Krewella on Facebook | Twitter
---
Share
---
Tags
---
You might also like