"Dance Music Is Undeniably International": Hardwell Talks Tech, Dance Music's Evolution and Festivals
Dutch powerhouse Hardwell has taken his career all the way to the top—as a twice-winning recipient of the DJ Mag Top 100 #1, as well as one of the flag-bearers of the global EDM movement the past few years—so he's a natural choice to represent at the mainstage of EDC Mexico later this month.
Every year seems bigger than the last for this DJ/producer and Revealed Recordings boss from Breda in the Netherlands, though last year saw him pushing the crossover envelope even further via his collabs with Craig David and Jay Sean, as well as his explosive remix of Moby's eternal rave classic "Go." Not to mention, being immortalized both in the form of a wax figurine at Amsterdam's Madame Tussauds waxworks museum, as well as a super-detailed action figure alongside countryman Armin van Buuren.
He's kicked off 2017 with a special celebratory 300th edition of his Hardwell on Air radio show, and he promises big things for his Revealed Recordings label in the coming year. "I can say with a lot of pride and confidence that this will be a very exciting 12 months for the label," he assures us. He'll be putting on his tech-guru hat for a special presentation at the Next Web Conference in Amsterdam during March, though first he'll be dropping into EDM Mexico. We pinned him down so he can tell us what to expect.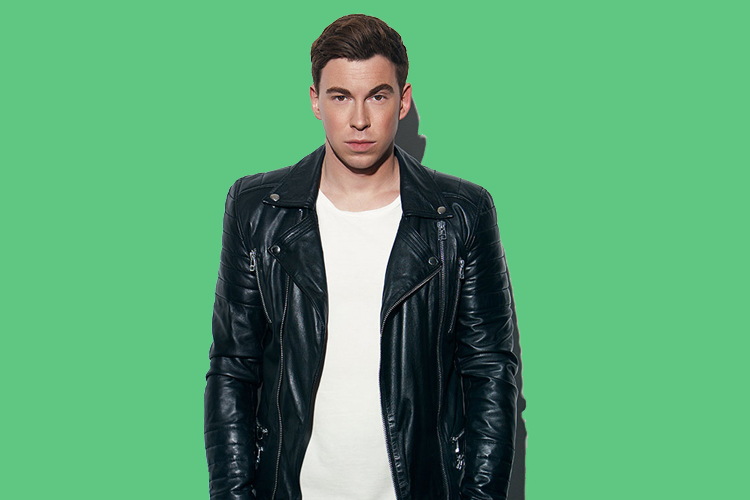 In May this year, you'll be doing a talk at the Next Web Conference in Amsterdam, which is definitely a tech-based conference, rather than one catering to the music industry.
Beyond being a self-confessed studio nerd, I love all things tech. It's a fascinating industry and one that's truly captured the attention of the world. Our lives have been forever changed by it, and my DJ career in particular has been hugely influenced by social media, as well as the evolution of both DJ and studio technology. Together with my team, I'm continuously looking for innovative new technologies. I was the first DJ to use Blockchain technology, which makes legal distribution more reliable, fair and transparent, and I was also the first DJ to launch my own Chatbot on Facebook Messenger. The conference was interested in my relationship with technology and its impact not only on my career, but our scene as a whole. I'm honored by the invitation, because it's a chance to merge the two worlds of tech and music.
You'll be appearing at EDC Mexico in February. What's your experience when these big festival brands branch out internationally? Is it merely a matter of taking the same concept and plonking it down at a different location, or do you find the local energies tend to put a stamp on things?
From my experience, these kinds of expansions only work when the organizers engage with the local scene and cultivate that local feel. Of course, fans are buying into the experience of that branded event, so all these elements need to blend together harmoniously. As a DJ, I want to capture what that local scene has to offer, build my set with that in mind, and share my music to a new audience. So, playing in Mexico is very different from playing in, say, Australia, and you want to be able to experience that with the atmosphere, which the crowd helps create. The EDC family has a great history of taking their festival and embedding it into different countries and cultures. They understand what it takes to enter a new market and develop something that stays true to their brand identity, to give the fans that full EDC experience, while making sure it remains something that's positive and reflective of the local scene and market.
"I'm quite hard on myself when it comes to making music, because I'm never fully content with a project."
The broader Central and South American scene has been talked about as one of the key emerging markets the past few years, with countries like Brazil also representing in a big way.
I think we're now starting to fully grasp just how global dance music has become. We had that crazy boom where it just went stratospheric, shifting from bubbling away as an underground scene and leaping onto mainstream radio and TV. Now, dance music's impact is undeniably international. I've been fortunate to tour numerous countries across South America several times, and my experience of countries like Brazil, Chile, Argentina, Peru and Venezuela is just how vibrant their scene is. You've got young kids who are fresh to dance music, bringing this incredible passion and knowledge to the scene. And you've got an older generation of clubbers reconnecting with the music again. This kind of fanbase is what drives the scene and helps foster the new talent needed to drive a musical movement.
DJs speak often about the market in Asia blowing up, as well.
Asia is another region that's adopted dance music at an intensely rapid rate over the past few years. Again, you're looking at this enormous continent that's filled with numerous countries. There are parts that remain untouched by dance music, but that is rapidly changing. Places like India, Thailand, South Korea, Japan, China and others are luring the biggest names from the scene, staging homegrown festivals as well as partnerships with international brands like EDC. It's a very exciting period for dance culture in that region. Because it's still so new, there's naturally a lot of politics involved, but this was exactly the same in the UK, America and Holland in the early years, too. The evolution is well and truly underway.
You've been one of the figureheads of this huge new movement for several years now.
Dance music is maturing. We had a lot of new faces come into the scene, from artists and management teams to promoters and events. There's been this huge stride, from the massive eruption that was the "EDM" scene, to what is becoming more stabilized. The expansion of this musical movement has led to such a phenomenal global growth that we're now seeing the next phase of where these artists are heading musically, how those early festivals are evolving their programming and ideas—from tech through to tour production—and they're helping take the scene into a new phase.
Something talked about a lot last year was mainstage EDM splitting in different directions.
Toward the latter part of last summer, I took some time away from the studio to explore exactly this. I was testing out new music in my sets and getting a sense of what was working with the crowd. I've never wanted to be a victim of my own sound, and although I had a lot of new music I'd been working on in the studio, I just wanted to focus on DJing. Musically, the scene is becoming more open to crossing genres.
How are you looking to develop the Hardwell sound in 2017?
That's a question I continually ask myself. I'm always trying to push myself in the studio to evolve my technique and ability. I'm probably quite hard on myself when it comes to making music, because I'm never fully content with a project. I need to pull myself away from it and bring a fresh set of ears to it sometime afterward, to revisit it with a new outlook. I'm a self-confessed nerd when it comes to the studio, and mix that with being a perfectionist—I'm always trying to get that magic moment when the music just clicks in my head. It's such a buzz when it does.
Catch Hardwell doing his thing at EDC Mexico later this month. Tickets are available here.
Follow Hardwell on Facebook | Twitter
---
Share
---
Tags
---
You might also like