Camping Essentials for Your Nocturnal Adventure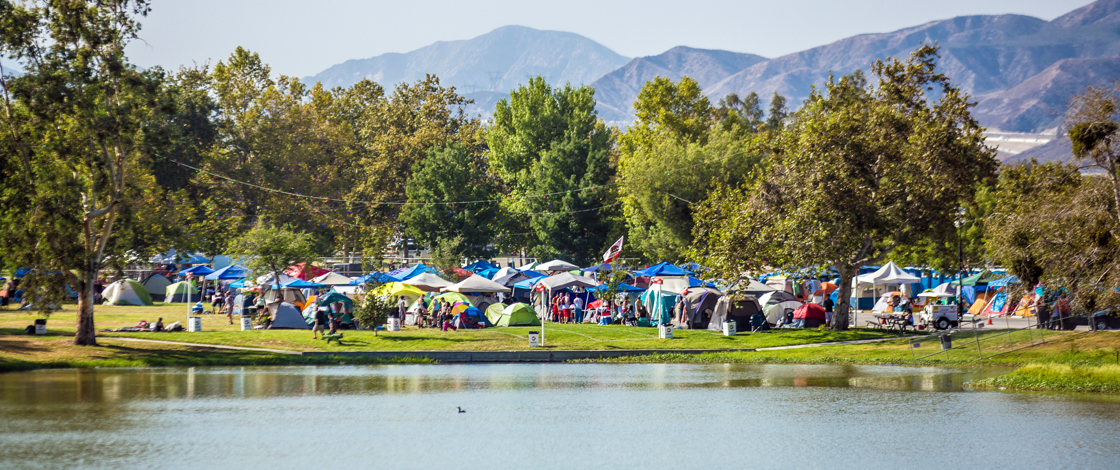 If you haven't set up camp at an Insomniac event, you haven't really experienced the festival in all its glory. The fact that the party doesn't stop once the gates to the show are closed, and that you don't have to get in your car and drive, are reasons alone. Throw in the pool, a slip down the water slide, arts and crafts, yoga, the not-so-silent disco—plus hanging out with thousands of new friends—and it becomes a no-brainer.
If you're skipping the hotel reservations and trading in your zipped roller luggage for camping passes, a tent and a duffle bag, we dug around the interweb for a bit and found some stuff to help make your camping adventure that much better.
Easy Camp Tent
The tents by this company are the shiz. Honestly, they're awesome. Camp out in style this year in a tent with skeletal x-rays, or really bring out your inner hippie with some tribal print. They have a full range of designs to choose from. Whatever your character calls for, you can find its soul mate in tent form. Buy here.
Mini Beer Pong
It's mini, it's beer pong, and it's awesome. It's also hella convenient—not to mention quick to set up and totally portable, so you can play virtually anywhere you want. It comes in a few different versions, and you can even have it engraved with your rave family's name. Buy here.
Party Bucket
Sure, a regular old cooler will store your water, beer and Red Bull, but this here party bucket will house it all in style. Throw some sandwiches inside while you're at it—the inside is insulated! Buy here.
Water Balloon Launcher and Self-Sealing Balloons
It's gonna be hot, you're gonna have some downtime, and you're gonna blast some people with ease with this here launcher. We even found some self-sealing balloons to save you time on reloading. My suggestion? Squad up and go all Avengers. Buy here and here.
Super Blaster Soaker
If you're losing said Avengers battle, pull out this secret weapon and kick a little extra booty. Not sure if this massive squirt gun really even classifies as a squirt gun. It's like a cannon. Buy here.
RC Surfer
You might not be at the beach, but we've got a lake, and it will do just fine! This'll let you bring the waves to the lake in some style. Buy here.
Owl Collage Onesie
How could we not include these? The T-shirt and sweatshirt are cool, but that owl onesie is pretty damn epic. Buy here.
Cat Fleece and LED Blanket
Match that owl onesie with this cat blanket, and you'll really have a party. We'd be that person; we'd wrap ourselves up in this bad boy every night. But if cats aren't your thing then perhaps a blanket with LED trim. Buy here and here.
Emoji, Hamburger, and Pizza Pillows
Why lay that beautiful head of yours on a regular, off-white, rectangular pillow when you could lay it down on pizza, a hamburger, or poop, or some other emoji? Buy here.
Solar Puff Collapsible Light
Screw the flashlights and help Mother Earth a little bit with this solar-charged cube. Charge it during the day, and enjoy hours of recycled energy at night. It's a win-win for everybody. Buy here.
Trillium Hammock
This thing is a beast, and what better to lift your festival-weary body up at night (and two of your friends) than this unique hammock. It kinda reminds us of Electric Forest. Buy here.
Kaisr Original
A couch for the outdoors that's easily inflatable and not easily broken? Yes, please! This thing will rock your camping world with a level of forest-friendly comfort you probably didn't even know existed. Buy here.
Rave Dino
No, it's not an Insomniac water bottle, but this thing was designed specifically to keep you hydrated at festivals. It's light and colorful, and it will come in handy at our free water refill stations. Plus, it's called the "Rave Dino." Buy here.
Pour and Store Pouch
How much do you need caffeine in the morning? We like lots of it; really, any time of day is good for us. If you enjoy your caffeine, too, this thing has you covered. Cold brew will be in your veins faster than Starbucks can say "mocha Frappuccino."
Sleeping Pads
Ode to the essentials; this thing will keep that bum of yours floating comfortably off the dirt, twigs and rocks. Treat your body right. Buy here.
---
Share
---
Tags
---
You might also like