5 Essential Artists: October 2015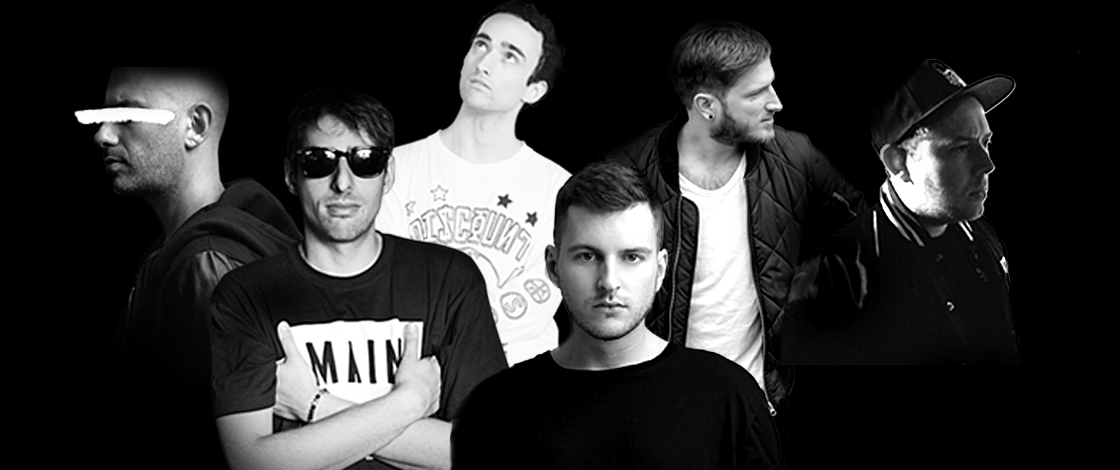 Upcoming Event
Every month, Insomniac spotlights five exciting artists across all the genres that comprise the electronic music realm—from the trenches of dubstep, the deep-bass bins of house, the unifying melodies of trance, and beyond. Dive into these musical geniuses, and continue your music discovery journey with the 5 Essential Artists series each and every month.
Kill the Noise
From: Los Angeles, CA
For fans of: Skrillex, 12th Planet, Dillon Francis
Releases on: OWSLA, Slow Roast, and more
Why you should be following: Ask your favorite bass producer who they admire, and nine times out of 10, they're gonna name-drop Kill the Noise, née Jake Stanczak. His sounds are fresh, his beats are nasty, and his technique is squeaky clean. He's a stylish dude, able to flow seamlessly between a few different genres and vibes within the same dancefloor-forward track. Everyone from deadmau5 to Korn to Mat Zo to Fatman Scoop has hit him up for collabs. He's won a few MTV Video Music Awards, and he's about to drop a new album via OWSLA October 9. Occult Classic contains 10 mind-bendingly dope tracks featuring Dillon Francis, Tommy Trash, Awolnation, and more ill moments than an intensive care unit.
Take a spin: "Spitfire Riddim," off the aforementioned Occult Classic, was produced in tandem with Madsonik, with vocals from Two Ton, and perfectly showcases Kill the Noise's dedication to variety. He really puts the dub in dubstep, merging dancehall riddims with monster wobbles. Then he hits you upside the head with the quick-fire drums. There's even some Western-style guitar at play, making this one equally fun and raging.
Follow Kill the Noise on Facebook | Twitter
Wave Racer
From: Sydney, Australia
For fans of: Cashmere Cat, Porter Robinson, Flume
Releases on: Future Classic
Why you should be following: There may be no greater cure for a bad day than some good old Wave Racer. This Australian song-maker, who named himself after a surreal and fun-loving Nintendo 64 game, makes surreal and fun-loving beats ripped right from your favorite console. There's a touch of '90s R&B romanticism and a good helping of Jersey club booty bounce buried underneath the avalanche of rainbow sparkles and sunshine fireworks. If this stuff could be the soundtrack to everyone's day, we might just have a shot at world peace. He's of the Future Classic crowd—in cahoots with favorites Cashmere Cat and Chet Faker—and he's got his official debut EP, Flash Drive, set for release on the Aussie label October 16. Stay tuned.
Take a spin: Ever feel like hopping in your shiny, metallic sports car for a joyride on a happy-go-lucky anthem? Well, virtual reality isn't quite here yet, but Wave Racer's official music video for his lead single "Flash Drive," featuring B▲by, is the next best thing. It's his latest single in support of Flash Drive, which he'll soon be promoting on an Australian tour following his recent US trek. Cross your fingers he makes his way back to the States soon.
Follow Wave Racer on Facebook | Twitter | SoundCloud
D.O.D
From: Lancaster, UK
For fans of: Laidback Luke, Tommy Trash, TJR, Henry Fong
Releases on: Mixmash, Spinnin', Dim Mak, and more
Why you should be following: Some may say electro house is a tired sound, but thank goodness no one told D.O.D. The high-energy producer was first touted as a local DJ in the pages of Mixmag, where editor Nick Stevenson gushed about his incredible talents. Known to his mom as Dan O'Donnell, D.O.D has spent the last couple of years releasing well-crafted, festival-style anthems—equal parts bark and bite—on some of the most popular labels in the business. He just played this year's Beyond Wonderland Bay Area, where he wowed crowds with his no-holds-barred performance style. Definitely keep a close eye on this dude in the months to come.
Take a spin: Last month, D.O.D dropped this gnarly remix of Nytrix's "Take Me Higher." Where the original goes big with a hardstyle edge, D.O.D gives the track a funkier and more direct four-on-the-floor feel. His blend of the lush vocal breakdown and the jarring drop is much like the fluid approach he takes in his arsenal of original bangers.
Follow D.O.D on Facebook | Twitter
Genghis Clan
From: The deepest reaches of your internet
For fans of: Riva Starr, Crookers, Bot, Get Real
Releases on: dirtybird, Snatch! Records, and more
Why you should be following: Genghis Clan is the new collaboration from Stef, better known as Riva Starr, and Bot, formerly of Crookers. Together, they're releasing nasty, bass-heavy house music on dirtybird, arguably one of the coolest labels on the planet. Stef is known for bringing the earworm beats. Bot has a reputation for strange style. The combination is absolutely massive, dark-corner-of-the-club music. Definitely listen to it with proper speakers. There's a lot going on at the bottom end of the register.
Take a spin: "Yo. Yo. Yo." You've got to listen to "Jackintosh." It's one of those instant hits you fall in love with as soon as you press play. Then the beat drops, and you make your knees touch your elbows. Then the weird-ass noises kick in, and you throw your hands in the sky. Then you ask the DJ to rewind.
Follow Genghis Clan on Facebook | Twitter
Emanuel Satie
From: Berlin
For fans of: Justin Martin, Breech, Hannah Wants
Releases on: DFTD, Get Physical Music, Recovery Tech, and more
Why you should be following: Did someone order delicious tech house? Because this German master is serving 100 percent grade-A sex beat realness. Satie gets a lot of play from house legends Pete Tong and Annie Mac. He's snuggled up with Get Physical Music and is going all teacher's pet with it, getting down to business in the studio with label founder DJ T on some sick tunes on the regular. He's been hard at work on his new Your Body EP, set for release October 19 via Defected Records offshoot DFTD. It's Satie's attempt to break genre barriers and make love to the drums.
Take a spin: You lead with your best foot forward, and the title track from Satie's upcoming Your Body EP is exactly that. It's got the kind of jackin' beat that could lure any wallflower to the dancefloor. It reels you in and keeps you bangin' steady to the end. The funky water feature is a dope effect, too.
Follow Emanuel Satie on Facebook | SoundCloud
---
Share
---
Tags
---
You might also like