2015 in Review: A Roundtable Discussion with Markus Schulz, Frankie Bones, Claude VonStroke and More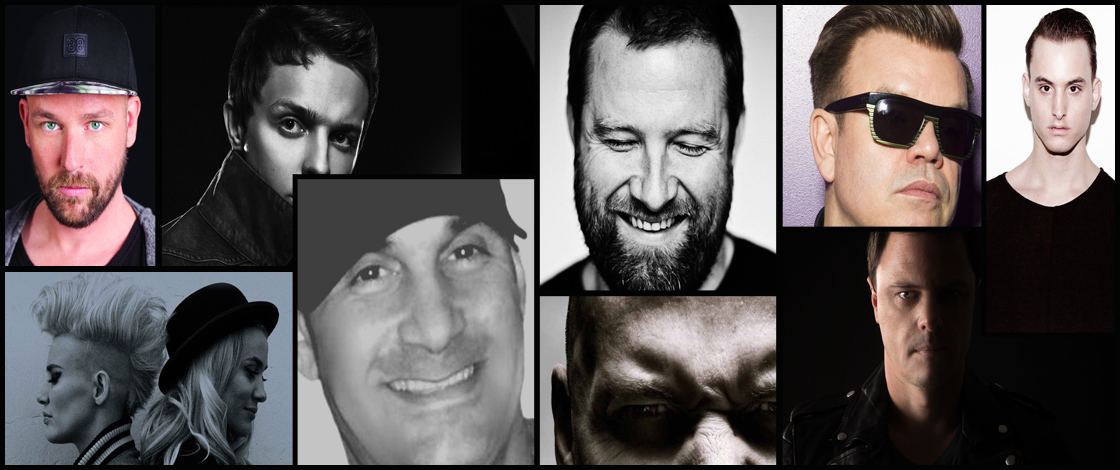 Upcoming Event
Electronic music in 2015 has been marked by change across the industry, with the year ushering in new developments and further spreading the culture into mainstream awareness. From new streaming technologies to the rise of artist collectives to Hollywood adapting dance music culture to the big screen, 2015 marks another watershed year for the scene.
As we close out the year, we took a comprehensive look at what exactly made these past 12 months tick, to understand where we are now as a cohesive industry. In an in-depth roundtable discussion with help from some of the standout artists and DJs of 2015—including Markus Schulz, Frankie Bones, Claude VonStroke, Paul Oakenfold, Nervo, MAKJ, and more—we explored the innovators, we examined the influential brands, we discussed the breakthrough artists and companies of 2015, and we reviewed and predicted what it all means for the future of dance music.
How would you characterize the current dance music movement?
Markus Schulz
I feel as excited as ever about music right now. In terms of electronic music that is succeeding in the mainstream, the hard, aggressive sounds of modern-day EDM are slowly being phased out, and the more melodic, slower, deep house movement is becoming more prevalent. But even if you examine the opposite scales, the amount of inspiration both have taken from the characteristics that trance represents is incredible.
Many out there would describe trance as always having an image and stigma that attracts antisocial people. But those who follow trance absolutely love it; there's no halfway ground. The trance fans emit passion and loyalty that I don't think you can replicate in any other dance genre, and they should be very proud of who they are.
I think that a lot of people stopped taking chances, and I hear people starting to take risks again. I am so tired of the whole "put your hands up and jump" nonsense.
Claude VonStroke
It's very strong in North America, and I'm starting to see it gain momentum in Asia. There is a little bit of a dip perhaps in Europe right now, because it's so ingrained in European society that there is less new discovery. In North America, there are still hundreds of thousands of people discovering electronic music. In Europe everyone already knows about it, which could be why I feel like it's a little bit stagnant over there at the moment.
Nervo
All embracing, positive vibes, one love, escapism. The world is a tough place for many, so if we can provide any of the previously mentioned, then that would be phenomenal.
Sander Kleinenberg
Finally arrived where it belonged all along.
Frankie Bones
It is huge. The internet and social networking have put everyone on the grid, and the technology has given so many people their key to success and fortune. At the 25-year mark, it's anyone's guess where the next 25 years will go. But one thing is for sure: it's not going away anytime soon. People live for this. A lot of people.
Paul Oakenfold
It's huge globally and keeps getting bigger.
MAKJ
The bigger it grows, the sooner it's going to implode.
Arty
Powerful and progressive. The dance music scene has become one of the biggest communities/movements in the world, and we only keep growing.
Dave Seaman
It has many different strands. It's long surpassed being a cult fashion movement, such as punk or new romanticism, and is now very much a cultural movement on a par with rock 'n' roll—constantly evolving and here to stay. But overall, I don't think there's anything particularly groundbreaking going on at the moment—a lot of previous ideas repackaged for a new generation. There are always a few exceptions, but it's getting harder to find them among the sheer volume of tracks released every week. Having said that, the underground is always more innovative, so it's nice to see a general shift back toward more refined, "deeper" sounds versus the crash, bang, wallop, and domination of EDM of the last few years. Music always moves in circles. As a general rule of thumb, what's hot today tends to be cold tomorrow.
Where do you see the most innovation coming from right now within the music industry? And how, if at all, are you taking advantage of what's happening? Or do you feel the music industry is failing to innovate as a whole?
Markus Schulz
The growth of the internet and social media has completely transformed our life behaviors, and that includes opening multiple avenues within our music industry. There is a responsibility now to be attainable for your fans, and you should encourage in making them feel they are part of your life in the studio and on the road.
For me, the biggest driver in the past 12 months has been Snapchat. I enjoy using it a lot, because the fans can relate to whatever various moods in which I find myself at a particular time. For instance, I follow a few of the Miami Heat players, and as a fan of them, I find it interesting to watch them live their lives and have fun away from a basketball court. Hopefully the fans can relate in similar fashion toward me.
However, with Periscope and Facebook Mentions launching, I can see the aspect of live-streaming becoming prominent. That aspect of spontaneity drives excitement; the ability to broadcast live from any particular club or festival to a worldwide audience is something I can see a lot of DJs embracing.
I remember the days of being a resident in Arizona in the late '90s, where it was incredibly difficult to feel the pulse of what was going on in the scene worldwide. To compare the scene from then to now is unimaginable.
Dave Seaman
Most of the innovation these days seems to be coming from finding ways to stay alive! With revenue from sales at an extreme low, making a living as an artist now is about so much more than just making music. Marketing yourself, relationships, and interacting with your audience in this transitional digital age have become vital for survival, and of course, there's always new ways of doing that. Things like Jukely are changing the ways fans attend concerts. There's also a new platform called Bookya, where artists and promoters can connect, which looks really interesting. In fact, it seems like there's a new social/communication startup offering itself as the solution to all our problems every time I turn my computer on!
But I think with everyone seemingly so time-poor these days, we're finding it hard to find time to cut through all the "noise," so we're not moving forward as quickly as we could be. It's hard to know where to invest your time and energy. I did a Kickstarter project a couple of years ago, which was the first DJ mix compilation to be funded through that method, and I'm honestly surprised more electronic artists have not embraced crowdfunding. It really is a new frontier in getting your music to your audience. Cutting out the middleman is a powerful development, for sure.
Meanwhile, the record industry at large is being dragged, kicking and screaming, into the future with most of their eggs in the streaming basket, which never seems to have the artist's interest at heart. I actually think we're on the verge of a swing back to physical product, with vinyl sales on the increase and the fact that we've now pretty much come to the end of the road in terms of convenience, speed and quantity, which is what the digital dream has been sold upon. It's already happening in the book industry, so I don't see why that trend shouldn't extend to music.
And then of course, there are always new developments in music production. In fact, the hardware/software/production tools/sample pack business is one of the few serious growth areas within the wider music industry. More people are making music now than ever, which in many ways is becoming its downfall. We've got to get back to quality over quantity. Chris Anderson's Long Tail model doesn't work so well for the creative arts. The whole scene is in danger of eating itself. Having said all that, Ableton Push looks particularly tasty.
Nervo
We have been seeing a lot of interactive live visual tricks that DJs/artists are using to connect with their audience at gigs—for example, a GoPro that is connected to the main screens around the stadium so the DJ can grab the microphone and look straight into the camera and talk to the crowd. We thought that was pretty cool! We're also speaking to a bunch of people about applications that cater to super fans, where the fans can interact with each other and almost build a network through being fans of one artist or a genre of music. That's exciting, because it means that if we post new music or something that we are doing, then we can somewhat rely on our fans to spread the word for us, instead of, say, having to pay Facebook to make a post visible.
Sander Kleinenberg
I believe we are currently in a phase where we are seeing the dust settle of what has been the digital revolution. Every aspect of the music industry—from marketing to distribution—has been transformed in the last two decades, and we are, as an industry, one of the first having to deal with the positive and the negative of our new digital world. So the question really is: What are we going to do with this new reality? Currently, I see a lot of creatives looking back instead of forward; there is a real hunger for nostalgia. I can't wait to see what is going to happen with the next generation, who hasn't had to deal with the constant change of models like we have. They actually have time to reflect, fine-tune, and use everything that we have created. I was talking to a 14-year-old girl yesterday who said she wanted to make music with chords and sound design inspired by Flume and basslines and beats inspired by Oliver Heldens. That is the kind of stuff that makes me happy, and why I look forward to the future.
Frankie Bones
To bear witness to the level of production that goes into festivals these days is nothing short of incredible. Nocturnal Wonderland's 20-year anniversary was amazing; the stages, the lights, the waterfalls, the flames—it really becomes a total experience for the people who attend. It made sense to me how far this has come in the United States. To take a step back and do this from a fan perspective is important, and it actually was great to feel the unity of 30,000 people, because that is how I experienced it when I first played in the UK at Energy in 1989. The music industry is not failing to innovate at all; there is just too much talent worldwide. It would be impossible to know each and every hero that exists today. Technology has always pushed this culture forward, and yet no matter how many things may change, it's funny because so many things stay the same.
Paul Oakenfold
I'd say both the music production and the fan experience, i.e., the festival designs, the club visuals, etc. Those both are heavily embracing new technology. I am taking as much advantage as I can.
MAKJ
Dance music—well, the word "EDM"—always seems to leave a bad taste in my mouth. Looking back to last year or the year before, "EDM" was the hot new genre that everyone wanted to produce, myself included. Soon, everyone had the same samples and the latest presets to make an "EDM" hit. That shifted the genre into oversaturation to the highest degree. Dance music will always have its ups and downs with genres, but right now the scene is being oversaturated with people trying to join the industry for the wrong reasons. That's my take on dance music; not a lot of artists will say it, but MAKJ will. The scene isn't dying, but it's definitely flushing the good and bad stuff out.
Arty
There's innovation and evolvement everywhere nowadays—literally from the music that's coming out of the studios to the production of the festivals. Never before have the festivals been as impressive and well organized as they are at the moment. I think there's still a huge world to discover in the music industry, but we're definitely not failing.
Delta Heavy
It seems that, at the moment, the music industry has to keep evolving and innovating as times quickly change, mostly as streaming replaces owning media content. Artists and musicians are selling less and less units, be it physical or digital, as streaming has become the predominant method that people [use to] consume music. We recently chose to stream our latest single, "Punish My Love," through Spotify before it was released on other stores and platforms, and we were pleased with how it went. People don't want to wait for music to be released anymore, and the traditional, long PR buildup prior to a release seems to be becoming redundant.
It would be refreshing to see some more innovative and risk-taking lineups at festivals in 2016. It feels over the last year or so, festivals have been playing it fairly safe by booking very similar lineups. It's totally understandable and obviously the most risk-adverse financially, but seeing the same big names filling the same big stages week after week gets pretty stale for everyone involved.
Claude VonStroke
Actually, I feel like there is too much innovation and not enough focus upon the actual music itself. Everyone is trying to make the next big thing in music technology, and not enough people are concerned about the next great album.
Concerning sounds, trends and overall aesthetic, where would you like to take dance music in the near future?
Nervo
It would be great to see labels take bigger chances on records that sound different. Only then will we make way for new sounds, artists and genres. And ultimately, it's more creative for the listeners out there.
Dave Seaman
I'd like things to be a bit more open-minded and celebrated, rather than derided. But generally, it's nice to see a lot more melody and vocals back around again. It was all a bit barren in that department a few years ago. It would also be nice to see a little less snobbery and a bit more camaraderie within the whole scene; but alas, with the aforementioned rat race gathering pace, separating yourself from the pack is becoming more of a necessity. And besides, it really is a money-driven business now—at least at the top level, anyway—so that's probably an ideological step too far.
Sander Kleinenberg
To a funky place filled with esoteric and psychedelic layers. To a place where people oddly feel at home.
Frankie Bones
Stanton Warriors' style is my favorite—the breakbeat edge with a more modern landscape. Bass house. I mean, I always will love the techno scene I came from, but the bass thing—especially with trap fused into the current EDM scene—it's that bass which resonates, and people love that. You can feel it.
Claude VonStroke
I just want to do what I've been doing for ages: sign and play tracks I like. I am not a music business visionary; I am just a music business participant.
MAKJ
I'd like to take dance music into a different direction: more originality and less of the same-sounding tracks over and over.
Arty
I think a lot of people are done with the standard EDM bangers, the festival peak-hour stuff. I think everyone's ready for more melodic, emotional tracks that deliver more than just an epic drop—tracks that can really take you on a journey.
Delta Heavy
Now that we have completed our debut album, we are particularly looking forward to drawing a line under that project and writing a bunch of new material with the freedom that comes with not writing an album. We can concentrate on experimenting with genres and influences a little more freely without worrying how it fits in with a body of work, and that's really exciting. We certainly restricted ourselves somewhat when writing our album, so it felt as cohesive as it could. But now the shackles are off! We are also looking forward to touring the album around the world and presenting the music alongside the artwork, and music videos that we have been spending a lot of time getting right.
Markus Schulz
I would like to see the festivals take more risks with their lineup and structure. As DJs, we are quite restricted with what we can do at a festival, because the set times are so short. So I would love the opportunity to play sets longer than an hour or 90 minutes at a time. One of the most gratifying achievements I have managed recently is the extended and solo sets at Tomorrowland, where I have played from the very first moment the day begins and ending at closing, playing for 13 hours. I would really like to see more festivals take risks and provide opportunities like that.
With the upcoming US presidential elections, and given all that is happening across the globe, do you feel there's a place for politics in dance music? Should this culture embrace its subversive roots or simply be a vehicle for escapism?
Nervo
We try to be careful with our political views, because it's so easy to be taken out of context and to offend. At the end of the day we are music makers, and having people connect to our music is our main focus for now. There are, however, organizations and charities that we would love to align with, and we are working on a plan for this in 2016!
Sander Kleinenberg
Wow. Such a big question. I sometimes believe that simply experiencing our open way of living sets an example of how the world could be. One look at the mainstage of Tomorrowland, and you realize our scene just made the most powerful statement it could make; no words are needed to explain or justify that.
Markus Schulz
Politics has always been one of the existing fabrics of the industry, but it really should not be the driving force to attract fans. Music is supposed to unite a community of people, regardless of race, religion or country of origin.
The most important thing is what comes through the speakers. That's all the fans really want to hear about, and that's all that matters. And as far as I'm concerned, my main goal in this scene is to help inspire people.
One of the most gratifying and humbling aspects of the job is hearing from people who have written to you saying that your music or Global DJ Broadcast radio show or DJ sets have helped heal and get them through difficult personal times, or indeed changed their lives entirely. As DJs, we are in an incredibly privileged position to help unite and inspire.
Frankie Bones
Now more than ever, we need to finally tell our story as ravers… We all made the world a better place to live in harmony because of each other. While PLUR is the raver's manifesto, the ethic comes from being an American DJ who got to play the UK Summer of Love in 1989 and watched football hooligans from Manchester and Liverpool hugging each other and becoming friends through raving. You watch those early Biology/Energy/Sunrise videos from '89, and it becomes apparent. The entire history of our culture is in our control, and it's time to really write the story from what really happened, not from what Wikipedia says happened. And the key thing is to do this without forcing it down everyone's throats. PLUR is the only thing that has remained the same from day one. When people try to compare the '90s raves to today's EDM is kind of funny. People forget this is, and has been, the same scene since it started.
Claude VonStroke
I don't know if this matters or not. People will always dance, and the governments of every country will continue to be heavily criticized.
Paul Oakenfold
I don't think politics should be involved in dance music. I think the music can bring a lot of good change to the world and make people aware, but general politics—no, not really.
MAKJ
Music shouldn't be about politics; sadly, it is. But that being said, I feel you should make music you enjoy. No need to care about other people's opinions. Just be you.
Arty
I don't think it should be just a vehicle of escapism, but I think that it should definitely remain a way of not dealing with stuff like that. People within the scene can make a difference and should take a stand against intolerance and subjects like that. But a dance festival should never become a place where presidential candidates can debate. I'm not saying the discussion isn't important; it's just not something that should be done at an event like a festival or club night.
Delta Heavy
Absolutely not. DJs and producers should stick to being DJs and producers. Having the large fanbase and social media presence that results from having any success in this industry naturally comes with a fair amount of responsibility. There have been a few people recently whose outspoken views online have really backfired on them.
Dave Seaman
Dance music has always been about escapism and aspiration—on the dancefloor, feeling free, forgetting all your problems, dreaming of better days and other such clichés. I really don't think people want to be too bothered with politics in such an environment. Who wants to be reminded about politics when you're supposed to be having fun? A field where such blithering idiots as Donald Trump are allowed to operate? Dance music should be about celebrating life, not losing the will to live!
What are the most interesting and influential brands in dance music culture right now? What makes them so?
Nervo
Any brand aligning with dance artists or festivals should share the same ethos, the same spirit, and be true to dance music culture—which is to let go, enjoy, be who you are, embrace the music and the good vibes around the music. I think brands are drawn to dance music because it has become very popular, so they have a greater potential to reach more people, and young people, too.
Sander Kleinenberg
I'm obsessed with how Spinnin' Records are playing the game—an exceptional company who truly listens to what is out there and manages to grow with an utmost respect for the essence of dance music. They have released some of the most groundbreaking records in recent years, made the weirdest-sounding records worldwide hits, made nerds superstars. Indie-Pop in L.A. is another company that comes to mind—amazing grassroots-style management. Give talent a natural habitat to nurture and develop a sound by giving them a cool space to innovate and create. It's important to smell and be inspired by fellow musicians and artists. Diplo is just one of a kind, quirky all the way to number 1, no rules, let's have some fun. No genres—why not do it all? I love that. These are just a few of many. Good times ahead, for sure.
Markus Schulz
The obvious ones to mention are the biggest annual festivals—the likes of Electric Daisy Carnival, Tomorrowland, Ultra, and so on. They are at the forefront because their marketing has been outstanding, and the production values are there to enhance the experience. People have said we are reaching the point of oversaturation and the bubble bursting, but the big festivals, I feel, are important for the next generation to become immersed into the scene.
I also have to mention the people behind Transmission in Prague, who continue to create a beautiful legacy with their annual event. The special aspect about it is that it's one arena and only one stage, which means everyone there is to see you. The Czech locals are so welcoming and humbling, and the recent event this year was incredible, to see them mixing with fans who had travelled from over 50 countries.
Where I feel we need to improve collectively is to ensure that the foundations the scene is built on—the week-to-week nightclubs—remain in a healthy state. It saddens me immensely that we are losing some of our institutions. For instance, the Guvernment in Toronto closed this past January; Pacha in New York City is closing this coming January. We need to establish and preserve respected musical venues, especially in respected cities.
I worry a lot about certain locations, like Las Vegas and Ibiza, for instance. I was incredibly unhappy reading Carl Cox's story about ending his summer residency at Space in Ibiza, due to a change in ownership of the venue. Here's a bona fide legend from our scene who has contributed so much, especially to the magic that Ibiza represents, and now it is being taken away.
Frankie Bones
I personally am a big fan of Konkrete Jungle and Future Sound of Bass, because the drum & bass scene and the breakbeat scene have always been a big part of American rave culture. It's like the glue that held the whole thing together. Stanton Warriors' sound, which would possibly be best described as "bass house," is one of my favorites because it takes 1980s NYC freestyle, the stuff I grew up on, and brings it into the future.
As far as festivals go, the flagship event is EDC in Vegas, and obviously this is because the objective of raving as I know it comes from going all night and watching the sunrise. It gets no better than that. The fact of the matter is the US scene was best set up for California to run with. You have to be a raver to understand what I mean, because it all comes from the rave scene. I always give Insomniac credit, because the history made on the West Coast comes from the beginning of the 1990s. It makes all the difference because the roots are there.
Paul Oakenfold
Perfecto, which is one of the longest-running labels in the electronic music world. It's been going for 25 years and has sold over 10 million records.
MAKJ
I really feel like EDMbiz is one of the most beneficial programs that this industry has to offer. You get to hear firsthand from leading professionals in the industry on the pros and cons about the music industry. That's like the holy grail of holy grails.
Arty
I don't really think that the brands themselves are that influential; it's more that the people they endorse are super influential. We've seen collaborations from Martin Garrix and Tiësto with 7UP, or the insane amount of artists that have collaborated with V-Moda headwear. The people that promote the material are influential, not necessarily the brand.
Delta Heavy
You can't look much further than what Skrillex and his team are doing with OWSLA and the NEST—certainly in terms of influence—but they sign and promote a large variety of music and seem to have a very refreshing, non-elitist attitude.
Claude VonStroke
The Low End Theory beat scene movement in L.A. and SF is really inspiring to me because it's so experimental and odd, but also so successful at the same time. Everything from Bristol, UK, keeps on coming, and that city never ceases to impress; they just have such a strong history there. The 360 business model of Ghostly International is something I also follow quite closely and admire, because it is something I think record labels will have to imitate if they want to stay open for business.
Have you learned any valuable lessons this past year, and how, if at all, are they helping you shape your approach for 2016?
Nervo
The world has a long way to go! With riots in St. Louis, bombs in Paris, and refugees dying at sea—as well as a growing class divide and a suffering planet—we really need to work together to sort this out. It's 2015, and no one should be judged for the color of their skin or sexual orientation or go without clean water! We make and play music for a living, but there is so much more we could be doing to help others.
Dave Seaman
There's no room for complacency. There are a lot of people now fighting for the same space. It's becoming a bit of a rat race, to be honest, which can leave a bitter taste at times; but there's nothing for it, other than stepping up to the plate and fighting your corner. Play to your strengths. Don't try to do everything at once, otherwise you end up spreading yourself too thin and becoming a Mr. 20 Percent.
Sander Kleinenberg
I've become more humble. The challenges in my life have been aplenty, but my rewards have been incredible. Sometimes you forget what it took to get you where you are; taking a few steps back to make a step forward teaches you some valuable lessons about that.
Markus Schulz
There was one incident in particular which hit me with stark realization this year, and that was the news of over 50 people losing their lives in a Romanian nightclub due to a fire caused by pyrotechnics. Having spent a lot of time working on music in the country lately, the tragedy affected me enormously. After absorbing the shock and reading articles of the news online, I realized that they were using the same pyro that had been present in my club shows hundreds of times in the past. It was nothing abnormal, but it made me wake up to the reality that I too have had many close calls with pyro over the years.
For example, there was a show I played in Buffalo years ago where the stage caught [on fire], and people thought it was part of the entertainment. Therefore, I felt the urgent need to take the initiative and forbid the use of any flames or pyrotechnics at my club shows going forward, and I continue to encourage fellow DJs out there to take the same stance. It doesn't matter what genre of music or form of entertainment we are passionate about; the paramount importance we must consider is fan safety.
Claude VonStroke
Yes, absolutely: Never doubt your instincts. And in the end, no one can "make you famous." People can only help you get where you want to go, but it's mostly all on the artist. A lot of people think when they get a manager or a certain booking agent, that will make the difference; but really, the artist has to do it. The artist has to make the music people like and create the community that people want to be a part of. All the managers and agents are helpful, but only when the artist is able to give the right materials to work on. Also, never underestimate your core fans, and never take them for granted; they are the people supporting you.
Paul Oakenfold
I have—always be open to change.
MAKJ
Relationships are very important in the entertainment industry. It's all about having a good time with one another, and honestly, I'm a person who plays music for other people around the world. What else could anyone ask for?
Arty
I learned that with the right people around you, you can achieve a lot. I feel like I'm in a really good place right now, and that motivates me a lot to do even more incredible stuff in 2016.
Delta Heavy
That you are only as good as your last release! There are so many talented producers at the moment and so much music released all the time. One simply can't afford to rest on their laurels or be complacent about what they have achieved. One thing we have slowly learned is to not pour too many eggs into one basket when it comes to making music. Often a release won't pan out the way you wanted or even expected, and it's important not to get too caught up in that and move on to the next project.
Frankie Bones
I'm going to be 50 years old in 2016. I'm also getting married, and I must admit, 2015 was a year of growt; but the struggle was and still is real. The most important thing is staying focused and working toward unrealized goals, which can be difficult—but not impossible. The world has become a dangerous place, but I still believe this scene is a fortress of solitude for many. That PLUR thing still resonates.
What or who do you think will be making a breakthrough in the coming year?
Nervo
We were really impressed with Galantis' album. Also, KSHMR is a great producer who used to be a part of a pop band, the Cataracts, and who is also a writer/producer behind many great dance records. We love it when someone appears in the scene and then you discover they have been working behind the scenes on many records that you already know and love. That was certainly our journey, and also that of so many other artists out there who we admire.
Markus Schulz
I've named Nifra from my Schulz Music Group artist agency as my pick for breakthrough this year, and it's absolutely on merit. She is an incredibly skilled DJ, and anyone who has followed her can understand her passion for the music. She has made great strides this year playing at the Coldharbour Nights, and I can only see an upward trajectory for her in 2016.
Many have often questioned why so few women are getting opportunities headlining clubs or making lineups on festivals. I feel it's very important for the scene to develop a change in attitude for that to happen. Fans are easily swayed when they see the likes of Paris Hilton, and suddenly all female DJs can be cast as token acts, which is hugely unfair to the talented females who are striving to be recognized.
Frankie Bones
I think my motto for 2015 is: "Once the past meets the present, the future arrives." It would be nice to see a lot of the people who were big in the scene in the '90s get to play with current EDM stars, and it totally looks like things are going in that direction. We are already at the 25-year point of this culture. One video exists on YouTube, called "Dance International Video Magazine" Volume One. It gives light to the culture as it started in May 1990, in Los Angeles. It also has the very beginnings of the Brooklyn scene at that point. The rave scene may have come from house music and the underground scene, but it is important to understand that this global scene that exists comes from raving, the rave scene itself. The music may have existed in the '80s in Chicago house and Detroit techno, but the movement comes from London and Los Angeles—where that culture was birthed in America. If I didn't experience that L.A. vibe from my first gig at the Mayan Club on June 1, 1990, the East Coast may have never even had a rave scene. But from both coasts, we developed styles that pushed slowly to the middle of the country, and by 1993, the entire nation had a rave scene.
Claude VonStroke
I expect some younger acts to bring new live show experiences that we haven't seen yet.
Paul Oakenfold
I'd like to think that trance is making a comeback. There has been a lot of talk in America about how popular it's becoming.
MAKJ
The artists who produce their own music and DJ will be the ones that break through. To be honest, what can a DJ actually do these days? I would say the artists who put money back into their live shows. Zedd is a perfect example. He, in my eyes, has made a breakthrough with live production since Swedish House Mafia's One Last Tour.
Arty
Zhu came up in such a mysterious way this year, and he just released a six-piece EP. We still don't know who the dude is, but with this much buzz going on around him, he must be blowing up next year.
Delta Heavy
A sound or genre that is becoming really interesting is all the future bass/trap stuff, where there are loads of fresh, young producers coming through, especially in places like Australia. There is real focus on musicality and using different-sounding instruments and percussion, which is very cool and exciting. It also covers very minimal-sounding stuff to the more "maximal" sound. Someone like Marshmello blowing up recently is an example of this kind of sound breaking through to the mainstream dance market, and you've got Flume, who has really set the standard for a couple of years now.
Sander Kleinenberg
Malaa is definitely on fire. Motez in Australia will surely continue his rise. Sharam Jay will hopefully produce his breakthrough pop record. Skream will become bigger and bigger—he's an amazing and versatile DJ. I hope DJs who break through the walls of genres will do some serious damage. I hope underground elitism will finally die a bit, in favor of having fun and actually letting go, instead of a making a fashion statement.
There's been a lot of talk about dance music saturating the mainstream. Do you feel there's still a lot of growth potential for the genre outside its own circles? What are the secrets to longevity, and how can we ensure a prosperous scene?
Nervo
We don't think dance music dominates the mainstream. There's always room for growth, as music will be forever evolving. It's an open playing field with so many different genres and the tools to make music more and more accessible.
Sander Kleinenberg
I believe that dance music is often misunderstood; you can never really capture it or distill it. It continues to move forward as a big ball of creative energy by changing names and faces, and creating new genres by merging sounds or rejuvenating old ones. It is therefore hard to predict where it will go. But I know one thing: I'm gonna be there, enjoying and feeding it.
Claude VonStroke
I feel like the commercialism is absolutely not going to be what keeps it alive. The core grassroots underground community is the real support system. Once all the flash and glamour goes away, the underground always holds the scene together. Don't abandon the core fans, like I said before. Don't abandon the cool shows for the paycheck shows. Get paid, but don't let the corporations cloud your judgment. Nurture and grow your niche market and tight-knit community, and keep it strong and prosperous. If you don't keep your core group strong, you will be an artist who rises and falls with fads and trends. You will be completely replaceable with the next trendy act.
Paul Oakenfold
I do think there is still more growth to be had. It keeps getting bigger and bigger. I think the longevity is coming from the creativity of young up-and-coming producers.
MAKJ
If the music is good and makes you feel something—whether that is happiness, sadness, excitement, etc.—people will follow and will continue to be drawn to your music.
Arty
We should try to steer clear of the generic stuff. Everyone's heard it, everyone's produced it, and a lot of people are done with it. It's incredibly important that everyone keeps innovating and evolving his or her sound; otherwise, it will collapse at some point. I think there's some room left for venturing outside of EDM. The crossover sound that Calvin Harris and David Guetta have mastered remains popular, and I think there are a lot of opportunities in that genre.
Delta Heavy
We've seen over the past couple of years how dance music has become a global business with the explosion of EDM, especially in America, but also in the huge Asian markets. Dance music is now inherently part of mainstream culture. DJs are the new rock stars, and dance music has become the cultural vehicle that these kids in America live for and buy into. The potential for further growth into mainstream culture seems pretty limitless, but you only have to look at what has happened to the SFX group recently to see this is not a bottomless pot of gold for everyone to dip their arms into. As long as people are doing what they are doing for the right reasons—because they love music—there is no reason why dance music won't continue to prosper. What are the secrets to longevity? Ask us in 10 years!
Markus Schulz
The explosion of EDM has brought its own advantages and disadvantages. In many ways, you can envisage EDM as a gateway layer—it's a huge modern-day trend, and it's welcoming so many younger-generation fans into our scene, which I think is great. Once people get in, their tastes become refined and they begin to explore the layers below. Sometimes they age out, or tap out, after tasting the initial layer, but I think for the most part that's why it's important to have those layers of EDM. It can't be just one layer; and truthfully, it has never been one layer. You've got the entry: the gateway DJs that everyone knows, the ones you hear on the radio. Then when you get to the next level, there has to be something interesting for people to discover.
If you are a producer and suddenly you make an enormous hit, then you are a superstar overnight. And in order to take advantage of the track, the producer will be thrust into this gigantic tour and be expected to perform, regardless of whether or not they have DJed in their life before. They are effectively learning how to DJ on the job. Because of this, the actual art of reading an audience and reacting to what they want is becoming lost, which makes me really sad. I grew up in an era where the likes of Larry Levan and Tony Humphries were inspiring a generation of DJs because of their skills and ability to dictate a journey throughout a night. There are so many people who dedicated their lives to sowing the seeds of our scene through the art of DJing, and it would be such a shame if it weren't acknowledged by the new generation.
So, part of me hopes that the guys who are hitting the big shows and living the dream fall in love with this art, and begin to dig deeper to unearth those hidden gems that make a set special. It's really interesting to take a step back and examine just how many DJs have become worldwide attractions in the space of five years. But the curious part, for me, is just how many of them will still be doing this in five years' time.
Last but not least, is there anything else you'd like to add here in regards to the current state of dance music? Discuss whatever you feel is important.
Claude VonStroke
I can't stress this enough: Your friends matter. Your fans matter. Your community matters. Your brand is only as good as you are. Your word is only as good as you are.
Paul Oakenfold
Dance music has done tremendously well in America. When I started my residency in 2009 in Vegas, there was nothing there at the time. Now it's become the hub of America. The same goes for India and China. It's really great to see how big it's become.
Markus Schulz
I am grateful to have been able to find a place within the scene and an opportunity to contribute toward it in some way. We should enjoy what we are having right now, but at the same time consciously strive to ensure that the foundations are there for future generations to become immersed in the same way that we have. We need the clubs to thrive, we need new residents to come through, those who appreciate and understand the art and are prepared for the international stage if that opportunity comes, and we need the festivals to remain exciting and innovative. It is an everyday passion, but I couldn't imagine doing anything else.
Sander Kleinenberg
Less talk, more dance.
Arty
2015 has been an incredible year for dance music. It's evolved, it's grown, and it's improved. We need to keep up the good work and make 2016 even better.
Frankie Bones
When I came back from three days of Nocturnal Wonderland's 20th anniversary and landed at JFK airport the morning of September 10, 2015, this happened:
---
Share
---
Tags
---
You might also like