15 Minutes with Martin Garrix

Martin Garrix turned 18 last week. He celebrated his birthday with friends at his parents' house in Amsterdam. There was dinner and a cake. It was the most unusual thing that has happened to him in months.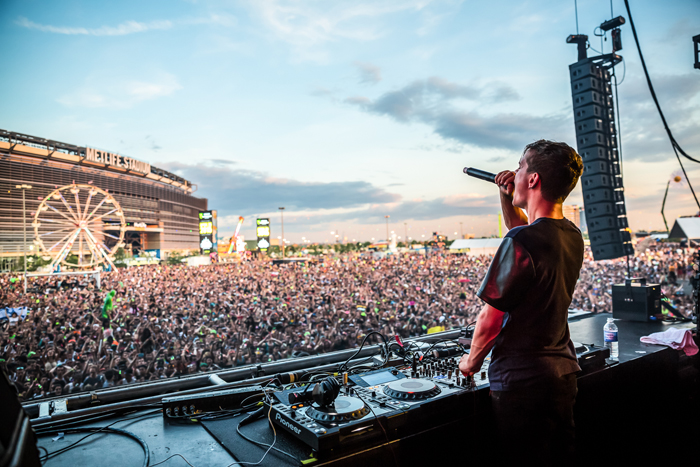 Consider that in the last seven days, Garrix (birth name: Martijn Garritsen) flew to Brazil, then France, then here to New York. Consider that during this time period, he made more money than most people earn in a year—hell, probably in 10. Tomorrow he'll fly to Las Vegas, where he has a high-profile, face-on-billboards style residency at mega-club Hakkasan, and where there will be more parties and girls and paychecks and intermittent bursts of confetti. All standard.
All notions of normalcy warp when one is considered one of the hottest DJs on the planet—which, of course, Garrix currently is. This is based primarily on the power of his monster single "Animals," one of the biggest tracks of 2013 in and beyond the realm of electronic dance music.
I'm super tired of the song. I've heard it, like, a million times already. But the song has meant so much, career-wise. Without it, I wouldn't be sitting here …
At the moment, Garrix is in his dressing room at Electric Daisy Carnival New York doing a series of interviews, 15 minutes allotted to each reporter. He drinks a can of orange soda and wears a stylish, leather-sleeved T-shirt that probably cost more than your rent last month. While he is affable and engaged during these 15 minutes, the anonymous nature of the chic but sterile environment, and the fact that you have been granted only a sliver of time with him, are both reminders that Garrix is very famous and that you are a stranger whom he will most likely never see again. There are a lot of such people in his life at the moment.
"If you're getting attention," Garrix says, "people want to have a part of it. You get so many fake friends from people trying to get into your comfort zone."
As such, he keeps his circle tight, limited mostly to family and longtime friends—the ones that threw him the birthday party. He flies his crew out to his biggest shows and, savvier now, does his best to avoid opportunists.
Here at EDC, he is the only artist playing both days of the festival. Last night, tens of thousands of people —many of them his age or just slightly older—came to see him play. The same sized crowd will return tonight.
As is customary of all Garrix's sets, the crowd's reaction is contingent on "Animals." They lose their minds—jumping, twerking, literally just screaming—when he plays it. The single went to #1 on Beatport, spent 47 weeks on Billboard's Hot 100 Dance Chart, has more than 260 million views on YouTube, and was used in a Dior lipstick commercial.
Garrix can't stand the track.
"I'm super tired of the song. I've heard it, like, a million times already. But the song has meant so much, career-wise. Without it, I wouldn't be sitting here; I wouldn't be playing both days—even though right now I barely can listen to it."
He gets more excited when talking about his musical horizons. He's got forthcoming tracks with Tiësto, Afrojack and British singer Ed Sheeran. "Gold Skies," his track with Sander Van Doorn and DVBBS, is currently #1 on Beatport. His recent collaboration with Dillon Francis, "Set Me Free," nearly shook the roof off the dance-focused Sahara Tent when the duo dropped it at Coachella, an event Garrix played at both weekends and calls it, "one of the sickest shows of my life."
Not surprisingly, Garrix's hobbies relate mostly to music. Right now, he's listening to Flume, Disclosure, Sam Smith and Pharrell. He gets sonic inspiration on the road and produces tracks in his studio, where he can concentrate. Beyond that, he does school while he travels, spends a lot of time on his phone ("just like the whole generation right now") and rests when he can, although he notes that "in my resting periods, I don't rest that much." While he says he's a sucker for steaks and calamari, he is trying to be healthier. "That's something I learned on tour: to take more care of yourself, to be more responsible."
Later, after his set, Garrix hangs out with a pretty girl backstage at Tiësto's show, carrying a bottle of Grey Goose around the artist area. He could be any typical 18-year-old kid at any high school party. But of course, there is nothing typical about this scenario at all, unless you're Martin Garrix, in which case—at least for awhile—you'll be doing pretty much the same thing tomorrow night, and again the night after that.
---
Share
---
Tags
---
You might also like