Kaskade & deadmau5 present Kx5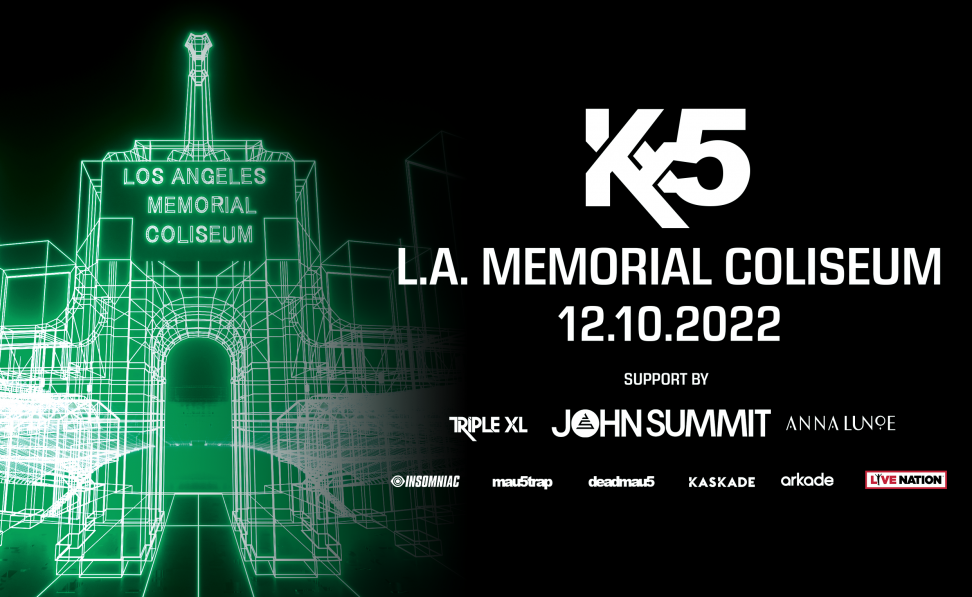 Kaskade and deadmau5 present Kx5
Information and Venue Policies:
Will Call: Ticket will call is located at Gate 1 and opens at 4:30 PM.
Clear Bags Only: The Coliseum prohibits bags, backpacks and other containers from entering the venue, with the following exceptions:
– One bag that is clear plastic, vinyl or PVC and does not exceed 12" x 6" x 12", or a one-gallon clear plastic storage bag (Ziploc bag or similar);
– In addition to one of the clear bags noted above, guests may also carry in a small clutch bag or purse approximately the size of a hand, with or without a handle or strap; and
– An exception may be made for medically necessary items after proper inspection.
Field Access: Guests with tickets for GA FLOOR or VIP GA must enter at Gate 19. A wristband is required to access the floor. Upon entering the Coliseum, you will be issued a wristband. Once you have a floor access wristband, you can access the floor from any tunnel and down aisle. ADA access to the floor is coordinated inside the Coliseum at Gate 11.
Acceptable and Prohibited Items List
Acceptable Items:
– YES Deodorant

– YES Small bags, single-compartment backpacks, plush backpacks, purses (maximum 12″x12″). MUST BE CLEAR.

– YES Festival totems or decorated pool noodles. Must be foam or soft sided.

– YES Flags/banners or handmade signs (no corporate/company-branded and no hard flagpoles)

– YES Glowsticks & glowing/illuminated costumes or jewelry

– YES Hydration packs with no more than two main compartments and one smaller compartment (must be empty upon entry) 2.5L Hydration Packs

– YES Non-professional flash/still cameras, handheld video devices under 6″ (Sony Action Cam, GoPro, etc.), and GoPro extendable poles

– YES Personal misting fan with a bottle no larger than 1.5L (must be empty upon entry)

– YES Physician-prescribed medication that is not expired (must show physician's prescription and consult with a safety officer upon entry)

– YES Reusable water bottles (must be empty upon entry)
Prohibited Items:
– NO Aerosol products/cans
– NO Balls or Frisbees

– NO Costumes that resemble public safety uniforms (police, swat, fire, security, or medical) in any way

– NO Drones, remote-controlled aircraft, toys

– NO Drugs or drug paraphernalia

– NO Gas masks

– NO Glass, cans, cups or coolers

– NO Helium balloons

– NO Illegal substances

– NO Large purses, bags or backpacks (over 12″×12″)

– NO Laser pointers and air horns

– NO Markers, pens or spray paint

– NO Massagers

– NO Outside food or beverages (including alcohol and candy)

– NO Pacifiers

– NO Pets

– NO Professional photo, video, or audio recording equipment (no detachable lenses, tripods, big zooms or commercial-use rigs)

– NO Red-colored light-up wands, batons, or lightsabers

– NO Stickers, flyers

– NO Tents, large umbrellas, chairs or blankets

– NO Toy guns, water guns, slingshots

– NO Weapons of any kind (includes pocket knives, pepper spray, fireworks, etc.)

– NO Wind chairs/sofas
---
Share
---
Performing Artists
---
Genre
ElectronicTech House
---
Tags
---
You might also like