John Summit Explores Modern Warehouses on 'Dimension' EP for Houseline
Upcoming Event
It's no secret that Chicago's youthful champion John Summit has been on a steady rise. Not only has he played all around the Chicago scene—from Spybar to the Mid and Soundbar—but he's been making the rounds through the rest of the country as well. It doesn't hurt that after only a year or so of releasing music, Summit has already dropped tracks on the likes of Psycho Disco!, Audiophile, Perfect Driver, Country Club Disco, and Sinden's Houseline label. He's gained praise from both fans and legends for his ability to pull classic concepts from his hometown and retool them for the modern era.
Never content to take a break, Summit is already dropping another release of raw-edged dance grooves. Heading back to Houseline, this time it's a tight two-hitter under the name Dimension.
The title track here leads with a classic tech house beat that quickly expands in scope to include a rough 303 bassline that writhes in and out of form as it progresses. Haunted space pads float under an android-like voice proclaiming the song title. Once the full low-end kicks, the track expands to a wide area with a tight groove that keeps the more ethereal elements locked in. The bass provides the main focus, riding along and changing form to fit the dynamic rises and drops. Sewing it all up are a host of mood-setting elements that zap, bleep, and siren their way through the mix. This one stays spare when it needs to and pops at all the right moments.
On the proverbial flipside is "Trip," which features collaborative aid from L.A./Chicago duo Tombz. This round goes deeper but puts its personality right up front. A catchy bassline pumps against the beat to form an almost dark, disco-minded groove. Ominous, cinematic pads and stabs punctuate the flow as a pitched-down voice bleats, "Acid trip." A hint of sinister laughter periodically adds to the sentiment. This one is a warehouse banger, for sure, with a stripped-down demeanor that rides the bass from beginning to end. Likewise, atmospheric elements carry the identity of the track.
Both tracks are well thought out and polished with excellent execution. Staying low and deep, each with plenty of room to ring out, they nevertheless carry a captivating energy that will definitely put bodies on the dancefloor.
John Summit's Dimension EP is available here.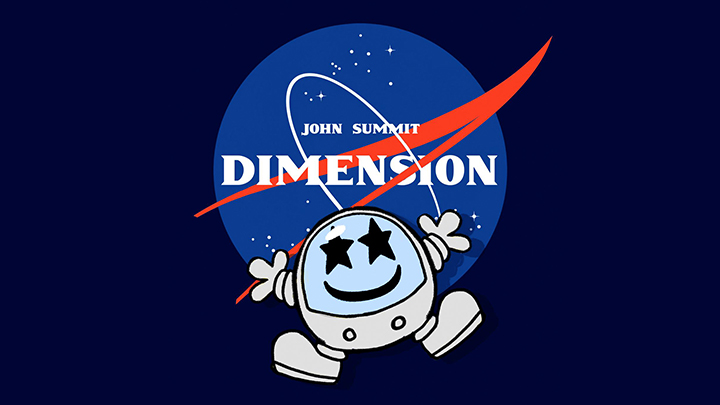 You're about to head down to Miami for a bit, yes? What have you got in store for fans down there?
Yes, I am! This is the first Miami Music Week that I'll be playing at, so I'm definitely excited to experience it all. On Thursday night, I'm performing at the Space Yacht party; Friday night, I'm playing the Psycho Trippin' party (Psycho Disco & Trippy Ass Technologies); and then Saturday, I'll be playing during the day at the Sol Sets party. Whenever I'm not behind the decks, I'll be bouncing around, meeting all my music friends that are out in Miami in person, since I mostly just know everyone through text and email.
What are some of the new weapons you've been rinsing out lately?
Besides the Dimension EP, I just released a couple collabs with Dead Space on Farris Wheel and Country Club Disco. Both of those tracks having been doing major damage in my sets. I love working with Steven (Dead Space), because he's on the same mission as I am in making high-energy, club-ready tracks. I have some additional unreleased collabs with him, as well as a good deal of solo unreleased music, so most of my sets have been looking like "ID – ID."
Did you have a particular idea in mind for the Dimension EP, or did these tracks just come about in their own way?
Normally, I start a track by writing a bassline and the main drum groove, and then I decide where I want to take it from there. Since both of these tracks have dark/heavy basslines and drums, I knew I wanted to make sure and complement those elements with some higher-energy synthlines and FX.
The Tombz collab was the first track that was created, and it had the vocals "Acid Trip," so we aimed to incorporate sounds that really fit that vibe. We just went back and forth, adding new elements until we came to the conclusion that we had written a banger. For "Dimension," I had written the bassline first and then immediately knew I wanted to complement it with a big synthline that followed the same pattern. Since I knew I was pairing "Dimension" with "Trip," I messed around with my 303 plugin for a while until I got an acid line that worked well alongside the bass.
There are definitely some mean basslines on this one. You've spoken about the raw angle you like to bring to your very tight productions. How do you think you achieved that for this release?
For both of these basslines, I wanted to make sure they were audible even on laptop speakers, so I went pretty heavy on the saturation above 100–150 Hz. Additionally, for these tracks, I really wanted each element to have texture/grit, so it was a mixture between sample selection and processing with distortion/eq/etc. I also added numerous different layers—whether it was vinyl sounds or background noise—to give some additional character to the tracks.
How did you come to team up with Tombz, and what was the collaborative process like for "Trip"?
Andrew from Tombz hit me up about a year ago, said he's been playing out my tracks, and asked if I wanted to come play a brunch pre-party for Movement. I said, "Hell yeah," and we instantly hit it off and actually ended up playing another b2b for a sunrise set at Electric Forest, which was a ton of fun, too. After all of that occurred, we knew we had to make a track together. I'm definitely more from the tech house angle, while Andrew and Tom (Tombz) naturally have more of the Night Bass sound. But the two styles ended up working together perfectly, and now this track fits great in both of our sets—whether it's a big festival or an intimate, late-night warehouse party.
What brought you back to Sinden's Houseline label for a second time?
I actually had signed the EP right before the compilation that "No Freaks" came out on, and Sinden let me know he had an open spot in the comp if I had any demos ready to release. I'd literally finished "No Freaks" that day, so I sent it over to him, and then he signed it instantly before being released a couple weeks later. It was definitely a tough wait to release this EP, since it was signed a few months ago, but I'm stoked to finally share it!
You've also released music on Psycho Disco! Did you have a previous connection to artists like Sinden and Treasure Fingers?
I've never really had any prior connections to anyone in the music industry until lately, so I just sent demos to both of their emails, and they were each instantly about it. When I first started sending demos, it was amazing when labels would even listen to them. So, when I found out they were interested in releasing them, I was over the moon. It's amazing that guys like them, who are successful and have been in the game for a while, are still open to supporting new producers that have yet to fully develop a brand. I truly respect and thank them for that!
You've been releasing music for just a short time. How do you see yourself growing as a producer, and how do you feel your sound is growing?
I try to challenge myself everyday to make something new in the studio and to get out of my comfort zone. For each new production, I like to build upon what I know while also incorporating new elements. For example, with this EP, I knew I wanted to go crazy with the acid sounds, and after a lot of experimenting in the studio, it turned out great. Lately, I've been focusing on adding melodic elements and have also prioritized working with some vocalists, as well, since most of my prior vocals were selected from sampling. My ultimate goal is to create tracks that people will already know are going to be club weapons immediately upon release, while maintaining a high level of variation from many of the other works I've released.
Any other upcoming shows or releases, perhaps more collaborations in the works, that you'd care to mention?
After Miami, I'm going to focus on sending out some demos I've been working on and lock in some new releases. I plan on April being a huge studio month, so I can go into summer focusing on playing shows and traveling around. In May, I have a huge collab coming with Westend on Dirtybird, and then that same week, I have another huge collab with MKJAY dropping on Repopulate Mars. Those have been two of my favorite labels for a while now, so I can't wait to release these tracks with them!
Follow John Summit on Facebook | Twitter | SoundCloud
---
Share
---
Tags
---
You might also like