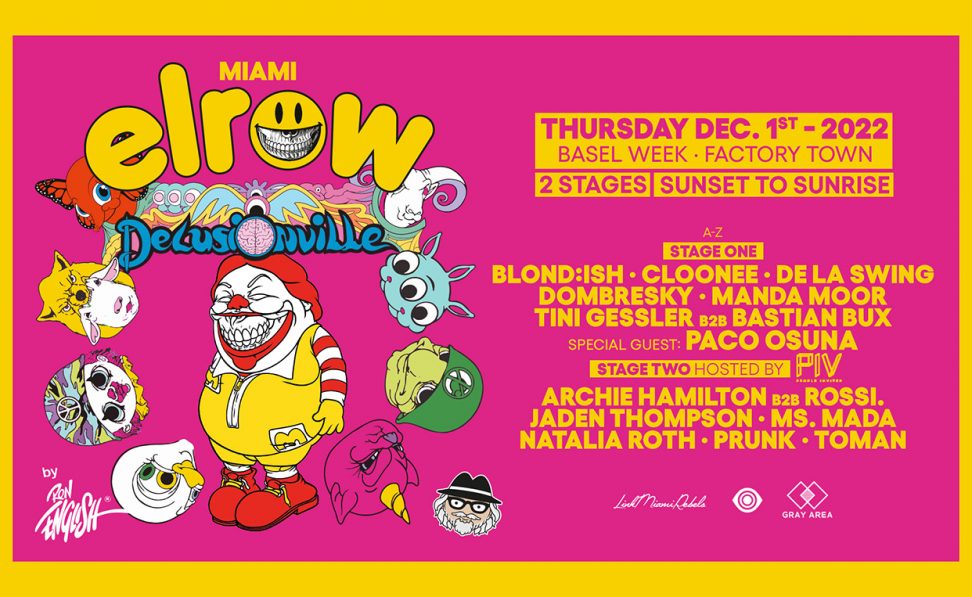 Want to party from sunset-to-sunrise inside a giant psychedelic art party from one of America's most legendary living artists and Ibiza's most infamous promoters?
Famed Spanish promoters elrow are returning to the shores of the USA on Thursday December 1st for a one-off, 12 hour trip into the collaborative minds of the Arnau family, Link Miami Rebels (CLUB SPACE, SPACE PARK) and legendary American pop artist and provocateur Ron English.
The all-nighter will be the crew's final North American show of the year and will feature 2-stages of heavyweight DJs to be announced! The unique sunset-to-sunrise mini festival will be held in Miami's sprawling new Factory Town venue, and brings some of the biggest DJs from underground house and techno into an immersive, technicolor explosion of surrealism, pop-art mashups and mind-twisting production. Dubbed Delusionville, the party promises to bring the "radical, satirical and humorous art" of English into the already groundbreaking and one-of-a-kind experiences that Elrow has become famous for in the electronic music scene globally. The artist, who first rose to prominence as a pioneer of street art and "Culture Jamming" in the 1980s, will bring his world of novel mash-ups of high and low culture to the color, confetti and inflatable madness of elrow.
"In this project, we immersed ourselves in Ron's limitless imagination to create together a concept that will be unlike anything you've seen before," says elrow founder Juan Arnau. Since its modern conception in Barcelona in 2010, elrow has continued to live up to its reputation as a singular experience in the world of clubbing. By marrying ambitious themes and outlandish production with searing house and techno from some of Europe and Ibiza's biggest names, elrow has become a beloved institution through being refreshingly fun, irreverent, and without a shred of pretension.
American artist Ron English has been meddling around at the vanguard of pop art and consumer culture for over four decades. Often referred to as the "Godfather of Street Art", English is known for his "POPaganda" style, which fused elements of comic culture, art history, advertising and politics into murals, paintings, designer toys and album art. This one-off mash-up between elrow and Ron English promises to be an unforgettable journey through the eccentric looking glass of two creative luminaries at the very top of their games, and a sensory artistic experience the likes of which has never been seen in America before.
This is an 18+ event.
---
Share
---
Tags
---
You might also like