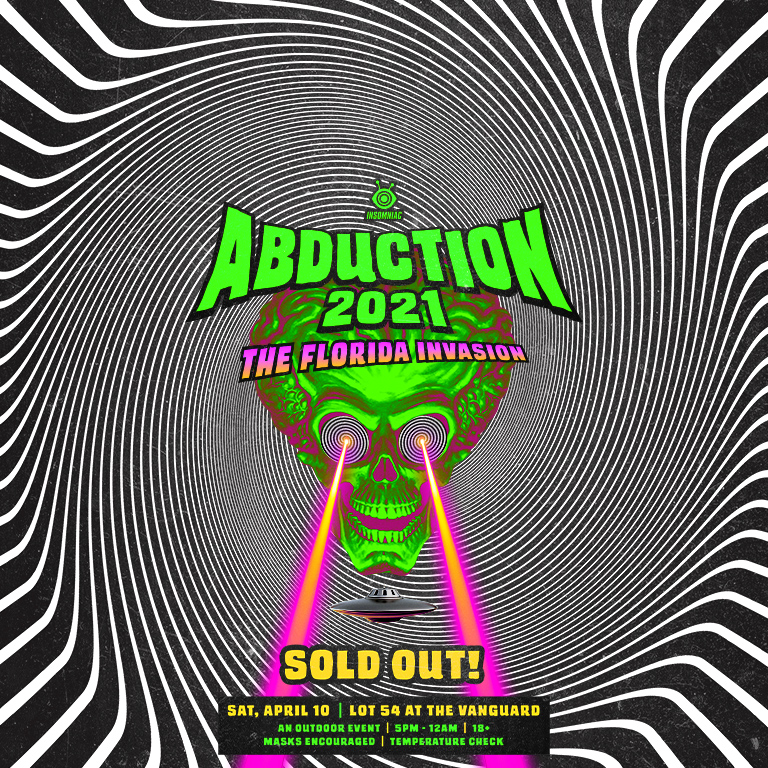 FLORIDA-PLANET EARTH : ADVISORY
RELIABLE SOURCES HAVE CONCLUDED A MASSIVE ALIEN INVASION WILL OCCUR APRIL 10TH WITH SIGHTS SET ON THE ORLANDO AREA. WILL THEY COME IN PEACE OR COME TO PROBE IS A QUESTION THAT REMAINS UNANSWERED…GOOD LUCK HUMAN PARTY PEOPLE!!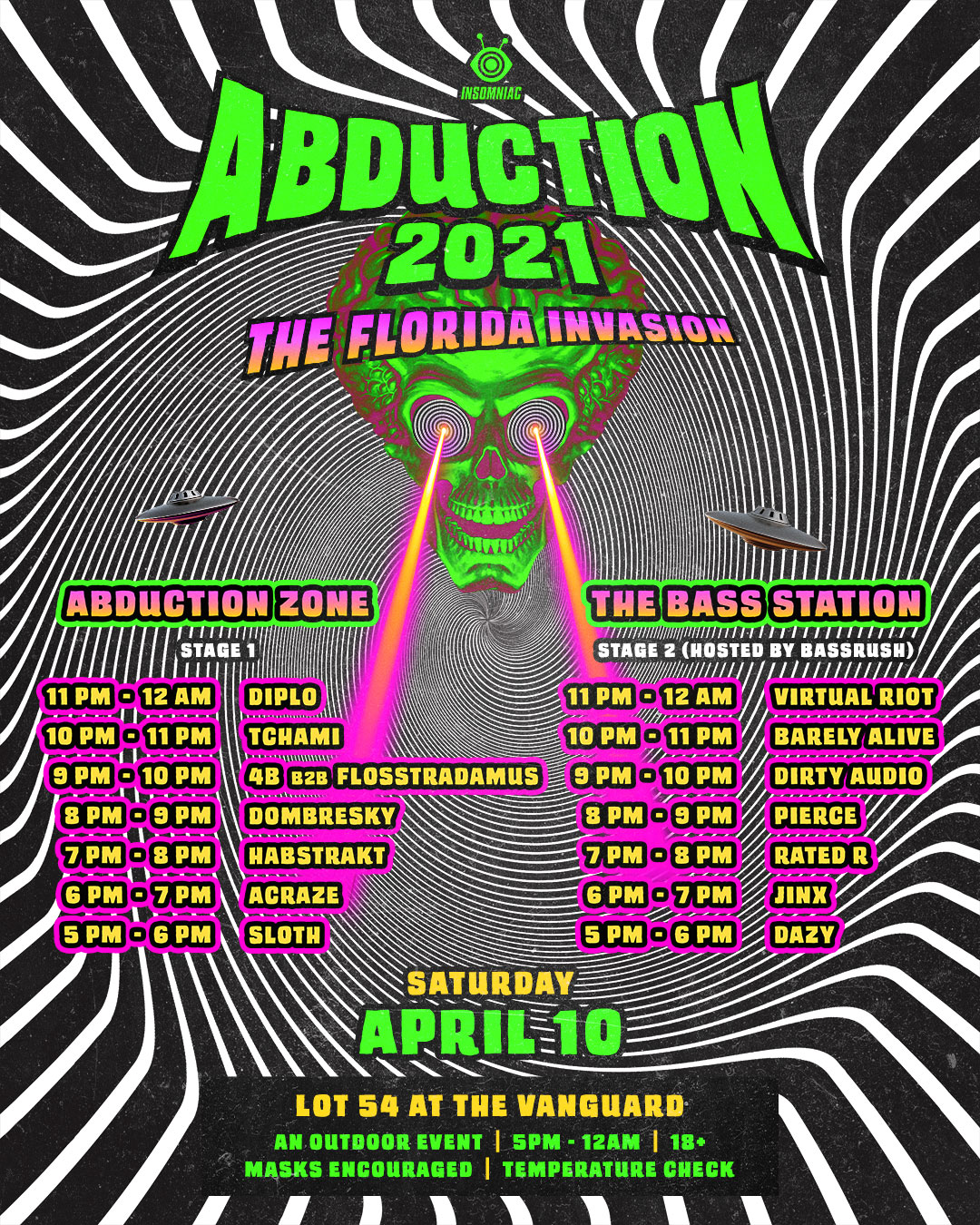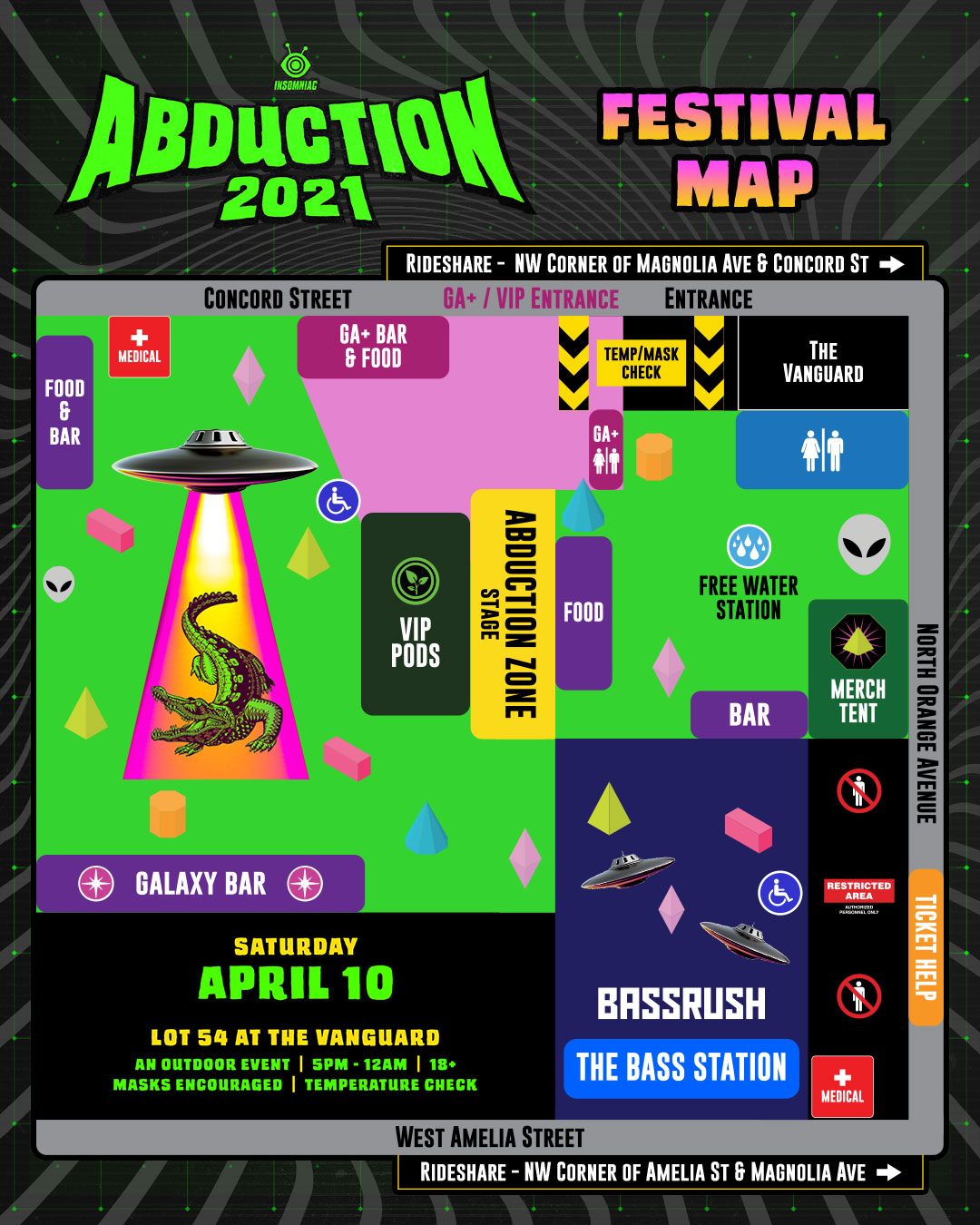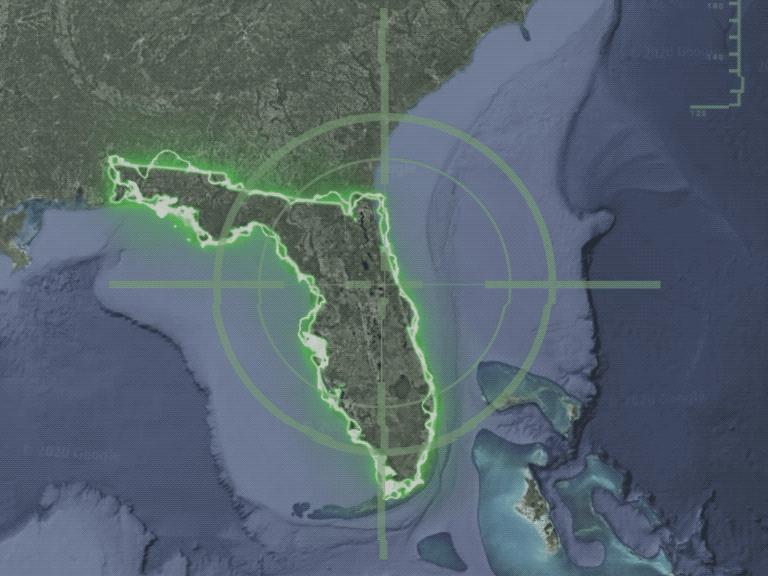 TRAVEL & HOTELS
Fly away to the Sunshine State and stay in a hotel for the Abduction!
LOCATION
LOT 54 AT THE VANGUARD
54 W. CONCORD ST.
ORLANDO, FL 32801
Box Office Location & Hours
The box office is located south of Vanguard, west side of North Orange Avenue. Hours: 4pm-11pm
FAQ | Safety Guidelines
Will there be parking and ride share available?

Ride Share drop off/pick up:
In order to alleviate the amount of foot traffic and vehicles around the entrance / exit of Lot 54, we have worked with ride share companies to implement a geofence around the venue. In order to request a ride, you must first exit the show and walk outside of the restricted area. (Map coming soon)




There will be two main pick up and drop off locations:

Location 1: At the northwest corner of Amelia and Magnolia
Location 2: At the northwest corner of Concord and Magnolia

Step 1: Exit the show
Step 2: Head towards the northwest corner of Amelia and Magnolia or the northwest corner of Concord and Magnolia
Step 3: You will be able to request a ride as normal once you have exited the restricted area




 Parking
The Orange County Courthouse garage will be open at:
46 E Amelia St
Orlando, FL 32801
$10 - spaces are limited
There will also be first come first served street parking options available adjacent to the venue.
Will there be water stations available at Abduction?

Free Contactless water stations will be available.
What time does the event start & end?

Saturday, April 10, 5 PM - 12 AM. Doors open 5 PM ET. Early arrival is recommended to help speed up the entry process and temperature checks.
What Health & Safety measures will be in place?

This will be an outdoor event. There will be digital temperature screening upon entry. We encourage you to wear masks at all times inside the venue unless eating or drinking. Additionally, our CLEAN team will be wiping down high contact areas with hospital grade disinfectant, prior to, during and after the event each day.
Will the event be indoors?

The event will be held entirely outdoors!
What kind of ID do I need?

Acceptable Forms of ID

Any US government-issued driver's license or ID card containing a photograph and date of birth
US or foreign government-issued passport containing a photograph and date of birth
Foreign government-issued driver's license/ID with color photocopy of passport (Not valid for 21+ wristband. To purchase alcohol or enter VIP areas, a physical passport or US ID will be required.)
Temporary DMV documents proving you are currently renewing a license—ONLY if accompanied by passport or expired license

Unacceptable Forms of ID

NO School ID
NO Consular ID
NO Birth certificate
NO Expired ID of any kind
NO Photocopy of any ID (except as noted)
NO Temporary DMV license without passport or expired license
What if my ID is lost or expired?

Security will accept expired ID cards ONLY if accompanied by DMV renewal documentation. If your ID was lost or stolen, you must bring a government-issued interim license or passport.

What if I get sick?

We are making every effort to reduce or eliminate contact within an event and maintain social distance. If you have any concerns about your health or safety, please do not attend. It is solely your decision whether to attend or not. Insomniac and associated parties assume no risk.
Acceptable Items

YES Cell phones and portable chargers/external batteries
YES Cigarettes (must be sealed upon entry) and lighters
YES E-cigs/vapes (refillable liquid chambers OK, must be empty upon entry. One bottle sealed/unopened E-liquid or E-juice will be permitted.)
YES Earplugs
YES Fanny packs
YES Glowsticks & glowing/illuminated costumes or jewelry
YES Gum (must be sealed upon entry)
YES personal sized hand sanitizer

YES Hydration packs with no more than two main compartments and one smaller compartment (must be empty upon entry)

YES Juuls (one factory-sealed Juul Pod OK at entry)
YES Lip balm, lip gloss and lipstick (must be sealed upon entry)
YES Non-professional flash/still cameras, handheld video devices under 6″ (Sony Action Cam, GoPro, etc.), and GoPro extendable poles
YES Physician-prescribed medication that is not expired (must show physician's prescription and consult with a safety officer upon entry)
YES Powder makeup (liquid makeup is prohibited)
YES Rain ponchos and umbrellas measuring less than 10″ when collapsed

YES 

Reusable water bottles (Empty upon entry)



YES Small bags, single-compartment bags, plush bags, purses (maximum 12"x12")
YES Sunglasses & hats
YES Tampons and pads (sealed upon entry)
YES Wet wipes (sealed upon entry)
Prohibited Items

NO Aerosol products/cans
NO Balls or Frisbees
NO Bota bags
NO Costumes that resemble a public safety uniforms (police, SWAT, fire, security, or medical) in any way
NO Costume masks (facial cover must be worn at all times)
NO Deodorant
NO Drones, remote-controlled aircraft, toys
NO Drugs or drug paraphernalia
NO Eye drops
NO Festival totems or decorated pool noodles
NO Flags/banners or handmade signs (no corporate/company-branded and no hard flagpoles)
NO Glass, cans, cups or coolers
NO Hula hoops—including LED hoops
NO Inflatables of any kind
NO Helium balloons
NO Illegal substances
NO Large chains or spiked jewelry
NO Large purses, bags or backpacks (over 12″×12″)
NO Laser pointers or air horns
NO LED whips, poi, & orbitals
NO LED gloves or LED microlights used for light shows
NO Liquid makeup
NO Markers, pens or spray paint
NO Massagers
NO Open packs of cigarettes (upon entry)
NO Outside food or beverages (including alcohol and candy)
NO Over-the-counter medication (available inside festival at the general store)
NO Pacifiers
NO Personal misting fan with attached bottle
NO Pets
NO Professional photo, video, or audio recording equipment (detachable lenses, tripods, big zooms or commercial-use rigs)
NO Reusable water bottles
NO Selfie sticks
NO Stickers, flyers
NO Stuffed animals or dolls
NO Sunscreen lotion (inspected upon entry)
NO Tents, large umbrellas, chairs or blankets
NO Toy guns, water guns, slingshots
NO Unsealed tampons or pads (upon entry)
NO Weapon or weapon accessories of any kind, real or fictional (including whips, lightsabers, pocket knives, pepper spray, fireworks, fake weapons/props, etc.)
NO Wind chairs/sofas
Will there be food and beverage options?

YES, there will be limited contact, cashless food trucks and bars throughout the venue. All beverage orders will come sealed and pre-packaged in order to ensure minimal contact. Note: Credit/debit cards only.
Will there be GA+ passes?

YES, GA+ tickets will be available while supplies last. Expedited entry and dedicated bar.

Will there be VIP table reservations?

For additional information on VIP table reservations, please contact vip@thevanguard.live
Will there be alcohol?

Alcoholic beverages will be sold to attendees that are 21 years of age or older.
Will there be restrooms?

Yes. We are providing restrooms. Hand wash stations will be available and restrooms will be sanitized regularly. Please wash your hands before and after using the restroom.
Are there ADA services?

ADA services are available and we will facilitate reasonable requests. Please contact us via the button below for further information.
Am I allowed to leave the event and come back?

Re-entry will not be permitted under any circumstances.
FOLLOW US FOR UPDATES!
@INSOMNIACEAST