Worthy Combines Fun and Heady Vibes on Holy Ship! 2019 Mix
San Francisco–based DJ and producer Worthy is one of the forefathers of the mighty Dirtybird collective, the crew known for their family-style approach to crafting (and playing) accessible bangers and giving you a backyard vibe.
Now a veteran of DJing the open seas—this will be his third voyage aboard Holy Ship!—Worthy has just shared an exclusive mix in advance of his appearance at the 2019 edition of the cruise, which sets off in just a few weeks. So, we took the opportunity to ask the man some questions about how he and the other Dirtybirds went from having fun to taking the world by storm.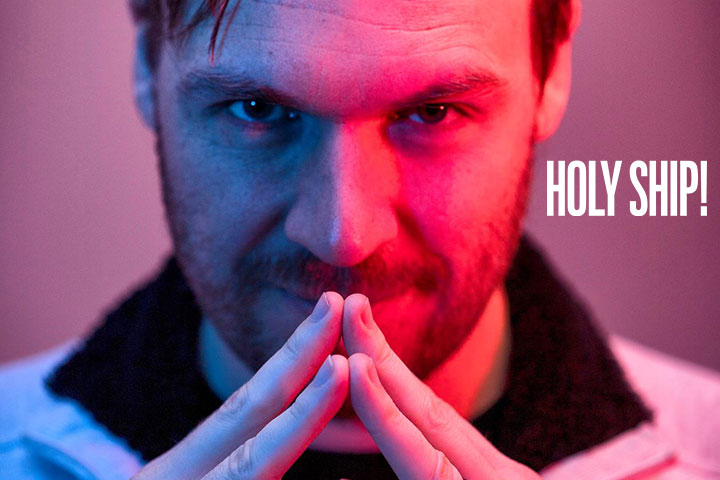 For starters, you must know that the Dirtybird sound is "funky, chunky, big and techy," he explains. "It's all about fun dance music that anyone can vibe to. With influences from hip-hop, drum & bass, funk, and techno, it really is a melting pot of influences cooked in the juice of house music."
When the Dirtybird aesthetic and label were all coming together in the earIy to mid 2000s, the dominant styles—especially in their home of San Francisco—was minimal techno and jazzy vocal house.
"We weren't having that shit," Worthy says, not mincing any words. "We wanted something engaging, that made people dance, but also could really appeal to those who loved some darker bass." So, the first part was purely functional: getting asses to move. But body-moving alone does not a movement make. They needed that other element—the element they're still known for today. Whether it's their BBQ cookouts, their tours, or just the general vibe, the Dirtybird crew are known for their idea of community. It's almost like you're at a house party with your friends when you see them play, even if it's at a mega-club. So, how did they create community in spaces where interaction can often feel so fleeting and cheap?
"The Dirtybird sound has definitely evolved... but one thing we all still have in common is simply to make beats that people want to shake their asses to—period."
"It honestly was about getting people to dance, but also about creating a community around that. We brought our music out into the daylight—in Golden Gate Park in San Francisco—for our legendary BBQs, so our main concern was about creating an unpretentious party vibe."
"Unpretentious" is sort of a key phrase in understanding both Worthy and the Dirtybird crew as a whole. They're not going to try to force a concept onto you or rewrite the book. Their goal is fun—creating and maintaining it—in a culture that often gets over a sound quickly. That, in and of itself, seems difficult enough.
Worthy feels like the overall Dirtybird "sound has definitely evolved… but one thing we all still have in common is simply to make beats that people want to shake their asses to—period."
The core four behind Dirtybird—Barclay Crenshaw (more widely known by his alias Claude VonStroke), Justin Martin, Christian Martin, and Worthy—all met in 2001 in the Bay Area. Worthy had moved there from the East Coast, where he grew up.
"I really fell in love with electronic music when I was living in New York City in the late '90s," he muses. "I started going to clubs and raves and fell head over heels for the music, the people, and the culture. I can safely say that the moment I fell in love with dance music was the first time I went to a club called Carbon and was blown away by hearing this music on a proper sound system. The bass was infectious; I was hooked."
Once the four members of the Dirtybird brain trust linked up on the West Coast, the label was born. It caught some pretty immediate attention in the dance world, as others in their orbit joined the family and their individual signatures started to emerge.
"Barclay is the driving force of the whole brand—the 'Godfather,' in essence. He's very much focused on the brand and making the calls on the evolution of the label. Musically, he makes a lot bangers and peak-time tracks, but he is also very experimental—especially having both the Claude VonStroke and Barclay Crenshaw aliases."
Justin Martin is the "free spirit," says Worthy. "The music he makes is probably the most beautiful and intellectual." Brother Christian Martin is the "late-night ringer, who has the super trippy, take-you-on-a-journey sets. Catch him at 5am, and you are sure to go home happy." J Phlip "plays darker, moodier tracks and is a force to be reckoned with." Will Clarke, "the social media guru, plays fast and furious, with a big techno thread through his sets." The list goes on: Ardalan, Sacha Robotti, Walker & Royce, Fisher, etc.
Distinguishing Worthy's sound from the group aesthetic can be a bit tricky. He definitely has a vibe; it's just a little tougher to put your finger on and more of a melange.
"The tracks I make are really influenced by whatever I have going on in my life. The sound can be more of a retro, breaks-type track one day and a house music banger the next. Defining my sound is a tough one."
"Defining my sound is a tough one," admits the self-described chameleon. "The tracks I make are really influenced by whatever I have going on in my life. The sound can be more of a retro, breaks-type track one day and a house music banger the next."
Worthy has grown with the Dirtybird label over the past decade and change, as it has evolved and kept the machine moving forward. In the meantime, he founded his own imprint, Anabatic, where he's helped launch the career of producers like Will Clarke and Nick Monaco, among others.
On Anabatic, Worthy feels like "everyone is putting out dancefloor killers that I have played a ton in my sets and I thoroughly stand by. I love the A&R aspect of the label and discovering new artists."
He's also now a veteran DJ, having played all manner of parties the world over. In the Holy Ship! 2019 mix he's so kindly put together, you'll get something that is very close to what you would hear him "play on the Ship or a gig," with a mixture of "fun" and "headier" tunes.
Worthy has nothing but good memories from Holy Ships past. "The ship is bananas! Vegas has nothing on that ship! I have so many amazing memories from past ships I have played… Sometimes it gets a little bit crazy, like when Snails made me and Claude VonStroke slam multiple shots at 3 in the afternoon."
On January's voyage, Worthy plans to premiere some new tracks that no one has heard yet.
"There are some tracks in there I am pretty sure are going to turn some heads, so I am hella amped up to board that baby."
Worthy's Holy Ship! Mix Track List

Eskuche "Activator"
Shiba San "Crush That"
Matteo Floris ft. Solo Tomas "Girls"
Worthy "The Warning"
Mat.Joe "Repeat"
Ocean Roulette & ItsBilly "Automate"
Mike Mcfly & Jeff Doubleu "Brain Baby" (Botnek Remix)
Will Clarke "Break It to Me"
Allen "Check Yourself"
Terr "Dust"
Robelledo "Discotico Plexico" (Maceo Plex Remix)
Paul Woolford ft. Kim English "Hang Up Your Hang Ups"
Sio, Dwson "Forbidden"
Worthy is playing the 12.0 sailing of Holy Ship! 2019, which takes place Saturday, January 5, through Wednesday, January 9, 2019. Cabins for 12.0 are sold out. Cabins for 13.0 (Wednesday, January 9, through Saturday, January 12, 2019) are available now. Both sailings depart from Port Canaveral in Florida. For more information, visit the official website.
Follow Worthy on Facebook | Twitter | SoundCloud
Follow Holy Ship! on Facebook | Twitter | Instagram
---
Share
---
Tags
---
You might also like