We're Crushing on Holly, and so Will You
The 24-year-old, genre-blurring artist known as Miguel Oliveira continues to drop jaws with the heavyweight sound under his Holly moniker. Launching into the world of electronic dance music when he was only 18, the young-blood has earned his stripes with releases on imprints ranging from Buygore to Dim Mak, Fool's Gold, and Monstercat. His output has earned him the support of an equally wide range of heads that should clue you in to the kind of diverse vision he's bringing to the table. It's not easy to attract the attention of Rezz, Zeds Dead, the Bloody Beetroots, Machinedrum, Bassnectar, Noisia, and TOKiMONSTA, but Holly has done just that—and with inimitable style.
A wizard in the studio and a top-notch DJ on the stage, Holly can also lay claim to winning the very first A-Trak Goldie Awards Beat Battle in 2017! From hip-hop and rap to the bass music end of the spectrum, Holly is able to flex with the best of them and is the first to admit he's still got a long way to go.
Set to touch down with a highly anticipated appearance at this weekend's Crush SoCal—alongside heavy-hitters like Showtek, Getter, JSTJR, Nitti Gritti, Gammer, GRAVEDGR, Wuki, and Aydin—the untouchable Holly hit us with a proper playlist to get us in the mood. Check the in-depth Q&A with the man below before diving headfirst into his equally epic playlist.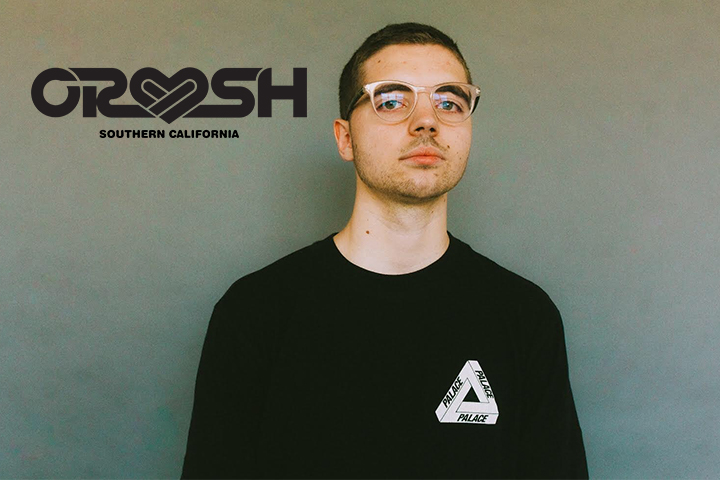 Set this playlist up for us. It seems to be the perfect conversation starter about you as an artist, as it is such an epic collection of eclectic vibes. How do you see the artists and tunes you selected as reflecting your own vision as an artist and as a DJ/producer?
I love music, and I listen to a lot of different types and styles that always vary with my mood and where my mind is. The artists and tunes I selected for this playlist are just the soundtrack to my current life and reflect my personal vision of creating something personal/emotional, creative, unique, and new for the world—which is something I always strive for. I feel these songs and artists reflect that in their purest form!
We imagine this playlist also reflects many of the influences you are drawing from in your own work. For those who don't know, or for those who do know but have a hard time articulating your sound to other people, how do you describe your own work and output?
It's just my expression of my world. It's my art and my way to communicate what I feel to the universe. Describing my work is one of the questions that I have had more difficulty answering [laughs]. I just do what I feel and express what goes through my mind, and it's really hard to me to label it or put in a box from other genres. It's Holly music! My output is just my obsession with creating constantly.
Blurring genre lines seems to be par for the course these days, but you are really pushing the limit in the studio and onstage. Should we just do away with genres altogether at this point, or do you think they still provide some value for certain people just getting into the scene, etc.?
When you are getting into the scene, genres are very helpful to help others "understand" your taste, but I don't feel like they make much sense nowadays. The way we make music is so different, and they make you put everything in a box, which is something that just limits art. This is something I realized as soon as I started making music and continued to develop as I learned more about the history of music. Every style is just a fusion of old styles into a new one; they are just the children of older generations. That being said, it's up to each person to determine whether or not they want to divide music into different genres. But in my opinion, it is something that is making less sense nowadays.
You're still relatively young, and even though you've been smashing it for a minute, at what point did things start to "click" for you as an artist? Success seems to have come your way right from the get-go, but I bet that's hiding a long obsession with music—and perhaps DJing and production—that stretches back to your childhood. Is that true?
Thanks for saying that, because I just turned 24, and I'm starting to feel old [laughs]. I feel like there's a long way to success and for things to click for me. Happiness is the biggest success you can achieve, but sometimes I put so many goals and plans in my art that I feel so far from the idea of success to myself.
I started making music when I was 18, but my obsession with music has always been there. In my earliest musical memory, I was listening to the Prodigy with my brother while we were building Lego cities at about 4–5 years old. I remember feeling so good creating something while listening to a good record—especially the Prodigy, because their albums were always a mix of styles, which helped me open my mind to different musical backgrounds (as a 5-year-old kid). I had the same feeling when I started getting into skateboarding at the age of 13 and when I started studying arts around 15. Basically, I just found that I'm obsessed with creating and expressing myself—that's why I love to make music and to DJ—but I can't wait to start doing this in other unique ways and expand my creations through other art forms.
We're super stoked to catch you at Crush SoCal this weekend. Give us a sense of what kind of vibes we should be expecting from you so we can let our dates know.
I'm super excited for Crush, as well, since this will be my first festival of the year and will be in a place that I love so much: California. There's only one way to know, and it's to attend to my set! But I can tell you already that I'll be playing a bunch of unreleased music (solo and new collaborations) and a lot of different music. See you there!
Holly is playing at Crush SoCal, which takes place Saturday, February 15, at NOS Events Center. Tickets are on sale now.
Follow Holly on Facebook | Twitter | SoundCloud
---
Share
---
Tags
---
You might also like