Visual "The Music Got Me"
The birth of our underground brand Factory 93 not only brought on an adrenaline rush reminiscent of the renegade warehouse era of raving—on which Insomniac was founded—but it also had us thinking back to all the people, places and parties that made this whole operation possible. And with that came a burning desire to crack open our collection and dust off the classic records we couldn't live without. Through our From the Crate series, we break out seminal and obscure cuts alike, imparting some knowledge in the process.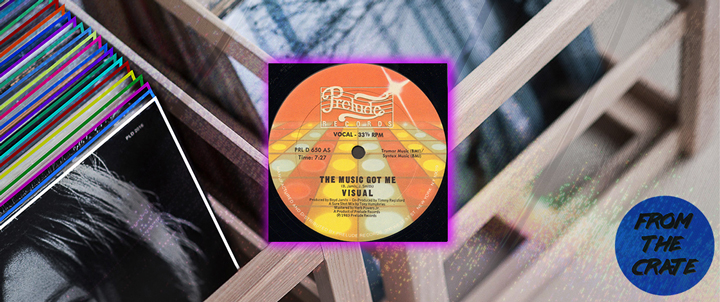 "The Music Got Me" is a down-low gem that will never die. Many consider it the first true house record (at very least, it's the definitive proto-house record), predating both the garage sound and Chicago house classics that came later on, and influencing producers for decades with its smoky and groovy wonder.
The track was recorded in 1983 under the umbrella of a project called Visual, made up of Anthony Malloy, Jason Smith, Rae Serrano, and maestros Boyd Jarvis and Timmy Regisford. Jarvis and Regisford spearheaded writing and production on the record, having originally met a few years prior at a New York club called Melon's. They later became regular members at Larry Levan's storied Paradise Garage in the early '80s. The duo had a radio show on New York institution WBLS radio—Saturday Night Dance Party, which featured post-disco, boogie, and pop tunes—plus fresh, new futuristic sounds that were coming out before house and techno fully crystallized in Chicago and Detroit.
A "professional window dresser and synthesizer enthusiast," Jarvis was fascinated with the possibilities of mixing synths, live drums, drum machines, and live vocals. He was an uncredited session player on many records of that time (and later in the decade, as his reputation grew), having jammed on classics like "Wild Style" by Time Zone and other bizarre Big Apple records that were percolating in that fertile early-'80s period of New York underground experimentation.
It was only Jarvis and Regisford's second demo together—originally called "The Stomp" (later polished off and released with other demos here) for its loping, hypnotic beat. The track was later revised and polished as "The Music Got Me," once vocals were thrown down. They found an interested label, Prelude Records (a seminal New York disco imprint, which had managed to survive the changeover into the '80s), who distributed the record.
The vocal A-side mix went on to be a hit, its upbeat lyrics and punchy groove being well received both on the radio and in record shops. But it's the B-side, the instrumental dub, that feels extraplanetary and remains the song's most enduring iteration. This is the version that DJs and dancers alike keep coming back to.
The elements were minimal: a beat nicked from an early beat record, plus drums on top of that and two synthesizers (the CS-15 and Prophet 600), congas, and some vocals. The spaciness, the fliterring synth stabs, the huge sound sculpted out on a big system (which, like all tracks in this series, you should really hear on a proper system) all contribute to this feeling like some space capsule exiting the stratosphere into some futuristic Afro-boogie palace, in the same solar system as Number of Names' "Shari Vari" from a couple years prior.
The "free your body"/"ohhh oh oh oh oh, ohhh oh oh oh" between whispers of "the music got me" give it a haunting quality, connecting it to some primordial, tribal place before civilization.
Jarvis gave us several dozen classic mutant basslines, and this is the most important one. Here are some of the other essential cuts featuring his signature funked-out basslines: Level 3's "Central Line" (Dub); Circuit's "Release the Tension" (Dub); Billie's "Nobody's Business" (Original Mix) (also coproduced with Regisford); Aurra's "Like I Like It" (Dub Remix Version); and Before the Storm featuring Boyd Jarvis' "I've Got the Music" (Zanzibar Dub) (a glorious answer to "The Music Got Me").
I'll always remember "The Music Got Me" as one of the records that never left DJ Harvey's bag; he'd pull out the instrumental version like clockwork during one of his longform sets. But it was so many other DJs' go-to, as well—this record that sort of sits outside of time.
His work as a player often went uncredited, but everyone from that era acknowledges that he truly got around and has his fingerprints on so many great records.
In addition to some major label A&R gigs throughout the '90s, Regisford would later become associated with Club Shelter (or the Shelter), where he was a resident for a new wave of post-Levan, hyper-inclusive New York clubbing. He's still active as a DJ today.
Jarvis would go on to become one of dance music's most important ambassadors in the '80s. He collaborated with household mainstream names like Boy George, Herbie Hancock, Madonna, Chaka Khan, Prince—the list goes on. He also worked with a who's who of foundational New York dance figures like Joe Claussell, François K, Dave Morales, and Little Louie Vega. His work as a player often went uncredited, but everyone from that era acknowledges that he truly got around and has his fingerprints on so many great records.
The tune—like any song that really worked on the dancefloor—has lived several lives since. The "ooh oh"s and "music!" were sampled in Todd Terry's "Back to the Beat" (Club Mix) in 1989. This version—while cracking—plays more like a DJ tool than a song. A year later, another artist would sample the record, this time a group called the Crew—essentially the group who became C+C Music Factory, pre-"Everybody Dance Now." They sampled "The Music Got Me" in their tune "Get Dumb! (Free Your Body)." But they didn't clear it, and Jarvis later filed suit, settling out of court.
"The Music Got Me" was again interpolated a few years later, when Bass Bumpers gave it the '90s piano house treatment with their flip called "Music's Got Me."
Just last year, the tune was reworked in proper dubby cosmic fashion by Nick the Record and Dan from Idjut Boys in this version. And it was flipped in 2015 by bird-mask-donning DJ/producer Claptone.
In February of this year, Boyd Jarvis died at the age of 59 after a bout with cancer. His humble life of dancefloor innovation and influence was celebrated, and his records will likely endure on dancefloors around the galaxy—especially this one.
---
Share
---
Tags
---
You might also like