UFO Project Expands Its Sound With 'Awen + Sunshine' EP on IN / ROTATION
Over the past few years, the Spanish duo of Ruben Garcia and Ruben Pachon—better known as UFO Project—have rocketed toward increasing success with an almost alarming speed. Their breakthrough track, "Girls N Money," garnered attention from people and places like Anna Lunoe and DJ Mag before topping Beatport's breaks chart. From there, the duo has worked with everyone from Kill Them With Colour to Zeds Dead's Deadbeats label, down to Stanton Warriors' Punks Music, and yet more still.
They've already come across the Insomniac radar with their Track of the Day–earning remix for "Get Low," but now they're back to drop a hefty EP on our IN / ROTATION imprint. This two-tracker is composed of "Awen" and "Sunshine," with the producers expanding their sounds in new directions.
Both tracks slow down the normal upbeat feel of UFO Project to a more emotive, cut-time vibe. And while each falls into the same mood, they obviously have their own individual identities. The A-side, "Awen," is an anthemic, melancholic hip-hop tune that lands much closer to trap territory than the usual breaks flow. Catchy and bouncy, this track comes in two flavors: an instrumental, and then another that uses the MC talents of Jung Youth to take things to the next level.
The flipside of "Sunshine" follows the same tone as "Awen" but takes the trap right to the edge of garage territory. With somber vocal samples and similarly feeling synth stabs, the tune almost shares a kinship to early producers lumped into the future bass genre, such as Kastle or possibly Jacques Greene. Though deep, it still has a hard drive that would get feet moving on the dancefloor.
This EP is more proof that UFO Project have talent beyond any specific genre, and though they definitely hang out in the low-end, there's a lot of room there to explore. These tracks should help them gain even more traction and fans, a harbinger of bigger things yet to come.
Buy UFO Project's Awen + Sunshine EP here.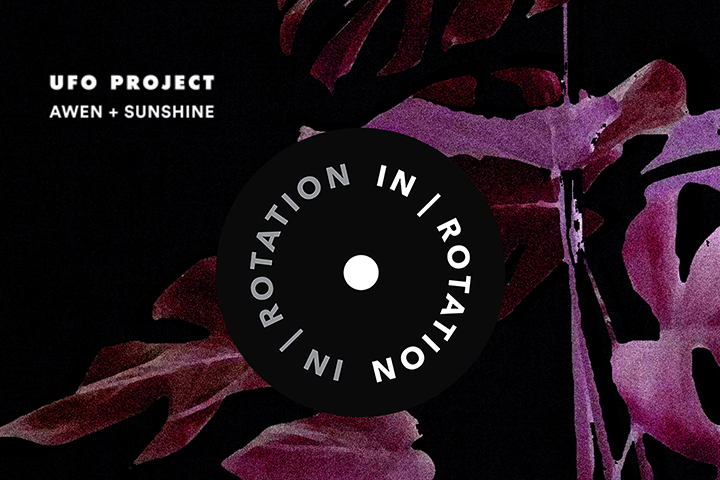 You two seem to have burst onto the scene with an abrupt fury. How long has the UFO Project been around?
We met 10 years ago, and that was when we started to share our first musical ideas. It started as "a game," but about five years after, our productions became bigger and found a place in the scene.
What's the scene like where you are in Spain, and how has that contributed to the creation of this project?
The musical scene here in Spain didn't help us on our way to success. If we talk about any highlight, we always want to look beyond, working hard in our own sound and following our own steps, without external interferences.
You started out with a heavy breaks influence that you're just now exploring outside of. What initially drew you to that sound?
We had a change of sound in mind at the beginning of 2017. Last year, we were at MMW (Miami Music Week), and arriving in Miami, our minds connected without saying a word. We realized that it was the perfect moment to make the change.
Speaking of, this new EP for I / R has a very different feel from your previous releases. What was the idea behind this new territory?
The first months were like an adaptation period. We were listening to producers like TroyBoi, Pretty Light, and Zeds Dead. This fact, and the uncountable time we spent producing new beats, gave us big results: The new tracks with our new, fresh sound appeared automatically.
Did you always intend for "Awen" to be an instrumental for vocals? How did you get linked up with Jung Youth?
The first idea was just an instrumental beat with some vocal chords, but it was when the people from Insomniac gave us an external view that our track with a vocal mix will work. We talked about that, and they linked us with Jung Youth… After the great result, we're now working together on new projects.
What was different in the motivations between the two tracks here?
The idea for this release was created at the same time (even the same week), so maybe that's the reason of the similarity on both tracks. The real difference is simple: We wanted an analog sound on "Awen," where the African sound is dominant, and "Sunshine" sounds more like an R&B electronic mix.
You've worked with a lot of great labels and artists already, but what is your shortlist of people you'd like to work with in the future?
We have a lot of producers in mind; our list is nearly infinite. But our preferences round our actual space, with artists like the Prodigy, Flux Pavilion. Skrillex, TroyBoi, Two Feet, Rudimental, DJ Snake, Diplo, Unlike Pluto, and our real dream: Depeche Mode.
What inspirations do you have, outside of music, that you feel still influence what you do as producers?
Our tracks use tons of little stories—stories which sometimes show a good day, or a feeling, or just a personal experience. We're our music, and our music is us. Depending on the mood we have, the songs are greatly influenced by that.
What else do you have coming up that you think people should know about?
We hope that everybody enjoys and dances a lot with this new release on IN / ROTATION. Special thanks to the entire Insomniac team for their great treatment, and we want to invite all our fans to stay close to our social network, because a lot of releases are coming soon (signed on Circus Records, and various other releases featuring some big artists).
Follow UFO Project on Facebook | Twitter | SoundCloud
Follow Jung Youth on Facebook | Twitter | SoundCloud
Follow IN / ROTATION on Facebook | Twitter | SoundCloud
---
Share
---
Tags
---
You might also like