Sinden Stays True to Sample Culture on "Flip the Beat" for Insomniac Records
Sinden has been a leading voice in subversive house music for well over a decade now, making madness with fellow fidget forefathers like Switch and Hervé and pushing the boundaries of what could be done with brash four-four beats. Now a permanent fixture in dance culture, he's recently launched his Houseline project, which he's carefully curated and visualized through several compilations so far, working alongside Insomniac Records to realize his vision.
His latest single, "Flip the Beat," drops this week on Insomniac Records. It's a killer slice of Sinden madness built around a literal flipping of many different sonic varieties.
"I just had this phrase, 'Flip the Beat,'" Sinden says. "It spoke to me because I'm from that sample culture of flipping beats. I've always done that in productions, because I've always been a huge music collector—vinyl and whatnot. Most of the time, I'd rather take a record out of its sleeve… and just throw that in the sampler, than pull up a synth and tweak about. I've always been fascinated with how a producer can take a loop and then fuck it up or flip it in a different way. Just when you think you've heard that one break used to death, a producer comes along and puts a different unique spin on it."
We grabbed Sinden to find out more about what he's got going on.
Sinden's "Flip the Beat" is available here.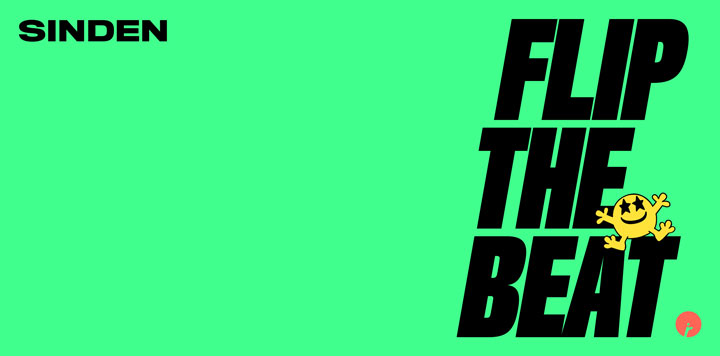 How has 2018 been for you? What have been the highlights?
I'm doing great. Reflecting on this year, it's been big for personal growth; I feel happier than ever! I made some major health decisions and lifestyle alterations, started pursuing a spiritual path, and I've got a clearer goal about the music I'm making and where I'd like to take Houseline in 2019. I'm grateful to have played some incredible events this year, making my Coachella debut and flying down to EDC Mexico, touring Australia, and EDC Las Vegas once again. Feeling super positive about 2019!
Dance culture is constantly changing and evolving, so how would you sum up the past few years in your career?
I've learnt to just enjoy the journey, rather than always thinking about the goal. At my shows, I started to live in the moment more. Over the past two years, I've started to play bigger stages, and I've been relishing it. Dance culture will always change, and once you get comfortable with that, you can recalibrate your expectations. In the past, I've battled against the tide sometimes with the music I've made. I feel like we are living in a kind of golden era now, however, and for what I'm doing, that's great—and for Houseline, too. The conditions are more fertile. We are seeing a lot of amazing new producers putting their own spin on the 4×4 house template; I'm nurturing some of those guys, and it feels great. With the label, I have an outlet for their music, as well as my own. I love the creative freedom and to be able to continue to contribute to the culture.
Houseline is looking like an interesting new venture. What's the story behind that project, and what are your plans for the future?
It started as a free download compilation that spawned into a fully fledged label, with the help of the Insomniac Records team. The inspiration has always been rave's humble beginnings of warehouse parties, field raves, illegal spaces, numbers to phone up and get the party details, sketchy-looking flyers, the PLUR and togetherness vibes, no-ego DJ lineups, taking it back to the essence of the music being key, not living for the 'gram, and most importantly, the ravers. I say Houseline is "Your House Movement" and "Ravers Only." For the future, I'm excited because I'm homing in on a sound (I kinda teased it with my single "In Love"). Also, I'm experimenting with new frontiers in technology. I got a bunch of ideas that I want to implement.
You're just about to release "Flip the Beat" on Insomniac Records. From what I gather, you've got an existing relationship with the label?
Yeah, 100 percent! The Insomniac Records boys have been really supportive with Houseline, which I'm so grateful for. They are instrumental in realizing the vision and bringing this concept into fruition. Working with them is always a pleasure; they are proper music heads and lovely guys whom I respect fully. I'm really glad they got behind the track and believe in it. Also, respect to my wife for dropping vocals on this one. I definitely went in on her vox with this one!
What's up next for Sinden?
"Flip the Beat" remixes for 2019! I got to work with one of my heroes, Todd Edwards, and my boy Dr. Fresch on some new material. Houseline has some bangers ready to squeeze and a ton of other top-secret stuff!
Follow Sinden on Facebook | Twitter | SoundCloud
Follow Insomniac Records on Facebook | Twitter | SoundCloud | Instagram
---
Share
---
Tags
---
You might also like