Ruffneck ft. Yavahn "Everybody Be Somebody"
The birth of our underground brand Factory 93 not only brought on an adrenaline rush reminiscent of the renegade warehouse era of raving—on which Insomniac was founded—but it also had us thinking back to all the people, places and parties that made this whole operation possible. And with that came a burning desire to crack open our collection and dust off the classic records we couldn't live without. Through our From the Crate series, we break out seminal and obscure cuts alike, imparting some knowledge in the process.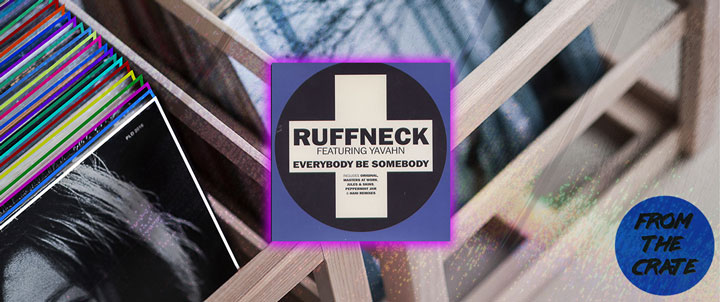 It doesn't sound much like a typical mid-'90s house anthem—there's not much in the way of syrupy instrumentation or diva histrionics, both of which had their clubland heyday around that time—but Ruffneck's 1995 track "Everybody Be Somebody" is one of the biggest anthems of that decade. It also happens to be one of the weirdest-sounding anthems of the era, or for that matter, any period in house music history.
"Everybody Be Somebody" was the first big dancefloor smash credited to the northern New Jersey–based Ruffneck, but it wasn't the first record under that name. That had come years earlier with the 1987 release of "The Power—the Rhythm," a tune on New York Underground Records that encapsulates the Jersey house sound of the time: a rugged bed of synth-bass and drum machine, a midrange defined by a sparse yet soulful arrangement, with low-key, matter-of-fact female vocals and the occasional flutey tone layered on top. The record was something of a Jersey all-star affair, with the core Ruffneck team—which, at that point, consisted of Dwayne Richardson, Derek Jenkins, and Cassio Ware—Blaze on the mix, the Black Rascals on the edit, and a future member of vocal trio Jomanda and Cheri Williams on the mic.
"The Power—the Rhythm" was an auspicious debut for Ruffneck, but then… nothing, until "Everybody Be Somebody" hit the shops eight years later. Cassio Ware, who had found success as a solo producer, had been replaced by Shaheer Williams, with the vocals now coming courtesy of yet another Jomanda member, Joanne "Yavahn" Thomas (who had cowriting and background vocal credits on "The Power—the Rhythm.") Originally released on Masters at Work's MAW label—MAW 002, if you're keeping score—the song superficially follows the basic Jersey template, but it's a version of Jersey house that's been stripped to its bones. The two-note, two-bar bassline is seemingly recorded with the needle fully in the red; the drum pattern is little more than a gut-punch kick and a crunchy snare. As far as the instrumentation goes, that's about it.
That skeletal composition is fleshed out, slightly, by the vocals. Yavahn's voice is sweetly direct and down-to-earth as she delivers, over and over, variations of "Everybody wants to be somebody." But the kicker comes when what's essentially the song's hook—a male vocal sample barking out the order, drill-sergeant style, "Everybody be somebody!"—kicks in after a few minutes of foreplay. (The sample is lifted from 1980 Eurohit "Bostich," a track from the eccentric Swiss synth-pop duo Yello.) The command is a near-tautology, but it's also kind of genius—in only a few words, it perfectly captures the vaguely aspirational, zero-cynicism feel inherent to the house music vocals of the day.
Sonically, it didn't sound much like anything else around. But the track was an indelible earworm and an instant success, despite its out-of-nowhere sound. Clubbers of a certain age couldn't have missed it; this NYC-based writer has fuzzy memories of hearing it everywhere from after-hours basement joints to Susanne Barstch's polysexual glam-a-thons at the Copacabana. It spent three weeks atop the US dance charts and peaked at #13 on the UK singles chart. It was remixed and rereleased to the point of overkill; Discogs lists 53 separate versions. When all was said and done, more than 200,000 copies of "Everybody Be Somebody" had zoomed out of record stores worldwide.
Within a few years, Ruffneck had followed up with "Move Your Body," "All That Jazz," "New Life," and "Baby You." Although they all fared reasonably well in the clubs, none had quite the impact—or the never-quite-duplicated sound and vibe—of "Everybody Be Somebody." Then, in 2000, Yavahn was diagnosed with colon cancer; she passed away three years later.
Ruffneck did go on to release a few more 12s—2004's "E Street Beat" / "Music to My Ears (Di-Ah Di-Ah)" and the following year's "Get It Right"—boasting posthumous vocals from Yovahn, but that was essentially the end. Still, Richardson, Jenkins and Williams have an entry on their resumes that few other producers can claim: They conquered clubland through one of the best house tracks ever.
---
Share
---
Tags
---
You might also like