Roni Size, Reprazent "Brown Paper Bag"
The birth of our underground brand Factory 93 not only brought on an adrenaline rush reminiscent of the renegade warehouse era of raving—on which Insomniac was founded—but it also had us thinking back to all the people, places and parties that made this whole operation possible. And with that came a burning desire to crack open our collection and dust off the classic records we couldn't live without. Through our From the Crate series, we break out seminal and obscure cuts alike, imparting some knowledge in the process.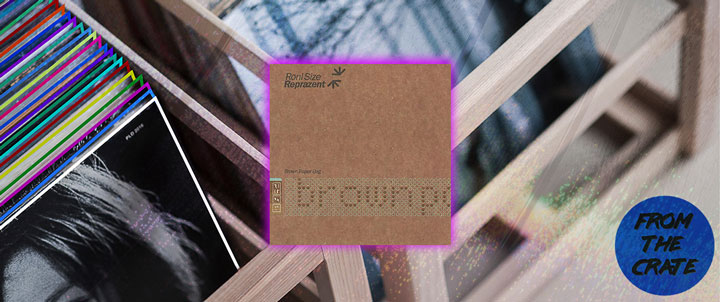 In June 1997, Roni Size/Reprazent released New Forms, the Bristol-based drum & bass collective's debut full-length. By the end of that year, it had achieved international acclaim and won the UK's Mercury Music Prize, signifying the immeasurable potential or absolute nadir of the genre, depending on whom you asked.
Like Prodigy's "Firestarter" the year before, tracks from New Forms were crossing over to the pop charts, breaking tradition with an underground that was, at the time, as united against outsiders as it was suffering from internal fissures. Perhaps most representative of, and responsible for, the commercial and critical success of New Forms was the third single, "Brown Paper Bag."
With its prominent double-bass part, "Brown Paper Bag" helped place New Forms for many in the same jazz-fusion-tinged, album-oriented continuum as 1995's Timeless by Goldie and 1996's Logical Progression compilation by LTJ Bukem. Dappled with live instrumentation and the influences of Pat Metheny and Lonnie Liston Smith—instead of the rough menace of a Hoover synth bass—the rollers from New Forms could not be more of a contrast to the frenzied, distorted techstep of the era. Its suave demeanor and polished exuberance meant a lot of people heard "Brown Paper Bag," but it's hard to tell how many people actually listened to it.
"It's funny how 'Brown Paper Bag' split people. They heard the jazz, how it sounded different from everything else, and they saw this other audience that loved it… and it split the drum & bass scene right down the middle. Maybe that's why they didn't always hear the hip-hop or reggae."
"It's funny how 'Brown Paper Bag' split people," says Size, speaking by phone from his home. "They heard the jazz, how it sounded different from everything else, and they saw this other audience that loved it… and it split the drum & bass scene right down the middle. Maybe that's why they didn't always hear the hip-hop or reggae."
Aside from the infighting and fragmentation of mid-'90s jungle, it's possible to appreciate "Brown Paper Bag" for what it is: a culmination of growing up in and around Bristol, among sound systems and B-boy circles, in an environment that was insular yet receptive to experimentation.
Size and the Reprazent crew (Krust, Die and Suv) came up as belt-driven kids in the mid-'80s Wild Style era, hanging out at parties thrown by the Wild Bunch (which would go on to spawn Massive Attack, Tricky, and Nellee Hooper) in the neighborhood of St. Pauls. The son of Jamaican immigrants, Size would go to youth clubs and the Afro-Caribbean St. Paul's Carnival, which featured reggae, as well as breakdancing, scratching and crews battling to American hip-hop from groups such as Ultramagnetic MCs from the Bronx and their grittier associates, the Tuff Crew from Philadelphia.
Listening to the breakbeat science of Ultramagnetic's "Ain't It Good to You," you can hear how Ced Gee's approach to frenetic, chopped samples (and his love of James Brown) would go on to influence everything from the Bomb Squad to "Brown Paper Bag" (and, as it so happens, the Prodigy's Liam Howlitt). Whereas some producers wanted to see how confrontationally they could boost and mutate the bass, Ultramagnetic would bind together stabbing, shattered rhythms into dynamic flurries (a propulsive swing that would continue to resonate in and set apart Size's work).
Sometimes, parties would also feature Smith & Mighty, whose style—saturated breaks, chasms of echo, and fearless up-and-down pitching of dubbed-out tracks—impacted the development of both trip-hop and jungle in Bristol (and whose studio hosted almost everyone who became anyone). Not long afterward, rave culture took over the fields, and acid house tracks made their way into electro mixes.
Size started DJing in his teens, and by the '90s, he was producing alongside the equally funk, soul, hip-hop and hardcore-informed crew (eventually launching the Full Cycle imprint to release tracks). Operating more than 100 miles away from jungle's London core, Size would release records and collaborate on multiple labels until eventually signing to Gilles Peterson's Talkin' Loud Records for New Forms, where he and his Reprazent partners would combine an appreciation for intricate, lush, light-and-shade treatments, as well as stripped-down, syncopated, rough-and-rugged beats.
"For the first time, I had some money, a studio, some equipment that I didn't really know how to use yet, but I was able to record the elements rather than sample records—and when I did, it gave me my own sound," reflects Size when asked how he recorded Si John's signature "Brown Paper Bag" bass licks, as well as acoustic guitars by Steve Graham.
"It wasn't a module—it was through really good gear—and then we put it all together in the sampler and treated it like samples. But it was that human element that made it fantastic."
"Brown Paper Bag" was the next-to-last track put together for New Forms (the album's intro being the final piece), but it was hardly an afterthought. Sitting in front of his Tannoys, finishing up a remix of "It's Alright, I Feel It!" by Nuyorican Soul (the more live, disco-oriented project of New York deep house duo Masters at Work), Size found himself in the flow; so he spread the double bass, guitars, and various drums across the keyboard.
The arrangement Size had in mind started halftime, before breaking down to a middle eight of bass and chords, then turning like a boomerang and going double speed. His goal was to keep the organic groove he'd been exploring, give each note enough hang time to remain sparse yet sublime, and to engineer an album meant to test himself and complete a statement, even if it opened him up to criticism.
Today, just over 20 years from release, "Brown Paper Bag" still holds a distinct, hard-to-knock swagger. A modulating cultural mosaic, a precursor to liquid funk, the track's dusty-meets-digital musicality remains a peak of the original drum & bass era.
---
Share
---
Tags
---
You might also like