Phace Unleashes the Funk on Nasty Neuro Number "Connected"
Phace is setting the correct tone for 2017 right at the start with his Plastic Acid EP for Black Sun Empire's Blackout Music. The four-track EP is all Phace—no collaborations, no remixes—making it purely representative of the outstanding German producer's formidable skills, at least in the context of Blackout Music. All killer, no filler, as they say. Any one of these neuro-centric four can be dropped for a guaranteed rabid reaction from the crowd. From the stuttering beats of "Beyond Number" and sassy grooves of "Plastic Acid" to the funky bumps of "Connected" and tearing bassline of "Sun Searching," it's all here.
Before he disappears on his honeymoon, Phace has a Skype chat interlude with us from his home in Hamburg to talk about the emotions behind the Plastic Acid EP. He also gave us the jump on the featured number "Connected," so dive right in below.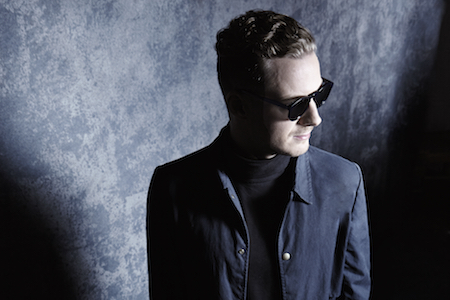 You do a lot of collaborations, and this EP is just you on your own. How is the process different?
I love working solo, but I also love to share a creative process with like-minded people. When I work solo, I do not have to compromise; it's purely myself. But when I collaborate, it's always very refreshing, and I pretty much just let it happen within the moment when I am in the same room with someone and try to create a vibe.
Did you have an idea of what you wanted to put forth with this EP?
I wanted it to work on the floor, as a lot of music I do is often a hybrid. I like the early techno stuff from growing up in Germany, so there is a bit of that inspiration in the EP. I wanted to be able to play all four tracks on a busy night to get people going and give them a good time.
Did you know during the creation of the EP that its destination was Blackout?
In the beginning, the destination was not determined. When Micha from Black Sun Empire approached me, I was 70 pecent done with the music. When I knew it was for Blackout, I tried to turn the sound and make my final decisions so it would fit their label's style. That's why it sounds a little more upfront than my usual stuff.
Although they are all upfront, the tracks on the EP are very different from each other.
I like to write music when I'm sad or frustrated, and also when I am in a super good mood. I can't write music when I'm in an exhausted state.
"Beyond Number" is about getting things right, trying to make sense of this random world, which is pretty impossible. If you listen to the very end of the track, when the guy is doing the math, that's how I sometimes feel. Plus, I like funny stuff, and I wanted the track to be fun on the floor, with more of a simple riff.
"Plastic Acid"—I had the acid synthline that I always wanted to use. It has a plastic feel, to me, in terms of sound. A lot of music is purely synthesized these days and can sound plastic or polished, like radio pop. So, I came up with the term "plastic acid," as acid music was similar to a revolution.
"Connected" was actually called "Disconnected" at first, when I was hiding in my studio for a while. But as I am a positive guy, I changed it to "Connected," and it all made sense to me. The vocals are from a guy who was looking for help to get his modem back online to be connected to the world. He explained what he did to make the modem work again, but he couldn't figure it out in the end. I randomly cut pieces of that. I like that the track doesn't directly drop after the big intro theme; it's disconnected for a second.
"Sun Searching" I wrote at the time I lost my father, so it came out of a sad moment but turned out upfront. It started with the intro themes and melodies, which expressed the state of looking for something. I am a melancholic guy sometimes, even though I try to stay happy and positive. Music helps me with that. It's a tool that helps me reflect on things, like the emotions I had when I lost my father. When I wrote music, I could deal with it easier. At one point, I realized I have to move on and get positive again. My dad would have wanted that.
Follow Phace on Facebook | Twitter | SoundCloud
---
Share
---
Tags
---
You might also like