OMNOM and Zendlo Let the Bass Rip on "Methane" for Insomniac Records
It takes a cheeky sense of humor to drop a track called "Methane" and use cows for the cover art—and OMNOM and Zendlo both have it to spare. From his logo to the vocals he uses, the work of San Francisco's OMNOM has always had an irreverent streak. Similarly, L.A.-based Zendlo's tracks have been described as weird, even by Zendlo himself. This combination of deep and dirty beats with a skewed sensibility has landed them on imprints like Dirtybird, Box of Cats, Psycho Disco!, and House of Hustle.
"As a DJ, sometimes you need to play a track with bass fat enough to kick the crowd in their chest… but 'Methane' is the track you play when you need to kick them in their genitals," OMNOM says. "The end result of relentless scientific research and several trips to Del Taco, this one is guaranteed to make the floor shake and the eyes wiggle no matter where it's played." And, indeed, it does.
As they prepared to drop this wonky tech house monster, we caught up with them to find out where they get their sense of humor and why weird is so appealing.
OMNOM and Zendlo's "Methane" is available here.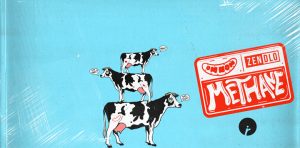 OMNOM
What are a couple of tracks that turned up on one of your recent Secret Menu playlists? What is a secret-menu-type track that turned up on someone else's playlist that you weren't expecting?
A couple of my favorite tracks that have shown up on the Secret Menu are "Topdown" by Channel Tres and "Cake" by Ivy Lab—two completely different tracks at a surface level, but that's what I love about being able to compile a playlist of all the music I dig. I have a very strange taste in many different genres, and many of the tracks I listen to on repeat every day would never make it into any of my DJ sets, so I'm thankful to be able to have somewhere to get the word out on these jams now. Walker & Royce have started a playlist called Rules Don't Apply, and they seem to have a similar idea behind theirs, because it is very eclectic and really gives you a glimpse into what influences and inspires them outside of house music.
From your logo to your vocals, there's a cheeky sense of humor running through your work. Where does that come from?
I'm kinda of silly in all aspects of my life, but I think in terms of music, it just stems from not taking all of this too seriously. We're in a scene so full of stone-faced DJs with deep-cut V-necks that people can't really relate to personally or don't know anything about the human behind the music. I think people feel more of a connection with artists who aren't afraid to show the weirder side of themselves.
You did a Reddit AMA. What was one of the more surprising questions?
I think the biggest surprise was that there were any questions at all! I think some of the weirder ones were asking what I order from a very specific restaurant from a very specific location at the end of my street. Other than that, I'd say most of the questions were very genuine and were pretty typical of the AMAs I had seen before. I had no idea that many people would be interested in what I had to say about anything, haha.
Zendlo
You posted "I've been throwing 808s in almost all of my songs lately." What do you feel the 808s add to your tracks?
The main reason I love 808s in my tracks is the energy that they bring. There's something about an 808 slapping your face in a club that just feels right. So, when I add them to my tracks, I have confidence that the low-end is going to work.
You've also said, "It was only about a year ago where I finally stopped listening to people's opinions about my music and just started making what I liked." What helped you change your attitude?
At the time, I had Les Sins' "Michael" and Justin Martin's "Ghettos & Gardens" on repeat. These artists were taking risks and pushing the norm, and I envied that. I realized I cared way too much about what my friends and peers thought about my music. So, after six years of making music, I finally had the courage to start putting out music I was proud of. Once I made that decision, that's when my career finally started to move forward.
The word "weird" turns up when describing some of your tracks. What's the appeal of weird?
I've always enjoyed music that's pushing a different sound. That's what got me into dance music in the first place. I want to hear new bass sounds, unique vocals, and crazy synths. That's what I'm chasing every time I'm in the studio and when I'm digging for songs to play in my sets. I definitely agree some of my tracks are weird, but that's what makes them stand out in DJ sets, right?
Follow OMNOM on Facebook | Twitter | SoundCloud
Follow Zendlo on Facebook | Twitter | SoundCloud
Follow Insomniac Records on Facebook | Twitter | SoundCloud
---
Share
---
Tags
---
You might also like