'Night Owl Radio' 413 ft. HARD Summer 2023 Mega-Mix
This week is the HARD SUMMER 2023 MEGAMIX.
Night Owl Radio is available via iTunes, so get to subscribing on your iOS devices.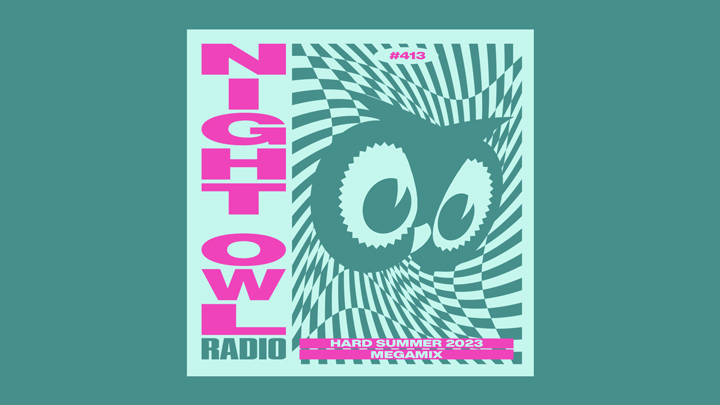 'Night Owl Radio' 413

Skrillex, Missy Elliot & Mr. Oizo "RATATA"
Kaskade, The Moth & The Flame "ICE v3"
Oddities (Oddmob) "Devotion Tool"
MK & Dom Dolla "Rhyme Dust"
Odd Mob "LEFT TO RIGHT"
JSTJR & Henry Fong "I Wanna"
Idris Muhammad "Could Heaven Ever Be Like This" (Walker & Royce and Chris Lorenzo Remix)
Yung Bae ft. AWOLNATION "Disco Body Parts"
Hayden James ft. Emie "Good Life"
Devault ft. Griff Clawson "Get to You"
Planet Funk "Chase the Sun" (Odd Mob Remix)
John Summit, Hayla "Where You Are"
Noizu "Moon Groove"
Diplo & Lil Yachty "Humble"
Gorgon City "Voodoo"
Disco Lines & Rain Radio "I see Colors"
Marco Strous "Good Boy" (ChaseWest Remix)
BLOND:ISH, Francis Mercier, Amadou & Mariam "SETE"
MK, BURNS ft. Teddy Swims "Better"
Gorgon City, Jem Cooke "Dreams"
Kaskade ft. Marcus Bently "Let Me Go v3"
Diplo & Melé ft. Busta Rhymes "Right 2 Left"
Disco Lines "Restless Bones"
The Beatnuts ft. Method Man "Se Acabo" (4B Remix)
Chris Lorenzo ft. High Jinx "California Dreamin'"
Tibasko "Still Rushing" (Azzecca Remix)
Toman "Chevere"
Logic1000 ft. yunè pinku "What You Like"
Yung Bae "60's Spy Shit"
Oliver Tree & David Guetta "Here We Go Again"
Disco Lines "Another Chance"
Skrillex & BEAM "Selecta"
Blossom "Wait"
Space Laces "Disco Bloodbath"
Dillon Francis and VINNE "Once Again"
SAYMYNITTI "BING BONG!"
Deorro & Poncho De Nigris "Oye"
AC Slater & Chris Lorenzo "Fly With Us"
Noizu "Lost"
Wuki "Edge of Seventeen"
John Summit "Revolution" (Extended Mix)
Space Laces "Dominate" (VIP)
Kaivon "Arp"
PEEKABOO & G-REX "Deviant"
Hamdi ft. Princess Superstar "Counting"
Flux Pavilion "I Can't Stop" (SIPPY Bootleg)
Sullivan King & Wooli "Let Me Go"
ISOxo & FrostTop "Angels Landing"
RIOT "Down With Your Love" (SIPPY Remix)
ISOxo "Nightrealm" (Knock2 Remix)
Kai Wachi "NEPHILIM"
A$AP Rocky "Goldie" (Tape B Flip)
Dirt Monkey "Insidadidance"
Yellow Claw "Deep Inside"
Kaivon ft. MelonRose "All I Wanted"
Skrillex, Fred again.. & Flowdan "Rumble"
Boys Noize & Pussy Riot ft. Alice Glass "Chastity"
Flosstradamus & Lemay "OH! LAWD"
PEEKABOO ft. XAELO "When I'm Gone"
Netsky "Float"
Men At Work "Down Under" (Luude Remix)
Alix Perez, T-Man "Under Pressure"
Netsky ft. Darren Styles "Look at Me Go"
Jon Casey "PUFF ADDER"
Wilkinson & Amber Van Day "Keep Dancing"
Dirt Monkey "Graveyard"
Jon Casey "NEVER ENOUGH"
Rohaan & Tom Finster "Annihilation"
Blanke "Surface"
Wilkinson "Release Valve"
Blanke "Another Planet"
Alix Perez & Bou ft. Trigga "Back to Basics" vs. Ludacris "Act a Fool" (Acapella)
Two Feet "Play the Part"
Netsky ft. Montell2099 "Mixed Emotions"
Rohaan "Something in the Green"
Jon Casey "AMOEBA"
Subscribe to the Insomniac Events YouTube channel now.
HARD Summer 2023 takes place Saturday, August 5, and Sunday, August 6, at the LA Memorial Coliseum, Exposition Park and BMO Stadium in Los Angeles, CA. Tickets are on sale now. For more information, visit the official website.
Follow HARD Summer on Facebook | Twitter | Instagram | SoundCloud
---
Share
---
Tags
---
You might also like