'Night Owl Radio' 395 ft. Beyond Wonderland SoCal 2023 Mega-Mix
This week is the Beyond Wonderland SoCal 2023 Mega-Mix.
Night Owl Radio is available via iTunes, so get to subscribing on your iOS devices.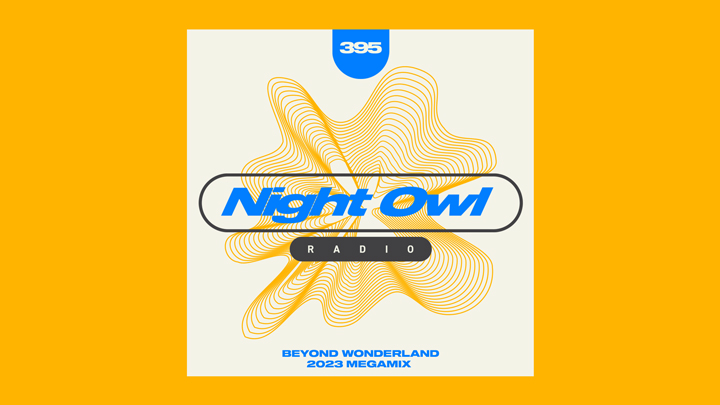 'Night Owl Radio' 395 Track List

Alok "Kill Me"
Noizu "Mi Corazón"
Dillon Francis, VINNE "Once Again"
Matroda "Beep"
SLVR & Lucille Croft "IDGAF"
Andrew Bayer & Red Dragons "DNA"
Wuki "Edge of Seventeen"
Mat Zo "Astatine"
Charles D (USA) "Heavy"
AC Slater & Curbi "Crave the Bassline"
NGHTMRE & IDK "Trials" (NGHTMRE & Space Laces Club Mix)
Riot Ten "Like That"
Bastille "Pompeii" (Audien Instrumental) vs. Loud Luxury & Hook N Sling "Afterparty" (Acapella)
Loud Luxury & Hook N Sling "Afterparty"
Tiësto "Lay Low"
Kaskade, deadmau5, Elderbrook, Kx5 "When I Talk"
Nostalgix ft. Lano Bandz "Options"
Alan Walker & Trevor Daniel "Extremes"
Judge Jules "Deep & Meaningful"
Cristoph X LOWES "Lucid Love"
REDTAPE "Veneno"
Sam Paganini "Rave"
Drumcell, Chris Liebing, Truncate "SGV"
Rinaly, Rina Mirai "In the Zone"
Nicole Moudaber "What Is" (Paco Osuna Remix)
Wax Motif "No Standing"
Tiësto & Deorro "Savage"
Joshwa "Miracles"
San Pacho "Trompeta"
Mau P "Gimme That Bounce"
Wenzday "Handle With Care"
Marc Romboy & Stephan Bodzin "Atlas"
Cosmic Gate & Diana Miro "Hear Me Out"
CID "Hold Me Close"
Space Motion & Stylo "Bombaya"
Roy LaCroix "Sweat"
Giorgia Angiuli "FreedHome"
HNTR "Oh Please"
JSTJR & Henry Fong "I Wanna"
SIDEPIECE "Acrobatic" (J. Worra Remix)
Felix Da Housecat "Silver Screen" (Shower Scene)
ATLiens & SVDDEN DEATH "Purgatory"
Dillon Francis, ILLENIUM "Don't Let Me Let Go" (Zomboy Remix)
Kaivon "Love Is Blind"
Dubfire "Sound Bath" (Will Clarke Remix)
Robert Hood "Hectic"
Ben Gold ft. Madelyn Monaghan "Follow the King" (David Forbes Remix)
Ellen Allien "Reality"
Midnight Tyrannosaurus "Threat Level"
RemK "Your Vibe"
yetep x SABAI ft. Leslie Powell "Lucky Ones"
Flosstradamus & Megatone "Bounce Back"
TroyBoi "Carti"
Pauline Herr & TWERL "Addicted"
nøll, Nikademis, Josh Rubin "Next to You"
Dabin & Trella "Starbright" (Elephante Remix)
Eliminate "I'll Be There"
San Holo ft. Lizzy Land "DON'T LOOK DOWN"
Excision & Kompany "Clockwork"
Borgore & Tima Dee "Way Up"
Kreation "REM"
Trivecta ft. Jay Mason "Sail Away"
DJ Isaac, D-Block, S-te-Fan "Slave to the Rave"
John O'Callaghan, Deirdre McLaughlin "Saving Grace"
Alchimyst "Siberia"
Slushii, Tokyo Machine "PEW PEW"
Mozey ft. Rusko "Hands in the Air" vs. Said the Sky & William Black ft. SayWeCanFly "On My Own" (Acapella)
Said the Sky & William Black ft. SayWeCanFly "On My Own" (REAPER Remix)
Zeds Dead, Blanke "The Machines" vs. Said the Sky & William Black ft. SayWeCanFly "On My Own" (Acapella)
Andy C "Back & Forth"
Wilkinson ft. Issey Cross "Used to This"
WHIPPED CREAM "Cry"
Ferry Corsten, Crowd+Ctrl "Hades Can't Stop Me"
Fisherman & Nifra "Passion"
W&W x Sub Zero Project "Paradise"
TNT, Darren Styles "Got the Music"
Shei "La Llorona"
Rebelion "City Lights" vs. Lil Texas "Hardstyle Sex" (Acapella)
MUST DIE! & Lil Texas "GAGGED & BOUND"
TWONSKi "RAW"
Yosuf "Love"
Sound Rush "Interstellar"
Subscribe to the Insomniac Events YouTube channel now.
Beyond Wonderland SoCal 2023 takes place Friday, March 24, and Saturday, March 25, at NOS Events Center in Southern California. Tickets are on sale now. For more information, visit the official website.
Follow Beyond Wonderland SoCal on Facebook | Twitter | Instagram
---
Share
---
Tags
---
You might also like